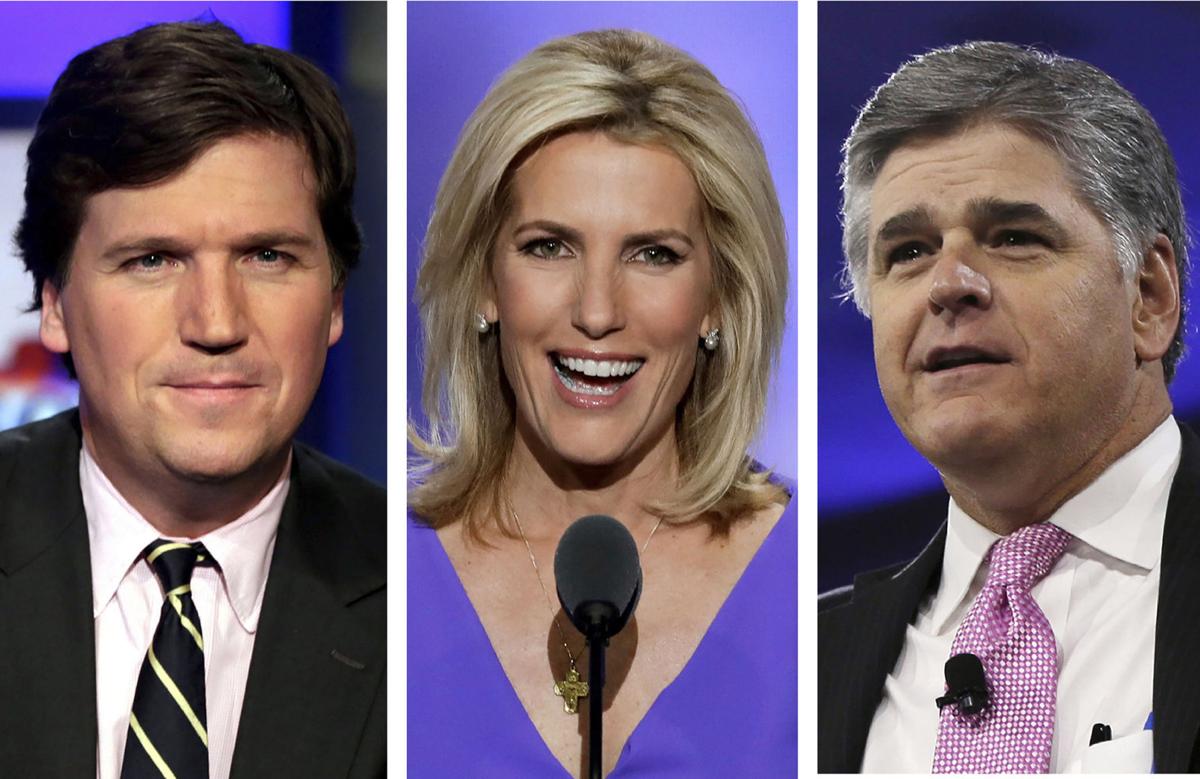 Poor Josh Hawley. The Republican Missouri senator — who has already endured the Kafkaesque injustice of losing a book contract and being ditched by his top political donors for spreading dangerous disinformation about our democracy — has now been snubbed by the Loews hotel chain. The company won't host a Florida fundraiser for Hawley after all, because it is "horrified and opposed to the events at the Capitol and all who supported and incited the actions."
It's part of one of the most unexpected and encouraging political developments today: the rush of corporate backers — including giants like AT&T and Boeing — that are publicly breaking with congressional Republicans who helped fuel the Jan. 6 Capitol riot by promoting Trumpian lies about election fraud.
It's a good first step. But withholding political contributions is easy. If these corporate citizens are serious about battling anti-democracy myths, they should also withhold their advertising dollars from the professional liars at Fox News and other right-wing media, which have done more to spread these falsehoods than Hawley & Co. could ever hope to.
Hawley, recall, was the first senator to announce he would dispute Joe Biden's indisputable Nov. 3 election victory, in service to the unhinged election-fraud mythology of former (hallelujah!) President Donald Trump. Hawley stuck to that stance even after Trump's MAGA army stormed the Capitol, animated by the false allegations that Trump and Hawley had promoted.
Hawley, of course, presented no proof whatsoever of the election "irregularities" that he vaguely alleged and said outright that his main motivation for backing this nonsense was that some of his constituents believed it. If some of his constituents decide to hurl themselves off a cliff, Hawley would apparently be in trouble.
Responding to the Loews hotels snub, Hawley vowed he won't "bow to left-wing corporate pressure." Which should strike terror into the hearts of all those long-haired, tie-dye-wearing radical liberals who run General Electric and Comcast. This is classic Hawley. Any time anyone gets on the wrong side of his demagoguery, he starts in with his poor-persecuted-conservative schtick.
But as satisfying as it is that Hawley is getting national comeuppance and corporate punishment for his cynical stunt, it has the feel of treating a symptom rather than the disease. That disease has a name: Fox News.
Fox has been building an alternate reality for its massive conservative viewership for almost a quarter-century now. Its star hosts have spent four years normalizing the most dangerously abnormal president in America's history. The fact that large majorities of Republicans today still believe the thoroughly debunked lie that the Nov. 3 election was fraudulent — the political equivalent of believing in Bigfoot — can be laid largely at Fox's feet.
The network's role in creating the mindset that led to the Capitol riot can't be overstated. As The Atlantic put it, Fox viewers "were told, again and again, that an election whose outcome they might not like is the same thing as an election that has been stolen." Democracy can't survive if nearly half the country adopts that belief system.
Shortly after the election, even as Fox's news side accurately reported Biden's win, Fox's opinion hosts and their guests set out to undermine that fact in service to Trump's Big Lie. "President Trump won this election, so everyone who's listening, do not be quiet," House Minority Leader Kevin McCarthy falsely claimed on Fox days after the election, getting no pushback from host Laura Ingraham. Former House Speaker Newt Gingrich baselessly declared the elections in Philadelphia, Atlanta and Detroit "corrupt" and falsely alleged election officials there "just broke federal law," prompting not the slightest skepticism from Sean Hannity.
Hannity and other Fox hosts didn't just rely on guests to spread the propaganda. Fox host Jeanine Pirro on Dec. 1 implored, "Stop letting people tell you that we don't have the evidence, because we do." This was a lie. Fox Business host Lou Dobbs on Dec. 16 decried "mail-in balloting and the fraud that the Democrats would carry out against the American people." This was also a lie. After the Capitol insurrection, Fox Business Network host Maria Bartiromo matter-of-factly referenced "Democrats [who] infiltrated … and put on MAGA clothing" at the riot. This was an utterly bonkers lie.
Dobbs, Pirro and Bartiromo all promoted the even more bizarre lie that a voting-machine manufacturing company had been "flipping" votes from Trump to Biden. A legal threat from the company prompted all three hosts to air an unintentionally hilarious video that looks like a legal deposition, in which a software expert debunks the lies those very hosts had been telling, one by one.
The effects of disinformation are real. Wednesday's inauguration looked like it was being conducted in a city under siege, thanks to the outgoing president but also to enablers like Hawley and Fox.
As Biden said in his speech, "There is truth and there are lies. Lies told for power and for profit."
Hawley lies for power. Fox lies for profit. Both have endangered democracy. A suddenly conscience-bound corporate community that punishes the former while continuing to do business with the latter is only halfway there.