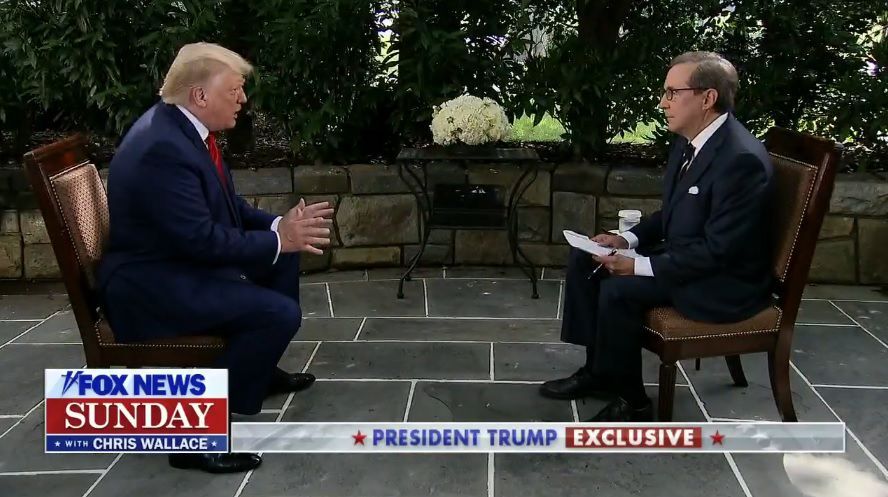 Give Donald Trump points for nerve. This is a president who has said windmills cause cancer, who wondered if ingesting disinfectant could cure the coronavirus and who suggested using nuclear weapons to stop hurricanes. And his main reelection talking point is … wait for it … Joe Biden is mentally unfit!
Yes, Biden, the presumptive Democratic presidential nominee, has had a few senior moments. Whether that's more dangerous than four more years of Trump is the big November question: Biden's occasional misplaced word or halting sentence, versus Trump's demands for personal tribute from governors in exchange for coronavirus assistance and his threats to decimate both Obamacare and the World Health Organization in the midst of a global pandemic. Decisions, decisions.
In an interview with Fox News' Chris Wallace last Sunday, Trump bragged of passing a mental acuity test. But the more telling mental test was the interview itself. Below are some excerpts. As is always necessary with this president, we've added fact checks:
WALLACE: You still talk about [the coronavirus] as, quote, "burning embers." But … this isn't burning embers, sir? This is a forest fire.
TRUMP: I say flames, we'll put out the flames. And we'll put out in some cases just burning embers. We also have burning embers. We have embers and we do have flames. Florida became more flame-like, but it's — it's going to be under control.
Last week, Florida reported its highest-ever daily number of COVID-19 hospitalizations and deaths.
TRUMP: [W]hy don't they talk about Mexico? Which is not helping us. And all I can say is thank God I built most of the wall, because if I didn't have the wall up we would have a much bigger problem with Mexico.
The U.S.-Mexican border is almost 2,000 miles across. According to a statement last month by Trump's Department of Homeland Security, about "three miles of new border wall system" has been constructed.
WALLACE: Sir, we have the seventh highest [coronavirus] mortality rate in the world. Our mortality rate is higher than Brazil, it's higher than Russia and the European Union has us on a travel ban.
TRUMP: … I think it's the opposite. I think we have one of the lowest mortality rates in the world.
WALLACE: That's not true, sir. … We had 900 deaths on a single day.
TRUMP: [To an off-camera staffer] Do you have the numbers, please? Because I heard we had the best mortality rate. … Number one low mortality rate.
The chart Trump relied upon to falsely claim America has the lowest mortality rate doesn't show that. It also left off some countries that are doing better than us.
TRUMP: Look, I take responsibility always for everything because it's ultimately my job to.
On March 13, Trump, when pressed about America's catastrophic coronavirus testing failure, said: "I don't take responsibility at all."
TRUMP: Some governors have done well, some governors have done poorly. They're supposed to have supplies they didn't have. I supplied everybody.
The administration's failure to supply and coordinate resources between states has been well documented and widely blamed for America's current predicament. It was clear "that waiting around for the president to run the nation's response was hopeless; if we delayed any longer, we'd be condemning more of our citizens to suffering and death," Maryland's Republican governor, Larry Hogan, wrote in The Washington Post this month. "So every governor went their own way."
TRUMP: Biden wants to defund the police.
WALLACE: No he, sir, he does not.
TRUMP: Look. He signed a charter with Bernie Sanders. I will get that one just like I was right on the mortality rate.
He was wrong on the mortality rate.
WALLACE: It says nothing about defunding the police.
TRUMP: Oh really? It says abolish, it says — let's go. Get me the charter, please.
The charter Biden signed says nothing about defunding the police. Biden has repeatedly said he's against that.
WALLACE: You said our children are taught in school to hate our country. Where do you see that?
TRUMP: I look at school. I watch, I read, look at the stuff. Now they want to change — 1492, Columbus discovered America. You know, we grew up, you grew up, we all did, that's what we learned. Now they want to make it the 1619 project. Where did that come from? What does it represent? I don't even know, so.
Columbus landed in the New World in 1492. "The 1619 Project" is a widely discussed New York Times series about slavery published last year. The two references have nothing to do with each other.
TRUMP: Biden can't put two sentences together. They wheel him out. He goes up — he repeats — they ask him questions. He reads a teleprompter and then he goes back into his basement.
WALLACE: ... But I've got to tell you, if I may, sir, respectfully, in the Fox poll, they asked people: Who is more competent? Who's got — whose mind is sounder? Biden beats you in that.
Views from the editorial board, opinions from guest and national columnists plus the latest letters from our readers.