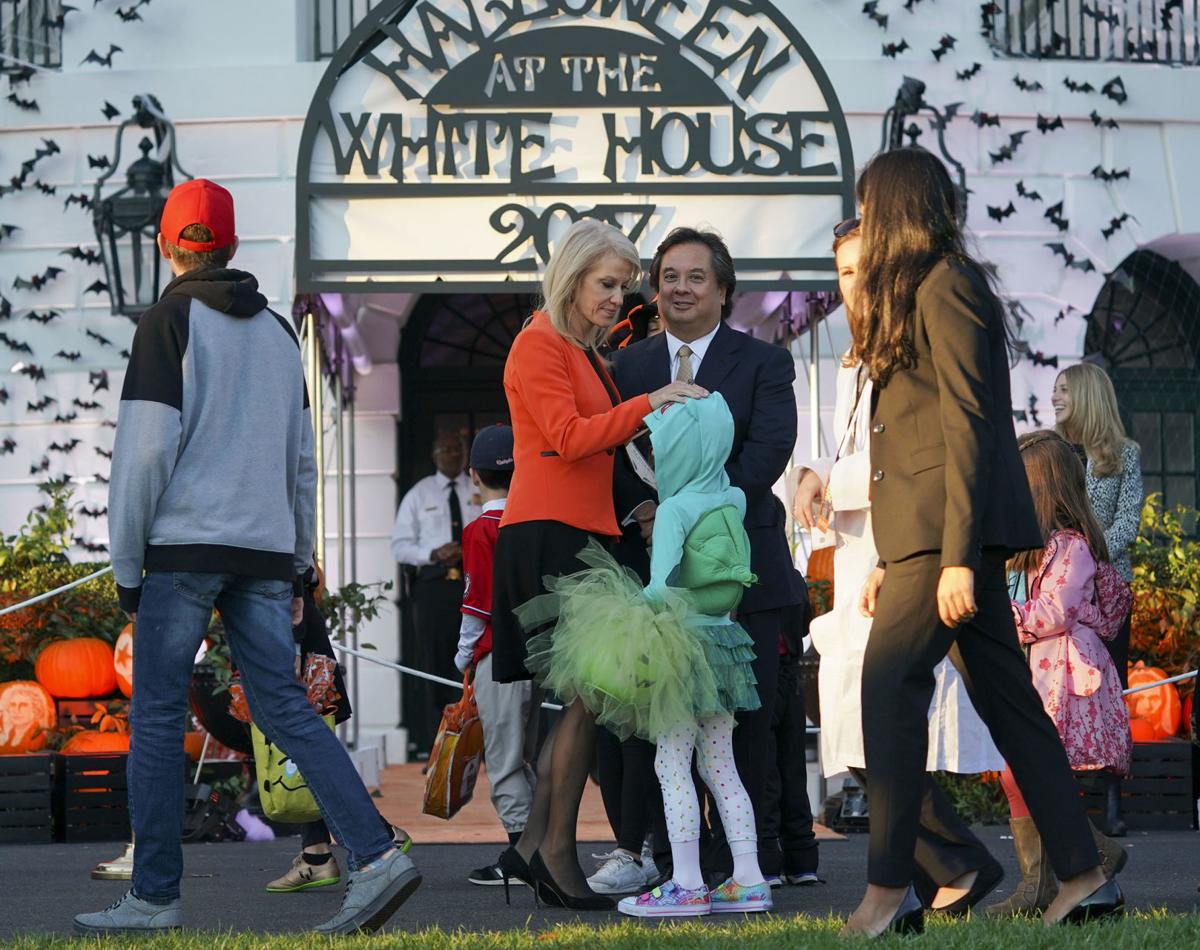 Ah, teenagers. Mouthing off, flouting rules, pushing boundaries. Raking mom and dad over the social-media coals in front of the whole country, forcing them off their respective political ramparts, rocking the White House and the resistance.
Thank goodness they grow out of it.
You wouldn't have thought the saga of George and Kellyanne Conway could possibly have gotten any stranger. But add a teenager to the mix, and it will always get stranger.
It was already strange enough. Remember that movie where Brad Pitt and Angelina Jolie play a married couple who happen to both be professional assassins, and they get assigned to kill each other, prompting a running gun battle through their suburban home? That was kind of unbelievable — but the plot of the Conway marriage really stretches credulity.
George is a high-profile lawyer with longstanding Republican ties. He wakes up one morning to discover that the party of fiscal responsibility and family values is now in the thrall of thrice-married philanderer, business cheat and prodigious liar intent on remaking America in the image of one of his bankrupt casinos, except with more disease.
So George breaks from the party to become a leader of the resistance. Small problem: He's married to Kellyanne, a top adviser to President Caligula. In her endless fealty to Donald Trump's endless malfeasance, Kellyanne continually promotes "alternative facts," the real ones being untenable. Hijinks ensue.
For political junkies, it's been like guilt-watching a cage match: Ms. Conway, aggressively defending Trump's daily flood of toxic tweets; Mr. Conway, co-founder of the never-Trump Republicans' Lincoln Project, just as aggressively spotlighting the president's lies and degradations — and, by implication, his own wife's enabling of those lies and degradations.
It's as if your neighbors have left their window open during a marital screaming match. You don't want to listen, but how can you not?
Kellyanne Conway was a prominent political consultant long before Trump sullied the White House (her clients have included Missouri Republican Senate candidate Todd Akin, of "legitimate rape" infamy). It's a profession, serving paying clients, so who knows how much she believed of what she said on Trump's behalf? In any case, she was adept enough to dodge the bus under which so many other Trump loyalists have been thrown.
There's no such ambiguity about George Conway's true feelings. In an interview taped before the Conways recently announced their exit from the political stage, he called Trump a racist "beyond any question," and described him with a word serious politicos seldom use publicly, for fear of being sidelined: "Evil."
So it was a bombshell last Sunday when both Conways announced, separately but clearly in coordination, that they were leaving their opposing political perches and returning to private family life together. "Less drama, more mama," as Kellyanne memorably put it.
The postscript is the Conways' 15-year-old daughter, one of their four kids, who seems to have been the impetus for her parents' exit from political battle. Because she's 15, I hesitate to use her name here, though she has cultivated national media attention and a massive online following. She's rallied that following to a cause that is every teenager's dream: to get her parents to shut up, already.
On social media she has staked out a position that is at once horrified at her mother's Trumpism yet unimpressed with her father's resistance. Her politics are clearly left-leaning (she has jokingly asked Rep. Alexandria Ocasio-Cortez, D-N.Y., to adopt her), but her primary political objective seems to be to irritate mom and dad.
"i'm officially pushing for emancipation," the teenager tweeted last Saturday. "buckle up because this is probably going to be public one way or another, unfortunately. welcome to my life." She later wrote on Tik Tok: "just found out my mom is a speaker at the RNC," referring to last week's Republican National Convention. "... that's it. i'm out. running away phase 1 starts at 7 am."
Like any self-respecting teenager, this one made sure to spread the bile to both parents. "As for my dad, politically, we agree on absolutely nothing," she tweeted last Saturday. "We just both happen to have common sense when it comes to our current president. Stop 'stanning' him." ("Stanning" means to obsess over a celebrity. And yes, I had to look it up.)
It was the next night that the Conways announced their retreat from politics. They didn't specifically mention the 15-year-old. They didn't have to.
In these deeply divided times, there's something redeeming about a couple willing to put down the swords and walk away from the fight for the good of their family. To me, having raised two teenagers, it's perfectly believable that this particular challenge is greater than any that presidential politics could offer.
But let's be clear: Redemption-wise, Mr. and Ms. Conway are not two sides of the same coin. He took a principled stand that required him to break with the political party he'd supported all his adult life. She shilled for a sociopath. Only one of them needs redeeming. Maybe the kids will help her with that.
Views from the editorial board, opinions from guest and national columnists plus the latest letters from our readers.