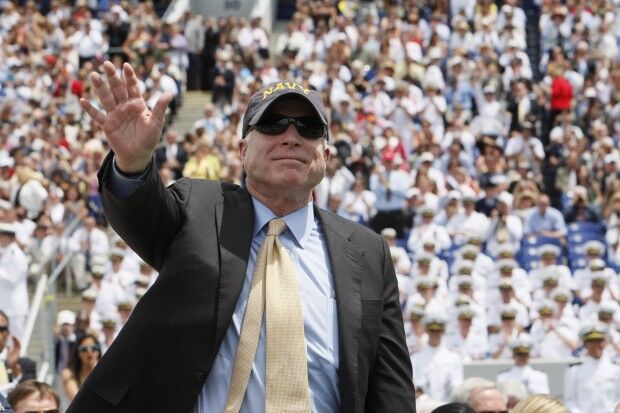 In 2008, Republican Sen. John McCain, talking with an audience of supporters during his presidential run, was confronted by a woman who expressed dismay about McCain's opponent, then-Sen. Barack Obama. "He's an Arab," she declared.
"No, ma'am. No, ma'am," McCain responded, shaking his head. "He's a decent family man and citizen that I just happen to have disagreements with."
Set that next to comments in a Senate hearing last week by Republican Sen. Josh Hawley:
"Yesterday I was talking from the state of Missouri with some of the constituents back at home, a group of about 30 people. Every single one of them … told me that they felt they had been disenfranchised, that their votes didn't matter, that the election had been rigged. These are normal, reasonable people. These are not crazy people."
Perhaps not, but they have embraced an idea every bit as crazy as calling Obama an "Arab": that multiple states, some run by Republicans, conspired to commit mass voter fraud extensive enough to steal the most closely monitored election in America's history away from President Donald Trump, while leaving not a trace of evidence anywhere.
Hawley could have stepped up, McCain-like, and told those constituents that they were mistaken, that there has been no evidence of mass voter fraud, that elections are the arbiters of our political disagreements and it's crucial that we accept their outcomes, that it's time for Americans to come together. Instead, he chose to be Trump-like and validate their baseless fears and delusions, further chipping away at the public's faith in democracy.
A recent Quinnipiac poll reports that 77% of Republicans nationwide believe there was "widespread fraud" in the Nov. 3 presidential election, implying that Trump didn't really lose, despite the utter lack of any evidence. This echoes other polls, and it should qualify as a national emergency. How did we get to a place where a large majority of one of our two major parties believes (or at least will tell pollsters they believe) in the political equivalent of the Loch Ness monster?
If we're going to talk about this, we need to start by doing what the political analysts all say we can't do anymore: agree on a set of facts. This doesn't mean that, in a discussion about the shape of the Earth, I say it's round and you say it's flat and so we compromise and agree that it's shaped like a football. The Earth is round. If you're going to insist it's flat (or football-shaped), this won't work.
Joe Biden won the election. He won it by more than 7 million votes, the widest popular-vote margin since 2008. He won the Electoral College 306 to 232 — the exact margin that Trump won four years ago, and called a "landslide."
We know where Trump is on this: somewhere out beyond the orbit of Saturn. He has repeatedly claimed not only that he won an election that he clearly lost, but that he won by (again) "a landslide." Hand it to Trump; he doesn't lie small.
Nor do his minions. Multiple state recounts and dozens of lawsuits have turned up exactly zero evidence to indicate even insignificant vote fraud, let alone the massive fraud that would be necessary to affect the outcomes in key states. These are facts. Yet even after last Monday's Electoral College vote made Biden's victory official, some Republicans, including high-level ones like House Minority Leader Kevin McCarthy, were still refusing to refer to Biden as president-elect. Sen. John Barrasso, R-Wyoming, waved it off as a "gotcha question" — as if there is some trickery involved in seeking simple acknowledgement of the expressed will of 81 million voters as confirmed by the Electoral College.
What's next? Are congressional Republicans going to refuse for the next four years to put the word "president" before Biden's name? Some will probably do exactly that, confirming with every non-utterance their newfound contempt for democracy. And stoking that contempt in their constituents.
Democracy is in trouble, and not just because of Trump. This naked emperor would have no sway, would evoke nothing but the dismissive laughter that is all he deserves, if so many other Americans weren't still pretending he wears clothes. The party's leaders are both pandering to and encouraging this fact-free, voter-fraud fantasy.
The GOP has become so radical and reactionary that facts no longer matter. Gone are the party's voices of sanity and civility like McCain — leaders who understood that leadership sometimes means telling your followers that they're going in the wrong direction, then steering them in the right one. All that matters to the party's "leaders" today is confirming whatever the base already believes, however irrational those beliefs.
Instead of leading constituents away from their evidence-free delusions, the Hawleys of the party endorse those delusions and raise them up and present them as if they are, in themselves, some kind of evidence. This is what passes for leadership in today's Republican Party.