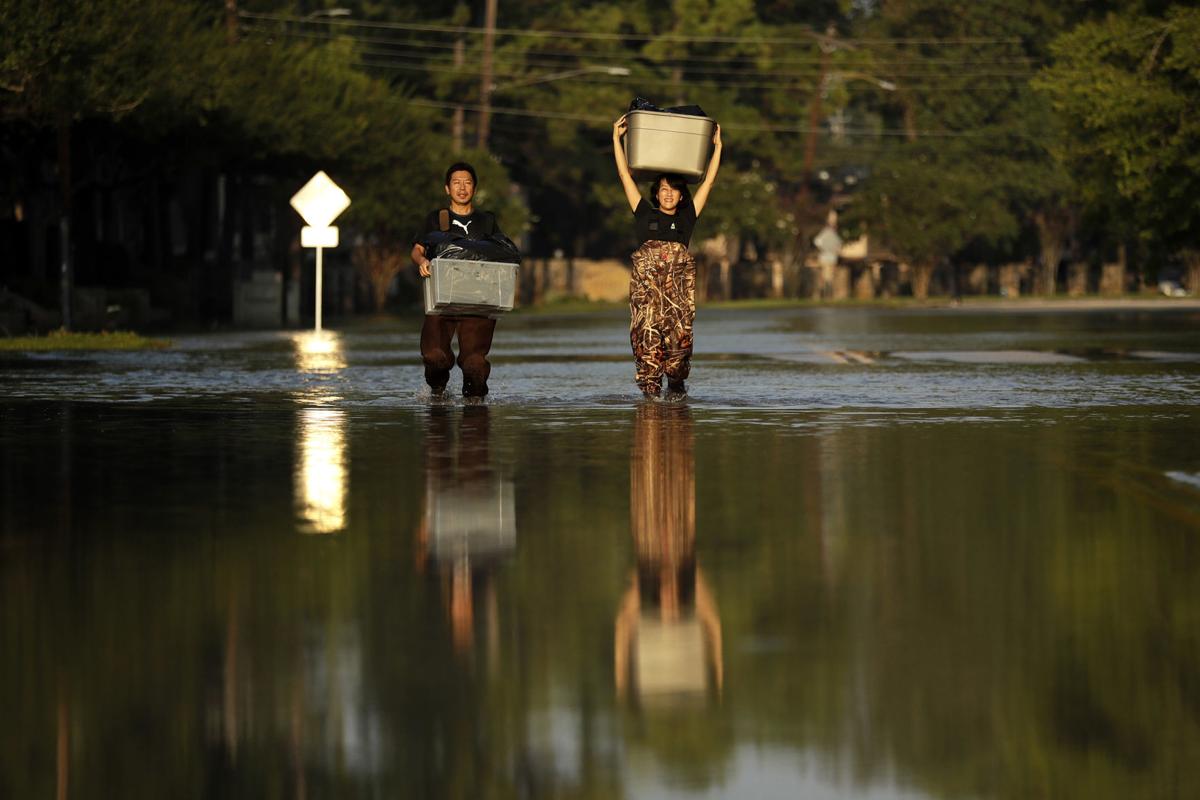 Imagine calling your local fire department because your house is on fire — but feeling compelled, for your own complicated reasons, to not actually acknowledge that your house is on fire.
What would you say to the dispatcher? Maybe, "My house is experiencing some kind of rapid structural failure, which may or may not be related to the sudden appearance of extreme high temperatures within the rooms." Or, perhaps, "There's a lot of smoke here, and I'm not saying that means anything, but could you come and put some water on it? Quickly, please?"
That's pretty much what red states like Texas and South Carolina are saying in applications to the federal government for funding to protect against the continuing effects of climate change — requests that the Republican officials in those states are making while twisting themselves into linguistic pretzels to avoid actually using the words "climate change."
As The New York Times reported last week, the federal government is doling out $16 billion to help states and territories in vulnerable regions brace against future storms, flooding and other weather events that are becoming measurably worse today than they used to be. The states that apply for those funds have to submit documentation explaining what makes them think those threats are going to continue getting worse.
The answer, of course, is simple: Human-caused climate change virtually guarantees those threats will get worse. The science on that is beyond reasonable argument at this point.
The problem — if you're among the GOP leaders of these conservative states — is that you and your party have spent years now denying the undeniable on climate change. For the sake of unfettered industry, you've called the science bogus and the scientists liars. You've seized on every random weekend cold snap as evidence that there's no modern global warming trend, while pooh-poohing decades of consistent data proving there is. You've impugned the motives of climate experts who have no earthly reason to lie, while credulously promoting the denials of industrial titans whose bottom lines depend on avoiding any acknowledgment that the planet's in trouble.
So now that the waters are lapping at your cities, delivered there by melting glaciers and destabilized weather patterns, you have to ask the feds for help while somehow avoiding utterance of those two terrible C-words.
"Climate change" makes not a single appearance in Texas's 306-page draft proposal asking for those disaster-mitigation funds, according to The New York Times. Neither does "global warming." In its place, the application references "changing coastal conditions." Which, in terms of addressing cause and effect, means exactly nothing.
South Carolina's application euphemistically references the "destabilizing effects and unpredictability" of weathering three major storms in four years — but, again, without even attempting to address the big Why.
It's tempting to suggest that any state whose leaders cannot bring themselves to lay out the solid scientific reasons to believe worse floods and storms are coming shouldn't get the money. They're seeking federal aid on grounds that flooding is going to get worse in the future, even as their party alleges that scientists who say exactly that are being "alarmist." So which is it? If, as they claim, climate change is just a big fraud, how can they turn around and ask for federal money to prepare for it? That sounds a lot like, well, fraud.
In the end, though, regular Americans shouldn't be punished for the ideological obstinance of their elected leaders. Texas and South Carolina no doubt need the disaster-mitigation money coming their way. It's pathetic that the states' Republican leaders apparently have to keep up this anti-science charade even as they brace for impact from threats they've falsely denied exist. They do in fact exist, with real lives at risk.
Still, in the interest of ensuring that federal dollars aren't squandered by public officials who refuse to accept basic science, it's worth asking a few related questions.
Since federal dollars are used in operating South Carolina airports, has anyone checked to see if South Carolina officials believe in gravity? It's a pretty important concept in aviation, but it's not something you can actually see or touch. Who knows, they might be gravity skeptics.
Federal dollars also are used to maintain Texas electrical grids, which employ rows of towers to keep power lines off the ground over long distances, accounting for the curvature of the Earth. Which begs the question: Do Texas officials believe in the curvature of the Earth? I mean, let's face it, it looks pretty flat. Especially in Texas.
True, gravity and a spherical Earth are both well-established scientific facts. But so is human-caused climate change. And yet.
If global warming is the planetary equivalent of a house on fire — and it is — it should count as promising that those who not so long ago were denying there was even any smoke are now pulling the fire alarms. But apparently, more of the house is going to have to burn before they're ready to acknowledge the cause.