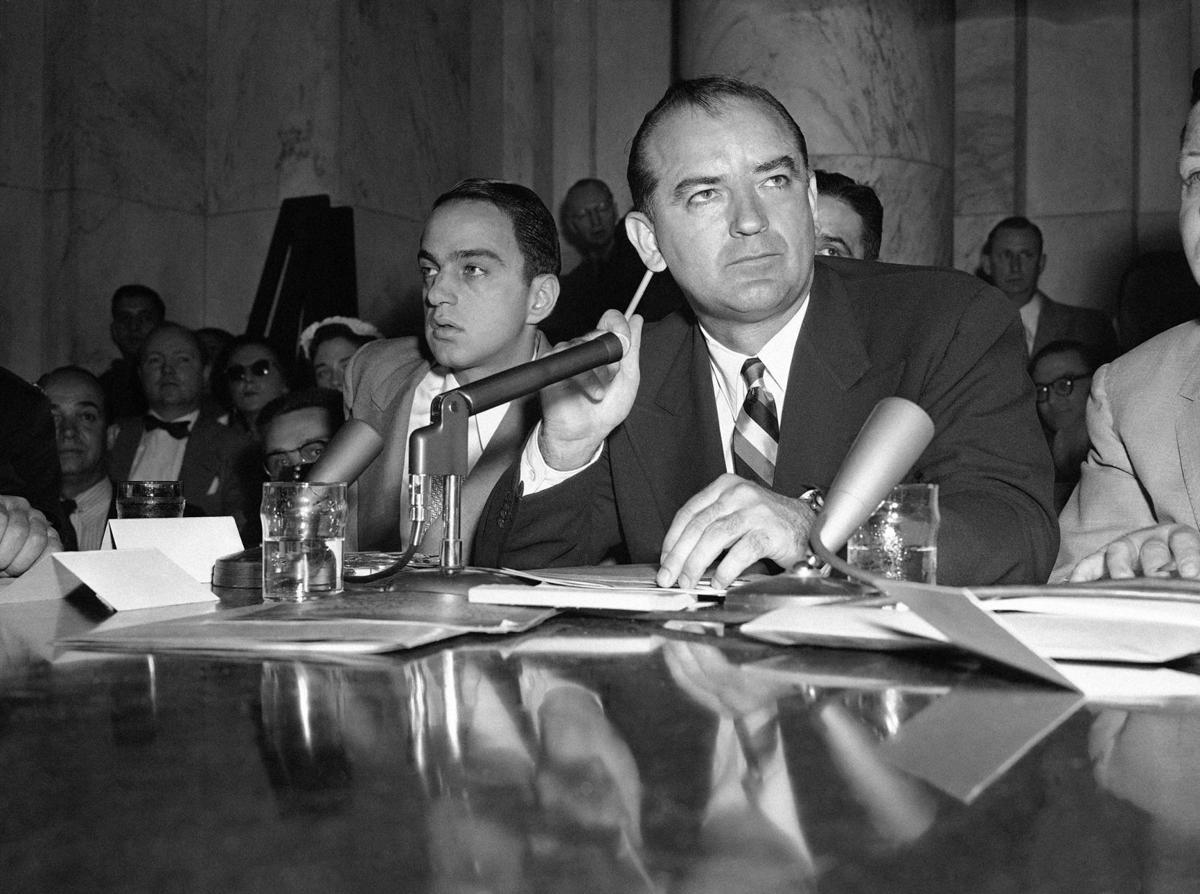 In the wake of this week's shouting match of a presidential debate, analysts are madly dashing to decipher which historic American Donald Trump modeled himself on. Was it the white supremacist George Wallace, a more subtle conquer-by-dividing Richard Nixon, Missouri's own "give-'em-hell" Harry Truman or, as Trump himself would have it, Abe Lincoln?
All of those are wrong. The right answer is self-evident: "low blow" Joe McCarthy.
Start with the lies. Our fantasist-in-chief yet again laid out his terrifying narrative of mail-in voting bamboozlement, fake ballots and worse. Those fires raging in California? They've got nothing to do with phony climate change, they're a byproduct of rotten forest management. And he's such a smash with law enforcement that even the sheriff of left-wing Portland loves him — no matter that the sheriff himself insists, "I have never supported Donald Trump and will never support him."
McCarthy is the one who taught us that there's no worse penalty for a big lie than for a little one, so you might as well let her rip. That's what the Red-baiting senator did in the 1950s crusade against communism that made his name into an ism synonymous with reckless accusation. For the first time in American history, the totalitarian technique of the big lie was employed on a sustained basis, concluded fellow lawmakers who investigated McCarthy. The result was to confuse and divide the American people.
Time magazine's Thomas Griffith offered a more compact judgment on the Wisconsin senator: "Over his grave should be written the simple epitaph: The truth wasn't in him."
Sound familiar? That penchant for prevaricating was passed from McCarthy to Trump by a snarling New York lawyer named Roy Marcus Cohn. In the 1950s, Cohn served as McCarthy's inventive and imperious protégé. Thirty years later he was Trump's sharp-elbowed preceptor, channeling to the future president the art of the whopper.
When it comes to mocking monikers, Trump not only mimics McCarthy, he's taken it to a whole new level of viciousness. In McCarthy's wordbook, Democratic Sen. William Benton was "Little Willie Benton, Connecticut's mental midget," and Sen. Margaret Chase Smith of Maine, who with six fellow moderate Republicans rebuked their Badger State colleague, became "Snow White and the Six Dwarfs." In Tuesday's debate, Trump branded Democratic nominee Joe Biden a tool of antifa, cast his son Hunter as a cocaine-addled crook, and, in a ploy straight out of the McCarthy playbook, smeared his Democratic opponent as a card-carrying socialist.
Biden wasn't above his own fibbing and name-calling, hurling exaggerated accusations that the president spawned this recession and labeling him a racist, a clown and "the worst president we've ever had." But his affronts were milder and more reactive than Trump's, whose finger-pointing, interruptions and overall boorishness aped that of the churlish McCarthy in both his closed-door and public hearings.
Consider the most notorious of those, the 1954 Army-McCarthy hearings. With the country bearing witness, the senator from Wisconsin ignored not just parliamentary rules but common civility — interrupting decorated Army officers mid-testimony, barreling out of the hearing room when he didn't win his way, and growling his catchphrase "point of order" so often that street urchins were mimicking him.
Again, this should sound familiar. Trump heckled Biden non-stop during the debate and ignored moderator Chris Wallace's bid to enforce the rules the president had agreed to. McCarthy, like the president, was never out to prove guilt beyond reason of those he branded traitors, but only to raise doubts and raise hell. His audience never was fellow senators, or even reporters in the gallery, but the chicken farmers and grocers with whom he'd grown up.
But if that renegade's rulebook has been an inspiration to the president, he should consider the other lesson of the Army-McCarthy hearings. The Gallup Poll had the senator at 50% popularity before the proceedings began in April 1954. By the time the inquiry was wrapping up in June, that believability yardstick had plummeted to 34%.
The hearings spelled the beginning of McCarthy's end. Performing on the biggest stage of his career, he flopped. He wouldn't yield when even an inch could have made him seem gracious. The very day the Senate Subcommittee on Investigations issued its verdicts on his ham-handed war with the Army, the full Senate launched hearings to formally censure McCarthy for his incivility. A punishment that extreme had been meted out just five times in the chamber's 165 years, and it amounted to a political death sentence.
I hope President Trump is listening.
Larry Tye is a former Boston Globe reporter and author of a biography of Robert Kennedy. His book, "Demagogue: The Life and Long Shadow of Senator Joe McCarthy," was published this summer.
Views from the editorial board, opinions from guest and national columnists plus the latest letters from our readers.