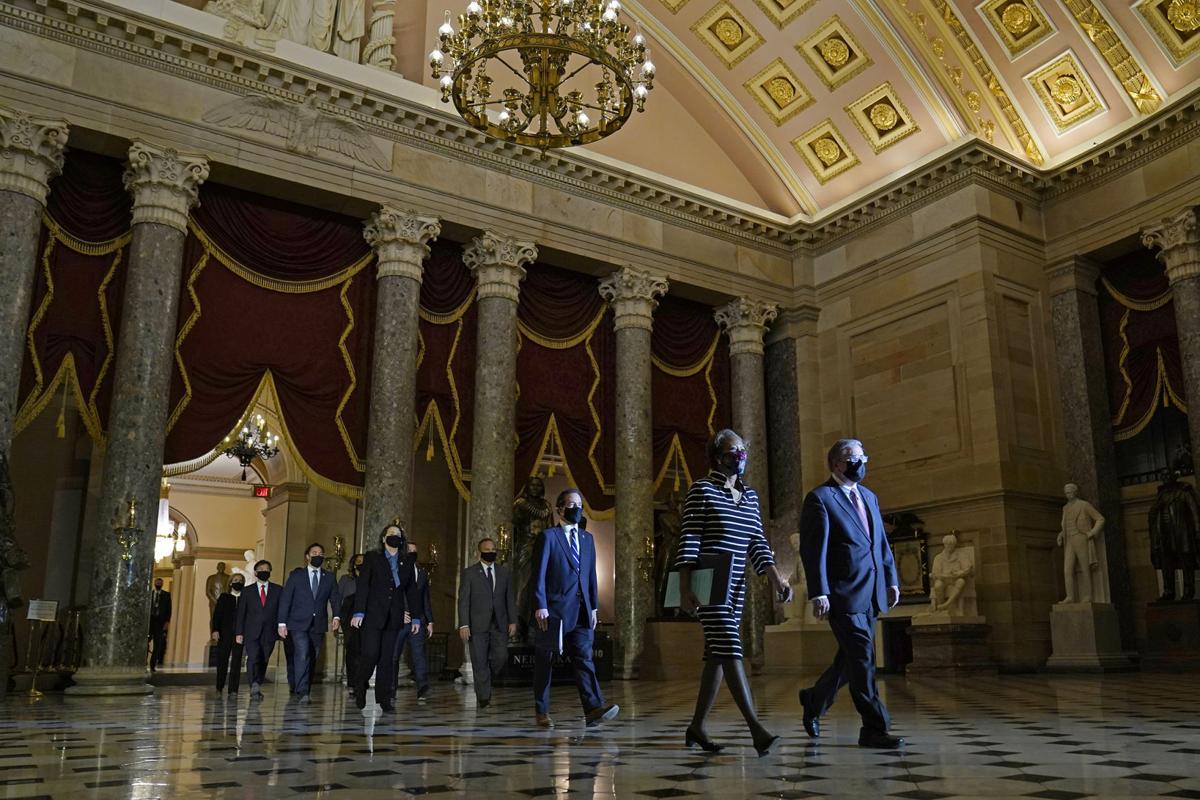 Jurors perform a vital role in our justice system. Jurors bear the burden of enormous responsibility when it comes to law, order and justice. Jurors serve. Serving as a juror can also bring great honor. On Jan. 13, the U.S. House of Representatives acted as a grand jury and approved an indictment in the form of an article of impeachment. The article of impeachment was delivered to the Senate for a trial.
A few years back, I sat on a jury for a murder trial, an experience I'll never forget, and one that keeps coming to mind as the second impeachment trial of Donald J. Trump unfolds. I took my job as a juror seriously, but I keep wondering whether Sens. Roy Blunt and Josh Hawley are approaching their duty as jurors with the same seriousness.
Obviously, there are some big differences between a murder case and an impeachment trial. One big difference is in the possible sentences. According to the U.S. Constitution, the only penalties the Senate may impose are removal from office and disqualification from holding any federal office in the future. Since Trump is already out of office, the impeachment trial will only determine whether he can ever hold federal elective office again.
Another difference is the way jurors are selected for the trials. I was chosen by a lottery of St. Charles County citizens. Our group went through the voir dire winnowing process to select 12 jurors along with two alternates. There's no winnowing in an impeachment trial. Article 1, Section 3, Clauses 6 and 7 of the Constitution states that "the Senate shall have the sole Power to try all Impeachments." The voir dire of our national jury selection occurred when each of our senators won his or her election.
My fellow jurors and I deliberated for many hours, reviewing the evidence, recapping witness testimony and discussing different aspects of the trial before unanimously agreeing on our verdict. The Senate does not need to come to a unanimous decision before voting on the article of impeachment. Senators will need to decide on their own whether Trump's actions meet the threshold for impeachment, with conviction occurring only if two-thirds of the body concurs.
The senators on this jury also were witnesses to the very act that they will be deciding on. I, on the other hand, had to swear that I had no knowledge of the case, nor would I search any details on my own. If I had, I would have been disqualified. Speaking of disqualification, Hawley in my opinion was a co-conspirator in the insurrection and has no business sitting in judgment of Trump.
Another difference is that our senators have political careers to worry about. My only concerns and responsibilities as a juror were to my fellow citizens.
There are also similarities to the trials. I took an oath as a juror, just as Blunt and Hawley have sworn an oath to "do impartial justice." That oath is on top of the one they swore upon taking office to "support and defend the Constitution of the United States against all enemies, foreign and domestic." Both oaths applied at President Trump's first impeachment trial as well, though it was clear from the start that the cause of "impartial justice" never had a chance.
I also swore to be "duty bound to act fairly and impartially in considering them." I took this to mean that I should not let my personal feelings interfere with my judgment. It is difficult to be impartial but I, along with my fellow jurors, did just that.
The word impartial shows up in both oaths, which attests to its importance in meting out justice regardless of the case at hand. These oaths affirm that, as jurors, we will all elevate the Constitution and law and order above all other considerations.
I felt the weight of my responsibility of being a juror. I shook in my chair as the judge read our verdict. I tried not to look out into the gallery at the defendant's family and friends. To be honest, I worried for my safety for several days after the trial.
Shortly after it ended, I ran into a fellow juror out in public. He asked me how I "handled it." We both shared how surprised we were on how the experience caused us so much stress.
There are a few times when we are called to step up and do the right thing for our fellow citizens. I hope and pray that our two Missouri senators take their oaths and responsibilities as seriously as I did.
By the way, we found the defendant guilty.
Lynn Schmidt, a contributing Editorial Board member, is the Missouri state leader for Stand Up Republic and is a registered nurse. She lives in St. Charles. lynnschmidtrn@outlook.com