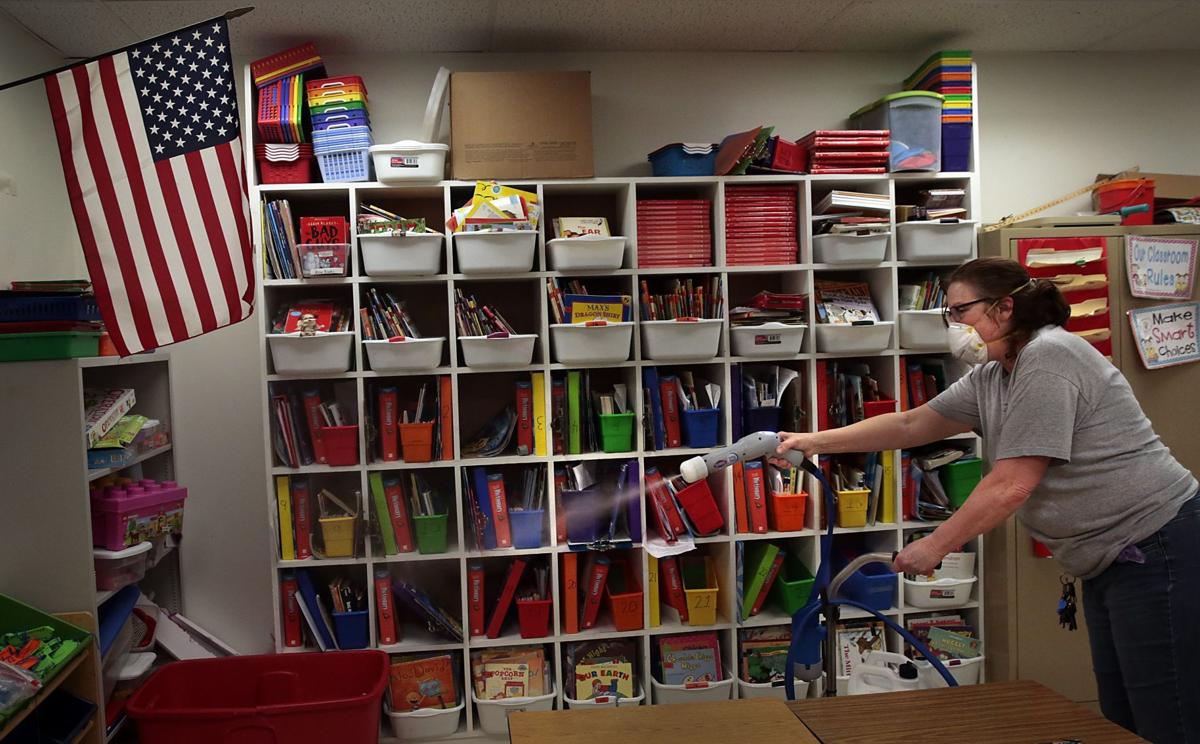 The start of school is coming soon, and the pandemic will make this year different from any other. Perhaps just as dangerous as the risks of the virus is our governor's complacency with it. Gov. Mike Parson does not appreciate the full extent of the risks posed by schools reopening. As a Republican, registered nurse, and parent, I worry that the proper safeguards will not be in place.
"These kids have got to get back to school," Parson told KFTK radio host Marc Cox. "They're at the lowest risk possible. And if they do get COVID-19, which they will — and they will when they go to school — they're not going to the hospitals. They're not going to have to sit in doctor's offices. They're going to go home and they're going to get over it."
These assurances completely miss the point. A recent study from South Korea suggests children ages 10 to 19 transmit the coronavirus at the same high rates as adults do. If children get infected, they will infect others who aren't able to "get over it." Does Parson not care for teachers, bus drivers, custodians and cafeteria workers? How about the children's caregivers, many of whom are grandparents?
The chain of consequences can stretch even further. Take my family, for example. I am in good health. If my daughter, God forbid, were to bring the virus home with her, it's unlikely I would die. But I'm a nurse. If I get sick, the patients I care for would suffer while I recuperate.
Am I the only nurse, doctor or paramedic with children? It's not difficult to see how a child contracting COVID-19 can quickly multiply into deadly consequences for others.
But there's a more basic failing in the governor's words. A good leader leads with compassion, empathy, honesty and accountability. Parson's comments show none of these qualities. Republicans are supposed to lead with moral authority — it's the basic impetus behind the "pro-life" movement. There's nothing pro-life or moral in talking cavalierly about preventable sickness and death.
Republicans don't just assert leadership with moral authority, they use it to govern in the most efficient way possible. In Parson's preparations for the start of school, I see someone trying to shrink the role of government no matter the consequences. As a Republican, I don't view shrinking government as an end in itself but a means to living a more prosperous life.
Seeking to remove government from one of the areas where it's actually needed right now will not get us there. Spending $15 million of the state's coronavirus relief money to boost tourism during a time when no one wants to travel will not get us there. In a state with the eighth-worst testing rate in the country, Parson chose not to spend the money on growing the state's testing infrastructure. One would think that would prove all the more important as school starts. In Parson's words and actions, I don't see moral leadership, and I don't see taxpayer dollars well spent.
None of this is to say schools should be completely closed for the indefinite future. Like the governor, I too want children to go back to school. But it needs to be done with the proper safeguards in place. Statements like the governor's do not instill confidence that this is happening.
It took me less than 10 seconds to pull up the website Considerations for Schools of the Centers for Disease Control and Prevention. Yet I could find nothing about how to safely reopen schools on the website of the Missouri Department of Health and Senior Services. Meanwhile, Missouri's seven-day average of new coronavirus infections continues to rise at record rates.
Is Parson listening to experts like those at the CDC who have dedicated their lives to fighting infectious disease, or is he following the White House's lead and tossing their guidelines away?
As a state and a country, we should be having thoughtful and science-driven conversations about the safe way to open schools. But with his latest statements, our governor fails to take all Missourians into account, and I fear all Missourians will suffer as a result.
Lynn Schmidt, a registered nurse, lives in St. Charles.