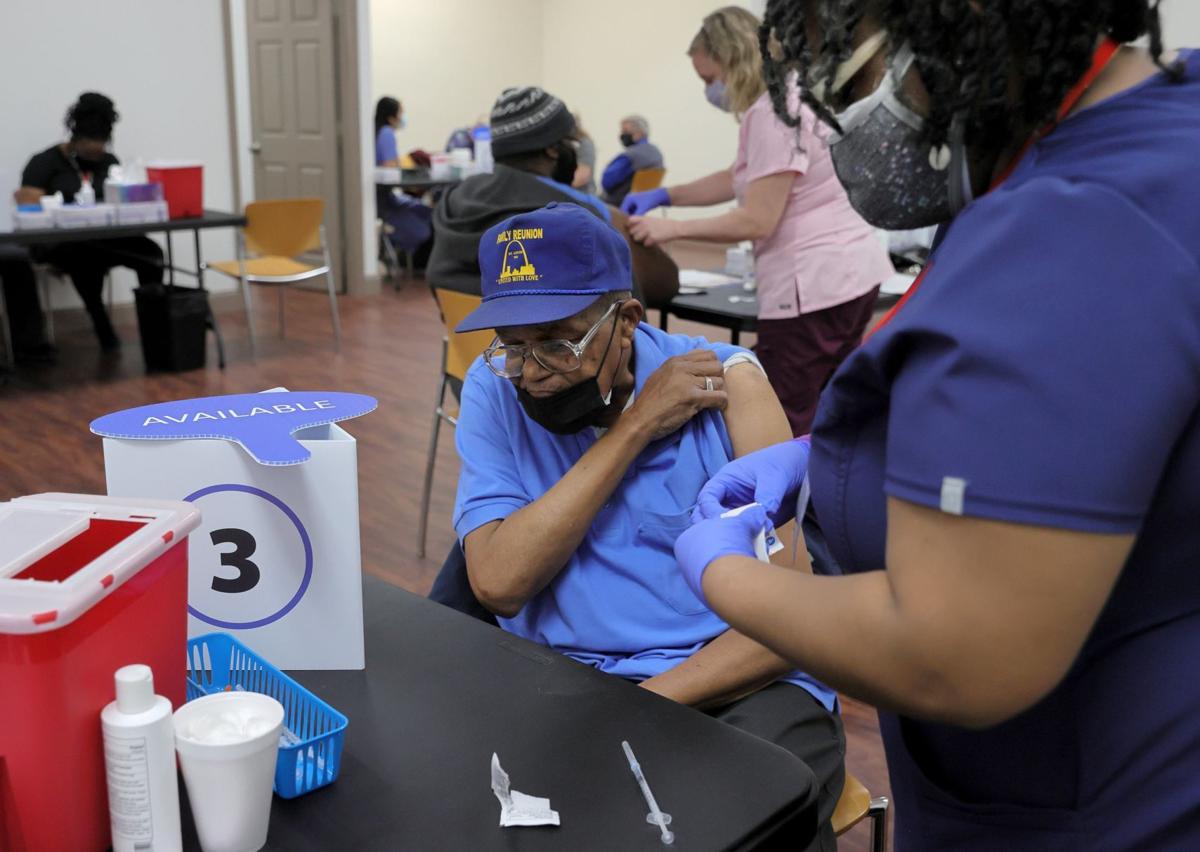 I had the opportunity last weekend to participate in something bigger than myself. In fact, it was so much bigger than one person, it was considered a mass event. I volunteered at one of the mass coronavirus vaccination sites.
As a registered nurse, I am qualified to help vaccinate. I was only one of hundreds of volunteers who helped vaccinate 2,000 of our neighbors. Most of the volunteers there were not clinical volunteers. Rather, they helped check people in, usher, collect paperwork, restock supplies, put out box lunches and arrange follow-up appointments.
The Missouri National Guard was also on hand, directing traffic inside and out, as well as providing much-needed logistical support — a public service for which I am grateful.
The building was brimming with a positive vibe, hope and joy. I remember the faces of the individuals whom I vaccinated, some crying tears of joy. I also remember the other volunteers, county health department staffers, and National Guard members I met. Everyone worked together for the common purpose of vaccinating as many county residents as we could.
I have coined a new term. At least I think it's new: comm-immunity, which is members of the community working together to expand our mutual immunity. Everyone can and should help their communities by getting vaccinated and then, after being vaccinated, turn around and help others in their communities do likewise. It's a fun circle of helping the common good.
It is imperative that enough humans get vaccinated against the coronavirus in order to beat this pandemic. There is a collective desire for a return to normalcy, whether that is a return to normal social interactions or a recovered economy with prosperity. Perhaps we should think of this virus as a gang of microbial terrorists whose only purpose is to disrupt our lives. Our duty as Americans is to collectively defeat this enemy by baring our upper arms and getting a shot. By receiving a vaccine, you are not only protecting yourself, you are helping to protect your friends, family, co-workers and neighbors.
Depending on the reports you read, there's either been a boom in volunteerism or a drop in it during the pandemic. My unsubstantiated and anecdotal hypothesis is that formal volunteering may have dropped off while informal community service has increased. There are multitudes of stories of informal volunteer activities such as people dropping groceries off for neighbors, people walking the dogs of health care workers and thousands of masks sewn.
An examination of media reports on volunteerism during the pandemic highlights some overarching themes. People who have volunteered suggest that doing so is a way to give back and that it helps individuals feel like they are doing something during this time of crisis. A sense of solidarity can be established while working with others toward a common purpose. Volunteering during a pandemic may also be comforting and give people a purpose by helping individuals overcome helplessness and feelings of inertia.
Civic engagement has also increased during the pandemic. One measure of civic engagement is voter turnout. Two-thirds of eligible Americans voted in the 2020 election, which is more than in any other election in 120 years. Missourians cast more than 3 million votes, which was 70% of registered Missouri voters. That 70% turnout was not a record, but it did exceed the national average. Voting might be considered a form of volunteerism since it involves stepping forward for the sake of civic engagement, without the incentive of payment of direct personal benefit, in a community effort to advance democracy.
Research confirms that volunteerism and civic engagement have positive effects on an individual's well-being, mental health and levels of happiness. Obviously, it also meets the needs of whatever community is being served. Volunteering can also provide public health benefits. A number of studies have explored the relationships between volunteering and health. While the studies may differ in terms of their specific findings, they consistently demonstrate that there is a significant relationship between volunteering and good health. When individuals volunteer, they can experience lower mortality rates, better health in later years, greater longevity, higher functional ability and lower rates of depression.
All of us have a responsibility for society's collective public health. By getting vaccinated, volunteering or participating in community service and civic engagement we can all make a difference. I'm making comm-immunity one of my new causes.
Editorial Board member Lynn Schmidt is the Missouri state leader for Stand Up Republic and is a registered nurse. She lives in St. Charles. lynnschmidtrn@outlook.com