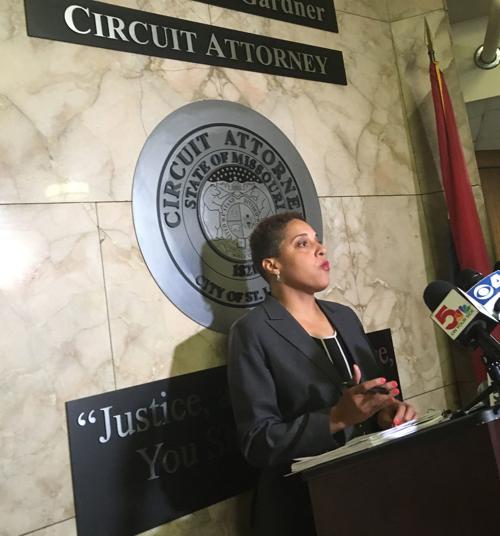 As prosecutors, when we discover evidence that an innocent man is behind bars, there is only one ethical response: Do everything within our power to address that injustice as swiftly as possible.
We have a duty not only to seek justice when prosecuting cases prospectively, but also to address past miscarriages of justice. We applaud the pursuit of this ethical obligation by St. Louis Circuit Attorney Kim Gardner, who is steadfastly fulfilling this duty by seeking a new trial for Lamar Johnson after discovering overwhelming evidence of his innocence.
On Dec. 11, Johnson and the circuit attorney's office will appear before the Missouri Court of Appeals seeking a new trial. Earlier this year, Gardner's Conviction Integrity Unit issued a report documenting significant evidence that Johnson was wrongfully convicted based on prosecutorial misconduct and fabricated facts. The original motion by the St. Louis prosecutor's office for a new trial was rejected by Circuit Judge Elizabeth Hogan in August, who ruled that Johnson had technically missed the 15-day deadline for filing a new trial motion, although the evidence pointing to his innocence was just recently discovered, years after that deadline had lapsed.
Missouri Attorney General Eric Schmitt, discounting the evidence of Johnson's innocence, argues that the court does not have the power to hear Johnson's motion for a new trial and that Gardner similarly lacks any basis for remedying this miscarriage of justice. Meanwhile, Johnson remains in prison, where he has been for the past 24 years.
We were elected in Midwestern counties near St. Louis and joined a total of 34 prosecutors from across the country in filing an amicus brief in support of a new trial for Johnson. This is not about politics — this is about basic fairness and the integrity of our justice system. The stakes could not be higher. If Hogan's ruling is upheld on appeal, not only will Johnson remain behind bars, it could make it almost impossible for conviction integrity units in Missouri to work as intended and for prosecutors to reopen wrongful conviction cases similar to Johnson's in the future, regardless of newly discovered evidence. That means we would be willfully and knowingly leaving potentially innocent people behind bars without a remedy for relief.
The need for conviction integrity units to review old convictions is unquestionable. The units operate in at least 59 offices across the country and have been responsible for producing a staggering 390 exonerations as of Tuesday. They are essential to promoting justice, transparency and accountability.
Equally important is preserving the immense discretion prosecutors have in their pursuit of justice guided by the constitutional and ethical obligations of their office. Gardner's decision to waive the time limitation in Johnson's case to address the injustice of his conviction fits squarely within the circuit attorney's broad discretion. Elected prosecutors should not be expected to wait or rely on the actions of others to correct legal wrongs. In fact, they are ethically required to address these concerns, as Gardner has done Johnson's case.
Public safety is also at stake. Prosecutors and law enforcement officials rely on the cooperation of victims and witnesses in solving crimes and bringing responsible parties to justice. This cooperation depends on building trust between law enforcement and the community it is employed to serve and protect. This trust can only exist if people believe in the integrity of the justice system and that prosecutors across the country will follow Gardner's lead to uphold their duty to seek justice and do everything within their power to make sure that what happened to Johnson never happens again.
Mark A. Dupree is the Wyandotte County, Kansas, district attorney. Christian A. Gossett is the Winnebago County, Illinois, district attorney. John T. Chisholm the Milwaukee County district attorney, also contributed.
Catch the latest in Opinion
Get opinion pieces, letters and editorials sent directly to your inbox weekly!