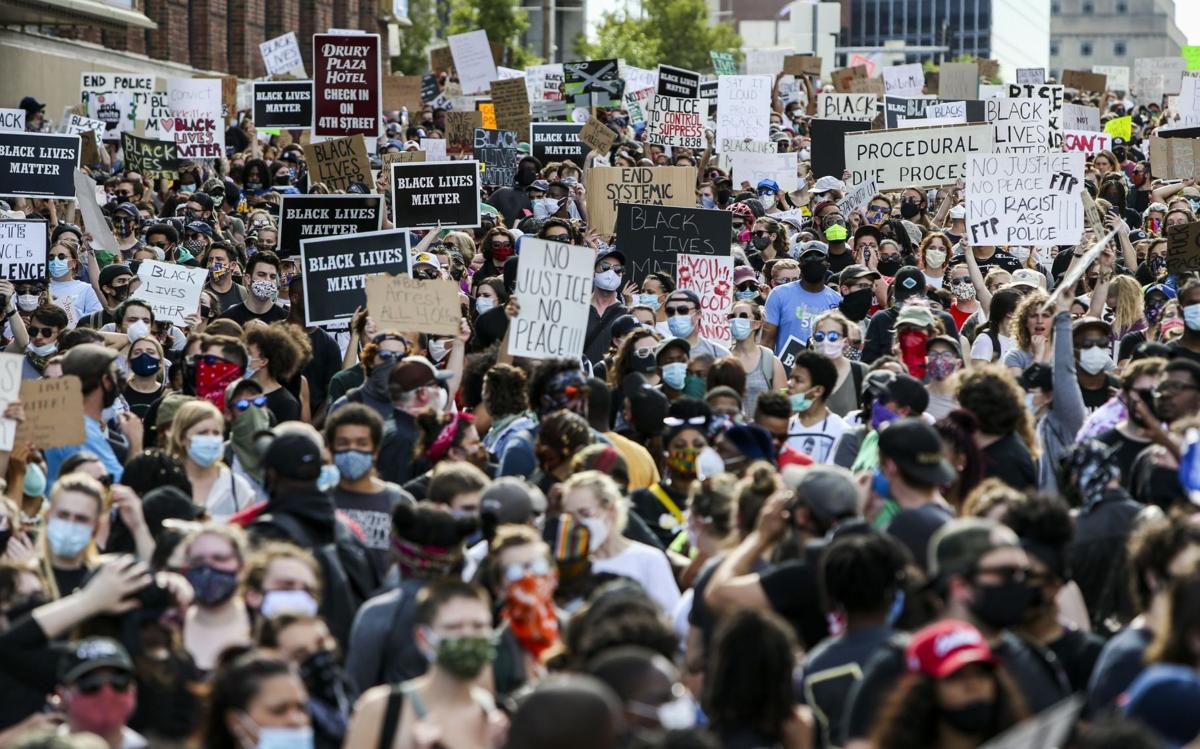 Amid hundreds of passionate and pointed signs at the downtown protest on Monday, one stood out to me: "The system isn't broken. It was designed this way."
As a criminal defense attorney fighting for clients within the system, this is not comforting. But it also isn't wrong. It is a system designed to elevate specific voices who conform to established norms and to limit or stifle the rest. It is a system that allowed Post-Dispatch columnist Tony Messenger to accurately and painfully pen his May 29 article, "Missouri's Long Race to the Bottom is over. It's a dubious victory."
It is a wonder he isn't still writing examples of the ways Missouri is "winning" that race. And it is also why, when he writes about specific people facing incidents of oppression and disenfranchisement, it reads as an outlier within our mainstream media or politics.
The death of George Floyd in police custody in Minneapolis finds us nowhere new. We have been here for centuries with countless chances to change course. Yet again, here and now, the continued degradation of black and brown bodies confronts us, and still we continue, unwilling to identify and empathize with those we do not know or understand. We seek so-called answers in the same place, in the same manner, and from the same people. And we therefore continue on our seemingly forever trajectory, assuming it is others that require course correction and not ourselves.
What happened to Ahmaud Arbery, Christian Cooper, Breonna Taylor and George Floyd is not an anomaly. It is a reality brought forth by our individual and collective indifference toward our brothers and sisters of color. That indifference was born as much out of the apathy, convenience and privilege of the many as the openly racist actions of the few.
That indifference is ours, not someone else's.
Some of this is easy to recognize. Police arrest black drivers 95% more than whites statewide and 600% more in Ferguson. City Hall petulantly refuses to close the dilapidated St. Louis Medium Security Institution, commonly known as the workhouse, which is 77% vacant and populated primarily by black and brown poor people with nonviolent allegations.
According to the Vera Institute, Missouri courts continue to disproportionately incarcerate people of color, with a 64% increase in primarily pretrial jail incarcerations for black individuals from 1990 to 2015 and a 141% increase in prison incarceration from 1978 to 2015. And a Post - Dispatch editorial called to reincarcerate some pretrial detainees released during the pandemic. All those detainees are presumptively innocent, and the majority are people of color. A March 30 editorial regarding individuals the editorial board deemed potentially dangerous stated: "Those release orders need to be reversed immediately."
The supposed allies of or institutions for our brothers and sisters of color all are focused on continuing the narrative and actions that have led and kept us here.
But finger-pointing is easy. Necessary, but easy. The racist acts, threats and unspeakable violence consistently hurled at our black and brown family take deep root in certain institutions, but also by us doing little or nothing about it.
It is past time. If not now, when? Speak up. Support businesses of color. Vote. Petition. Identify injustice and racism and call it out. Do not accept the status quo simply because it exists. Question your leaders. Question your friends and family. Listen to those most affected. Get involved. Make real sacrifices. Support each other. Stop labeling every egregious act as "other." Stop saying you aren't racist.
Never assume you aren't part of the problem, because you are. We all are and we all have been. But we can also all be part of the solution if we are as humble, open and courageous as those we continue to oppress.
At the beginning of the march Monday, one of the organizers reminded everyone, "You do not know what experiences the people walking next to you have had. So walk with grace." That sounds like a good beginning for a new system.
Matthew Mahaffey is the district defender in the Missouri public defender's St. Louis trial office.