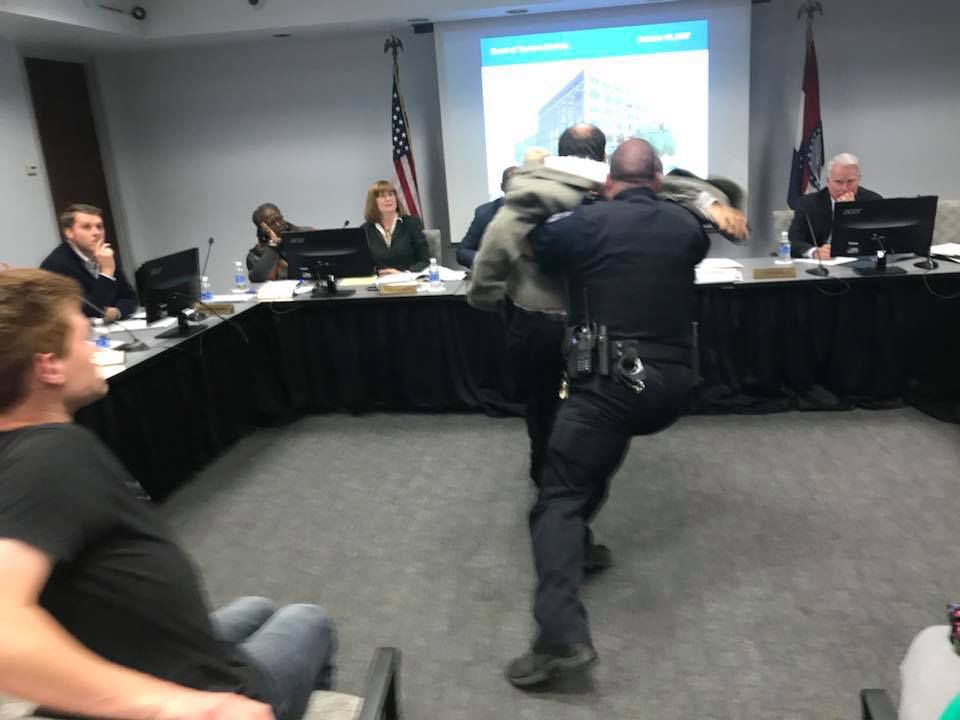 At the Oct. 19 St. Louis Community College Board of Trustees meeting, a professor was tackled and removed from the public hearing. He was being sanctioned for having questioned the board's banning of applause for those who spoke against a plan to replace many full-time faculty with part-time instructors, while encouraging applause for administrators who supported it. I was that instructor.
Having been a district director for a U.S. congressman as well as a former planning and zoning commissioner for the city of Wildwood, I have often been in the situation that members of the board were in that night. From my perspective, they navigated it poorly. Not only did they try to gavel down a point of order in a sanctimonious and tone-deaf fashion, at least two students where ejected from the room for merely expressing concern that one of their instructors had been thrown to the floor. This disregard for student expression was the saddest aspect of it all.
For me, the experience of having been rammed into the floor and having students being removed for questioning the administration's action is emblematic of the part-time faculty (adjunct) experience.
Adjunct instructors currently represent about 60 percent of faculty at St. Louis Community College. Adjuncts are hired on a part-time basis with no health insurance, no real office and limited access to shared computers.
Adjuncts rarely have a space to talk to students privately about academic performance and other issues that are protected under the Family Educational Rights and Privacy Act. On the Wildwood campus, a makeshift conference area behind a set of bookshelves has been designated by the administration for such purposes. Conversations with students and instructors regarding academic performance are often overheard in the crowded office.
The pay rate for an instructor with a master's degree is equivalent to about $10 an hour, a rate hardly commensurate with an institution that touts the value of higher education. Many adjuncts attempt to piece together full-time work by commuting to numerous colleges and universities. Many drive over 100 miles per day. This is necessary since universities and colleges limit the number of classes taught in order to avoid paying any benefits to their faculty.
Chancellor Jeff Pittman is recommending that the Board of Trustees vote at its Nov. 30 meeting to fire about 50 full-time instructors and replace them with adjuncts. This would result in a negative outcome for students and further erode the student experience at St. Louis Community College. Although adjuncts are typically very good instructors, they do not receive the same professional support and stability as full-time professors, and it is impossible for them to give the same level of student service.
This proposed reduction in full-time staff comes at the same time the college is planning a new four-floor building costing nearly $10 million per floor.
The situation at St. Louis Community College reflects the crises in the classroom that we are facing nationally, where students are being burdened with a rapidly increasing cost of education, and being taught increasingly by adjunct instructors who can barely afford to be there.
Despite administrators' cries of poverty, there does not seem to be any trouble finding money for expensive legacy-building projects, raises for administrators or niceties such as housing and car allowances above and beyond Chancellor Pittman's already-generous salary.
For anyone paying attention, it is clear that the further you are from student interaction, the higher the salary at colleges and universities. We should recognize the value of those actually in the classroom, both students and instructors. Currently, they are undervalued.
If in order to save money it is acceptable to deny instructors health insurance, job security or decent pay, maybe it is time to apply such policies to administrators. Why should all administrators have benefits such as health insurance?
The current rise of the administrative top-heavy college or university reduces the effectiveness of professional instructors and lessens quality, transparency and checks against academic fraud and economic abuse.
For the sake of equanimity and savings to the taxpayer, we should hire an equal proportion of part-time administrators as we have adjunct faculty. Given the army of high-paid administrators draining school budgets, it is an idea whose time has come.
Steve Taylor is an adjunct math professor at St. Louis Community College.
Catch the latest in Opinion
Get opinion pieces, letters and editorials sent directly to your inbox weekly!