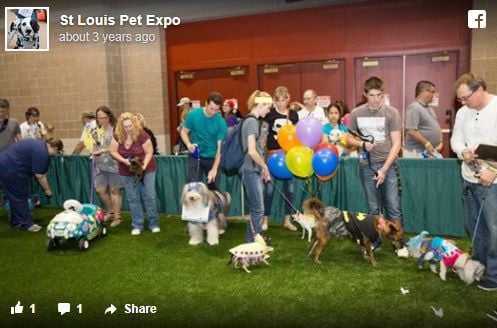 For years, statehouses across the U.S. have viewed Missouri as a bellwether for animal welfare. That's why it was disturbing to read the allegations last month surrounding the canceled St. Louis Pet Expo — the latest in a string of outrages for local animal lovers. It's time the Legislature reviewed animal issues again, but with a wider scope, including pet scams, fake service dogs and fraudulent nonprofit registration.
The last topic in particular — pretenders tarnishing the good name of legitimate organizations — is especially troubling and most easily addressable. From last month's report of Missouri residents scammed by fake puppy adoption schemes to this new story of legitimate rescues losing money to a shady event organization, we're seeing unethical businesses trading off the goodwill of reputable organizations to line their pockets.
There are many amazing nonprofit organizations across the nation with the highest standards for animal care, but the sad reality is that countless "rescues" and "shelters" and "exhibitions" are not the shining beacons of light we assume they are. In reality, the lack of governmental or private sector oversight enables the number of fake and opportunistic organizations to thrive.
It's astounding that in 2017 facilities can house millions of animals with virtually no oversight at the county, state or federal level. Unscrupulous animal rescues and shelters create problems that extend far beyond their poorly run facilities. They are the clouds that cast a shadow over good rescues and shelters, responsible breeders and even the homes of dog owners.
The problem stems from a common myth that there's a dog overpopulation crisis in America. In fact, there is a looming, massive shortage of adoptable puppies. Even the former president of the American Society for the Prevention of Cruelty to Animals recently confirmed "the demand for puppies and dogs is now more than seven times the population of homeless dogs at risk for euthanasia, and that gap is increasing every year."
Unethical rescues, shelters and exhibitors see an opportunity to make money, so they illegally import dogs — often puppies — with little to no recorded histories. In April, that practice caused an outbreak of canine influenza in Los Angeles that was directly traced to a rescue's imported dogs from Asia. The highly contagious disease was first identified in the U.S. just two years ago but has spread to more than 30 states.
The number of raids on substandard rescue and shelter organizations is also increasing. In Georgia, more than 400 animals were recently seized from a neglectful rescue. And in North Carolina, more than 100 dogs were taken from a private shelter. Animal welfare groups often label these as raids on "puppy mills." While people may assume these are breeding operations, the facts show that many are actually black market, unregulated retail shelters.
They face little regulatory oversight and operate in near-complete secrecy. False data, bad record-keeping, deception and other bad management practices go unwatched and uncorrected.
Again, there are countless legitimate rescues and shelters that reflect the best traits of humanity. They are typically true nonprofits with limited resources and overworked staff members. They shouldn't be burdened with administrative roadblocks that slow the rehoming of animals in need. To support animals and the people who provide for them, we can start by establishing a checks and balances system with two key components:
• Licensing. Our hair, nails and tanning are closely regulated with standards on training and operations. Commercial breeders are regulated. Yet, many places where people adopt living animals aren't. Every rescue and shelter should be required to register with the state or federal government, meet basic humane requirements on housing and feeding, stand for regular inspection and receive annual certification.
• Transparency. The public deserves to have a seat at the table for nonprofits that receive taxpayer support or use public facilities. When it comes to keeping millions of animals alive, there's no reason for the public to be shut out. Everyone should have the right to access reports on their local rescues, shelters and events so they truly know where new family members come from.
The practice of giving a free pass to any self-reported rescue, shelter or event must end. Legitimate organizations welcome the opportunity to show that they're amazing places. Those unwilling to subject themselves to a basic level of transparency should cease to operate. Bad apples should no longer blacken the reputation of rescues and shelters that deserve our support.