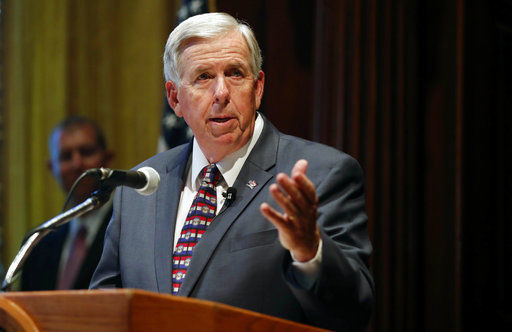 Although capital insiders refer to the lieutenant governor as "light gov," we still need one. As Gov. Mike Parson can attest, Missouri's lieutenant governor is not someone who just sits around waiting to take the reins temporarily when the governor is out of town.
Our "light gov" fills other crucial roles, too. Our state constitution created a Senate with an even number (34) of senators. This design purposefully anticipated tie votes and an executive branch check on the Legislature. As the president of the Senate, our lieutenant governor casts tie-breaking votes, which can resolve simple procedural issues or be much more weighty.
In 2000, when I was working in the Legislature, the November election led to neither party winning a Senate majority. The Republicans held a plurality of 16 seats. (There were 15 Democrats and three vacancies.) At times like that, the "light gov" can fill an extraordinarily heavy role.
As former Missouri Chief Justice Michael A. Wolff ably explained on this page last week, current law does not provide for the filling of this vacancy, and in my opinion, prevents the governor from appointing a lieutenant governor. See Mo. Rev. Stat. § 105.030. Nearly a hundred years ago, the Missouri Supreme Court ruled the governor had no authority to fill vacancies in a way that conflicts with applicable statute. By contrast, there is constitutional and statutorily provided process to fill all other elective state offices, either by appointment or special election.
Gov. Parson says he is considering calling the Legislature into session to fix this problem. He should immediately do so. The cost is minimal, and the opportunity is prime.
Upon the tragic death of Gov. Mel Carnahan in 2000, Lt. Gov. Roger Wilson became governor and appointed Joe Maxwell as his successor. But because Maxwell had actually just been elected lieutenant governor (but had not yet assumed office), the issue fizzled. The issue resurfaced in 2013, briefly, when Lt. Gov. Peter Kinder ran for Congress. Gov. Jay Nixon said he could appoint Kinder's successor if Kinder left office. Legislative leaders disagreed. Kinder wasn't successful in his congressional bid, and the debate faded once again.
Since the Legislature is currently meeting in an unfortunately called and unprecedented "special" session, Gov. Parson calling a concurrent "extraordinary" session would impose little or no additional cost or time. (The terms "extraordinary" and "special" are constitutional terms-of-art. Suffice it to say, an "extraordinary" session is one called by the governor, and a "special" session is called by the Legislature itself.)
Our state constitution mandates a minimum five-day process to pass a bill. The Legislature can accomplish this task in that short time frame (if it waives some of its normal procedural rules), and the entire membership of the House and Senate only need be present for one day each. Almost all of the work can be performed by presiding officers and committees, which reduced cost and time. And doing this in June — the final month of the fiscal year — further reduces any impact on the Legislature's budget.
In 2005, Gov. Matt Blunt called an extra session to pass an abortion-related bill. This took the Senate only three days and the House an additional five. If an abortion bill can be passed in eight days, this task should be a breeze. In fact, the Legislature has already considered and debated legislation as recently as this year on this very topic. It's time to fix this issue and put the debate to rest.
Stephen S. Davis is an attorney with the St. Louis office of Arent Fox LLP. He previously served as the 62nd chief clerk and administrator of the Missouri House of Representatives and as an assistant United States attorney.