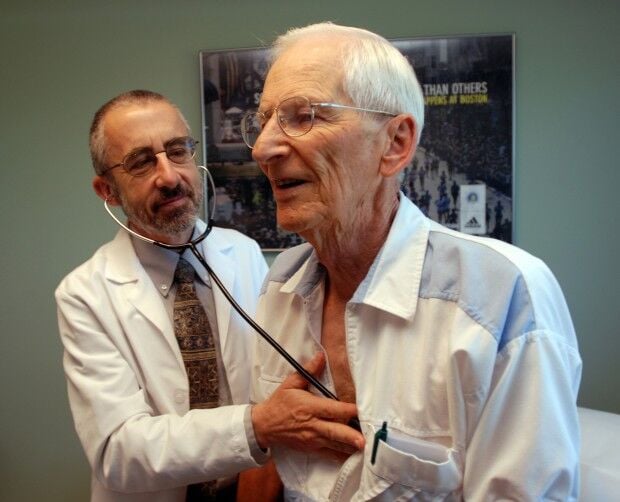 A new report from the National Academies of Sciences, Engineering, and Medicine is calling for all Americans to have a primary care physician — and if they don't, to have one assigned to them. The report's authors want to make primary care like public education, something everyone has easy access to.
But there's a problem — we don't have enough primary care doctors to meet this objective. To increase their supply, we must look to graduates of international medical schools. They not only have a history of specializing in primary care but also tend to practice in historically underserved areas.
According to the Association of American Medical Colleges, the United States will be short more than 48,000 primary physicians by 2034. That number could head even higher, thanks to a wave of doctors retiring early because of the pandemic.
Conditions in rural areas are particularly grave. About 20% of Americans live in rural parts of the country, but only about 10% of doctors practice there. Sixty percent of the nation's health professional shortage areas are located in rural places.
Those shortages aren't likely to improve. More than 50% of rural doctors are older than 50, compared to 40% of physicians in urban areas, according to a report published in the New England Journal of Medicine. As more of these physicians consider retirement, nearly 25% fewer doctors may be practicing in rural communities by 2030.
These shortfalls won't just be inconvenient. They could be matters of life and death. According to a March study published in the Annals of Internal Medicine, increasing access to primary care doctors could prevent more than 7,200 deaths every year.
We may have seen that phenomenon play out during the pandemic. This past January and February, the weekly rate of new coronavirus infections in rural areas dipped below that of metro areas. Yet the death rate in rural communities remained higher.
That disparity reflects the broader health problems facing rural Americans, who are more likely to die from chronic conditions such as cancer and heart disease.
Increasing access to primary care may be able to change that. But U.S. medical schools aren't producing enough doctors to supply that care. Over the past five years, U.S. medical school enrollment has increased by less than 2% annually.
As a result, many highly qualified applicants end up on the wrong side of an admissions decision. Between 2002 and 2020, the number of first-year applicants increased by nearly 60% while total enrollment went up just 35%.
Graduates of international medical schools can fill the U.S primary care shortage. Many of them are U.S. citizens who went abroad for their medical education and returned home to practice. Already, they make up one-quarter of the U.S. physician workforce. In some states, such as New York and Florida, international medical graduates account for nearly 40% of all doctors.
International medical graduates are also more likely to enter primary care than those who graduate from U.S. medical schools. Last year, nearly 70% of international medical graduates chose primary care — compared to less than 40% of U.S. graduates.
A study published in the medical journal BMC Family Practice found that international medical graduates "are also more likely to practice in counties with lower median incomes, to look after underserved populations, and to live and work in rural areas."
That's certainly true at St. George's University, the international medical school I lead. One in five St. George's medical graduates practices in a medically underserved area. And there are more on their way — over 1,000 of our graduates matched into U.S. residencies across the country this spring.
Providing universal access to primary care won't be an easy task. If we're to reach that goal, we'll need to increase our reliance on international medical graduates.
Dr. G. Richard Olds is president of St. George's University in Grenada.