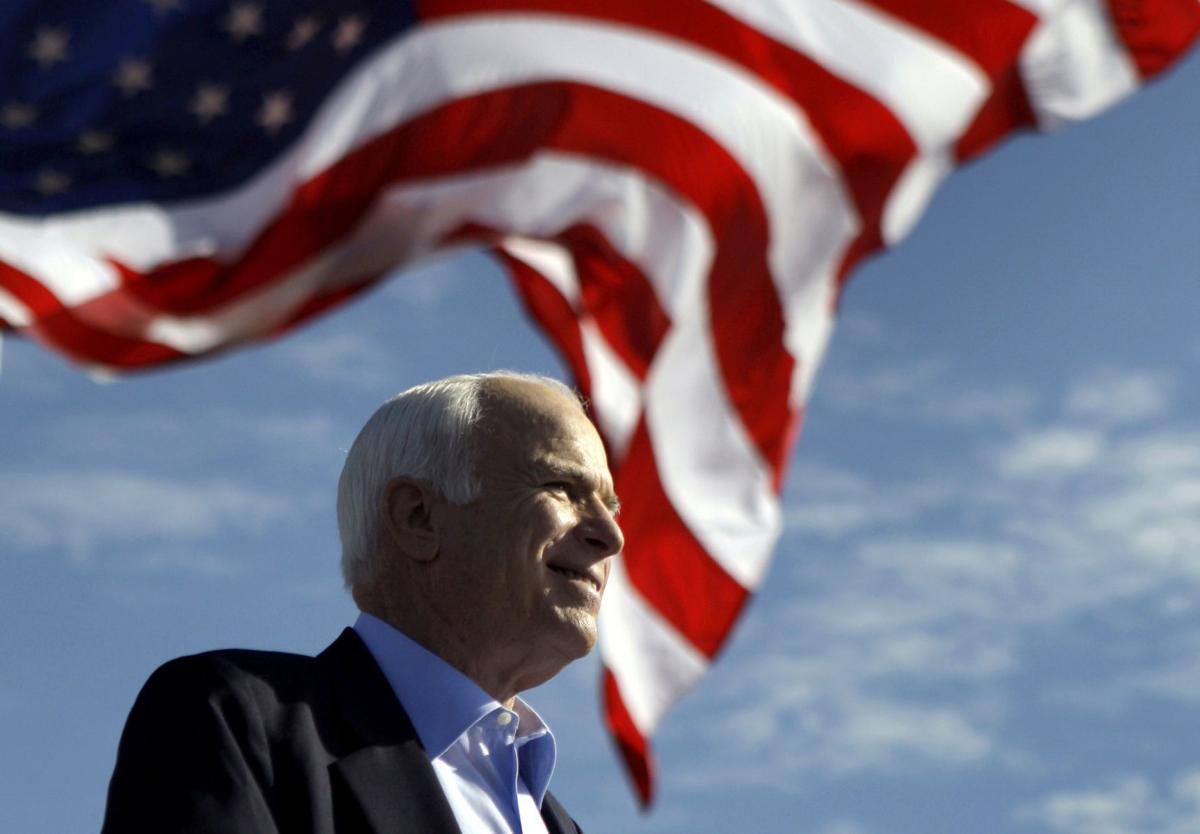 "I'm the luckiest guy on earth," Sen. John McCain was fond of saying. For a man who spent five grueling years in captivity as a prisoner of war, the Arizona senator was an eternal optimist. Sunday marked a year since his passing left a void in our country's political arena. But in keeping with McCain's optimism, I believe there is great value in reflecting on some of his life's lessons during this somber anniversary.
As we approach a presidential election that is sure to be more heated than the last, McCain's civility will be dearly missed. His absence has made it even clearer that too many of our political leaders today lack the courage to cross the aisle, the humility admit their mistakes, and the boldness to take on tough fights within their own party.
While McCain might be criticized by some conservatives today, any serious analysis of his career makes clear that he was a loyal Republican with an 81% lifetime rating from the American Conservative Union. Despite this party devotion, McCain never forgot that sitting on the opposite side of the aisle does not make a fellow American our enemy. He understood the simple truism that what divides us politically pales in comparison to what we have in common.
McCain built lasting relationships with political opponents. In the Senate, he put aside differences with John Kerry over the war in Vietnam to restore relations with Hanoi. Ted Kennedy worked with McCain on issues like immigration reform. He even counted Joe Biden as a dear friend despite facing him on opposite sides of the 2008 presidential ticket. McCain subscribed to the novel idea that Democrats aren't evil and don't hate America. Respect like this in the public sphere is hard to come by today.
Another lesson that McCain's legacy can teach us is that it's okay for leaders to admit their mistakes. McCain was a flawed man, a fact he readily admitted. What set him apart from other flawed leaders was his candor in revealing this fallibility. "I've had the good fortune to spend 60 years in service to this wondrous land," McCain said in one of his final speeches. "It has not been perfect service, to be sure."
When accused of wrongdoing during the infamous Keating Five scandal in 1989, McCain didn't just shrug off the controversy. While eventually cleared of any wrongdoing, he regarded the event as a "black mark" on his career and sought to right these wrongs by making campaign finance reform one of his signature issues.
During the 2000 Republican primary in South Carolina, he called the Confederate flag a symbol of "heritage" hoping that it would score him points with primary voters. He later apologized for the obviously contrived political calculation, admitting his true feelings on the matter by saying that his own ancestors "fought on the wrong side of history."
One of the moments McCain will most be remembered for came during the 2008 presidential campaign when he confronted a supporter during a town hall. "I can't trust Obama. … He's an Arab," she said. McCain shook his head and corrected her. "No ma'am. He's a decent, family man, a citizen that I just happen to have disagreements with on fundamental issues."
Such tact in the face of ignorance is lacking today.
McCain took on causes that weren't always popular, rightfully earning him the moniker of "maverick" in the Senate. He championed cutting pork-barrel spending, much to the chagrin of many colleagues. He pursued campaign finance reform, though unpopular within his caucus. On issues like climate change and LGBT rights, he was a moderating force who defied his party's conventional wisdom.
As lucky as McCain may have felt, we should all feel luckier to have had him as a leader in our time. He understood that America's greatness comes not from blood and soil but from our unshakable American ideals. The loss of Sen. McCain created a void that is evident today. But he left behind a blueprint for how our leaders ought to act. May his extraordinary life continue to serve as an example for generations to come.
Patrick Wohl is a former campaign staffer for Kentucky Sen. Rand Paul, Illinois Gov. Bruce Rauner, and Missouri Gov. Eric Greitens.