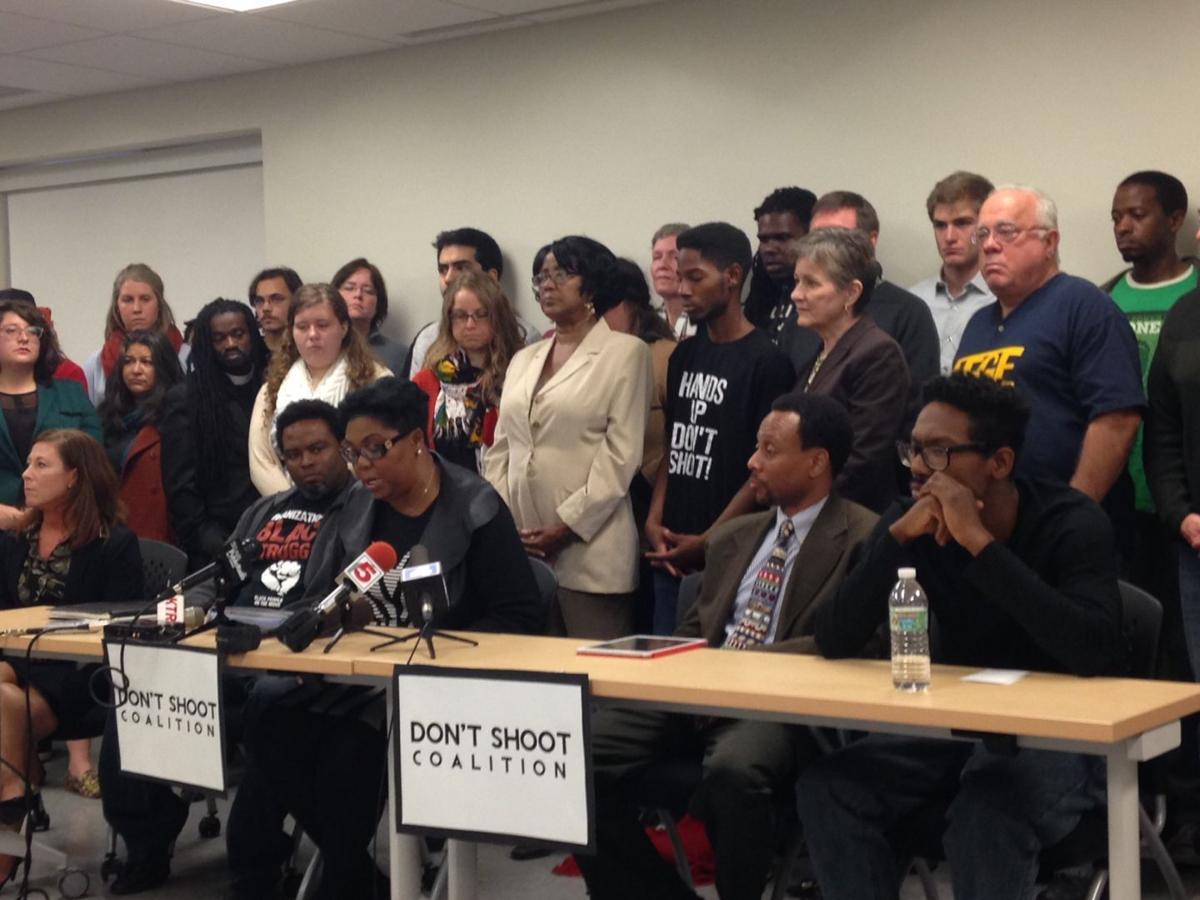 As we approach the grand jury decision after more than 80 days of protest, we understand that some members of the community are growing tired of civil unrest. They are asking questions about how it can end. Here are the Don't Shoot Coalition's answers to some of those questions.
Protesters may have some points to make, but why can't they express them peacefully?
The protests have been 99.5 percent nonviolent. But we are also being purposefully militant and disruptive. Change has not come through the courts, through politics or through gentle persuasion. We cannot wait any longer for whole segments of our society to gain freedom from abuse. Civil disobedience exposes tensions that already exist below the surface. Our society will not heal if we do not address issues that many people want to keep buried.
What good does it do to disrupt businesses and people's lives, when these people are not part of the problem?
Your question does not reflect the whole picture. This involves all of us. It's wrong to simply draw arbitrary boundaries around issues like fair policing, and decide that most folks are not involved. Many people — especially white folks — feel they can ignore the problem. People who benefit from or are not impacted by this unfair system have a duty to speak up and not be complicit. Ferguson has shifted the boundary line. It is not enough to say, "I'm not racist" just because you have suppressed your conscious biases. The protests are designed to make people feel uncomfortable and spur us all to end society's structural biases.
Why can't you let the legal process play itself out?
Why should people of color have faith in the legal system? Blacks whose behavior is identical to whites are more likely to be stopped by police. More likely to be searched and arrested. More likely to be charged and taken to court. More likely to be convicted. And more likely to receive harsh sentences. Why trust a system that has proven itself so unjust? If you are not a person of color, it may be difficult to understand what it feels like to be targeted in this way. Sure, judgments made through newspaper accounts and word of mouth are often flawed but, filtered through the black community's lived experiences, they are still more trustworthy than the current legal process.
Moreover, the courts alone don't change how we work. It takes herculean efforts of many people actively promoting a more just and fair system. We are working at the local, state and national level to reform police practices and end racism in the entire criminal justice system.
Will you be happy (and go home) if Darren Wilson is indicted?
An indictment would be the first step in a long journey. But jury trials have been used before to put on a "show trial" that is destined to end in acquittal. So, we certainly aren't putting all our eggs into one basket. The cause protesters are fighting for goes far beyond this one case. We are fighting for "No more Mike Browns." That means an overhaul of the system — and many more battles till victory is achieved.
What will it take to make you stop, then?
We want justice. The Don't Shoot Coalition has a list of recommended systemic reforms that includes effective civilian review, more state oversight, decertification of police departments, a revised Missouri racial profiling bill, a strengthened Police Officer Standards and Training Commission, and much more.
But if you want to see the system work, take action to make it work. Don't put the onus on the protesters. Your involvement makes the difference. If you want peace, work for justice.
Michael T. McPhearson and Denise D. Lieberman are co-chairpeople of the Don't Shoot Coalition, a group of over 50 social justice organizations.