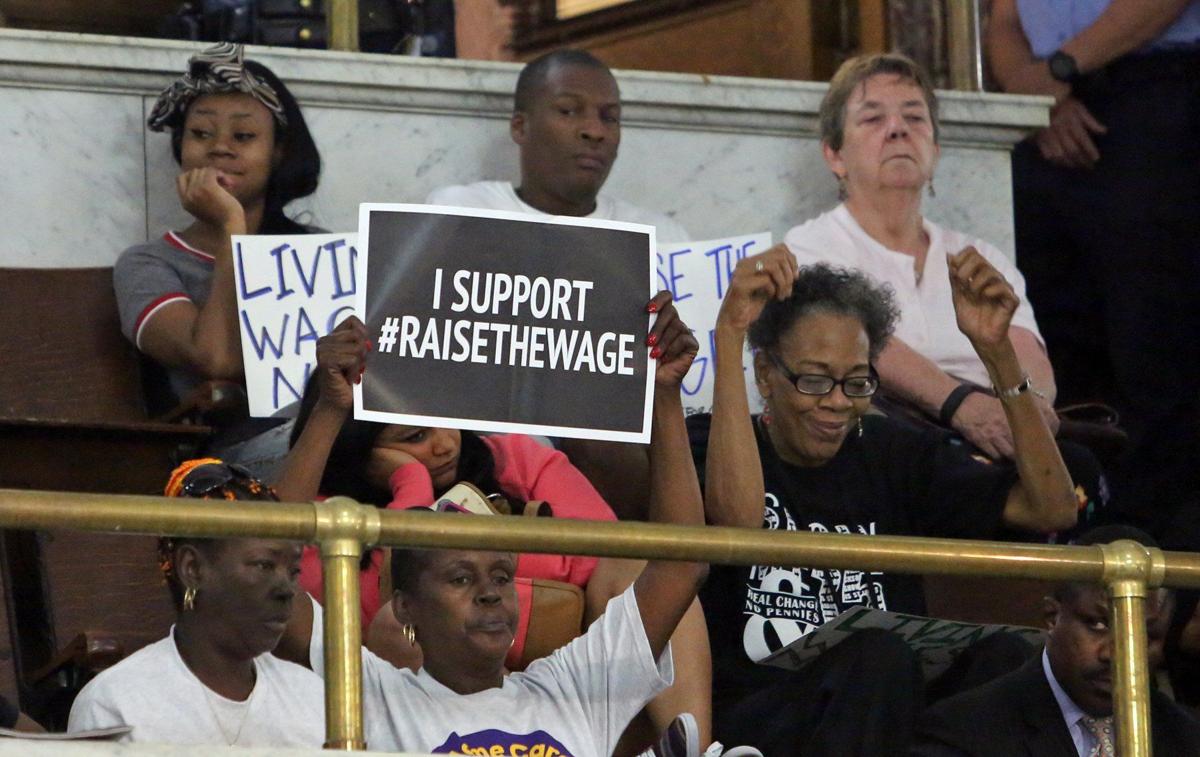 LaToya Caldwell loves her job. She's eager to tell you just how much. She recently told a room full of Kansas City reporters how she enjoys making people smile in the middle of their busy days. LaToya's work at Wendy's, she told the reporters, is deeply satisfying. The job gives her purpose.
LaToya, who is active with the Stand Up KC fast-food organizing efforts, was asked recently why she didn't get a new job. "I don't want to be a nurse," she responded. This sentiment is not unique to LaToya. Yet some people seem surprised that — for the most part — the men and women who work in jobs that happen to have low pay really love their work. LaToya's work has dignity. Her work has value.
I was raised by folks who taught me to value all work. My parents encouraged me to go to college, but to never think I'm too good to empty trash cans, serve food or stock shelves. For years, I've had the privilege of working alongside restaurant servers when the Legislature tried to roll back wages for tipped employees, with fast-food employees organizing for the last two years in their high-profile efforts to fight for "$15 and a union," and with home-care providers who recently secured important workplace protections. And it has deeply reinforced that every job, and every person who does it, deserves my respect.
The employees' value is shockingly unnoticed by some of our Board of Aldermen. During the minimum wage bill debate, Alderman Steve Conway said many times in opposing strengthening pay for our community members that "We don't need more burger flippers ... we don't need store clerks." Conway argued that individuals should seek out training for higher-paying, high-tech jobs instead of working for an increase in the city's minimum wage. Alderman Conway is my neighbor, and we've worked together on other issues, but I couldn't disagree more with him.
First, and on the most basic factual level, we do need more so-called "burger flippers." In fact, the occupation with the most job openings projected in the next eight years in the St. Louis region is food service prep. What is the second-highest number of predicted employment openings? Those same "store clerks" Conway called out as unimportant and unnecessary.
With election season underway, we've been inundated with tales of politicians' character-building jobs in their youth — including burger flipping — before they got into politics. They want to relate to ordinary folks through their stories in order to win our vote and convince us they know the value of hard work. Yet time and again, once they are elected, they flip-flop on the burger flippers, not wanting to believe people who are poorly paid are hard-working and care about their work.
And mind you, the ancient myth of a kid working to just "build character" isn't real anymore — if it ever was. The average age of a fast-food clerk is 32. In the time I've spent working alongside fast-food, retail and other employees in low-wage industries, I've seen that the young people in those jobs also deserved a fair return on their hard work. They were helping support their families' expenses, or saving for skyrocketing tuition costs. Remember, society used to say women didn't need decent wages because someone else was taking care of us. Now they're saying the same about young workers.
The Economic Policy Institute just updated its "Family Budget Calculator" for the St. Louis region. To make a modest, but stable living, a worker must make a full-time wage of $22 for one adult and one child. Right now, none of the top five occupations needed in our regional economy come anywhere close to this wage. That's because a handful of handsomely paid corporate CEOs decided to invest in themselves, their shareholders and politicians — not the people who make their companies run.
But our community can choose to reward all work and put families first. Our economy runs on every kind of work — from cleaning bathrooms to writing computer code. Those who do the work that keeps our region thriving also need to be able to take care of their loved ones and lead a decent life. So let's recognize and value the dignity of all work and make sure it sustains our families.
Lara Granich is the director of Missouri Jobs With Justice.