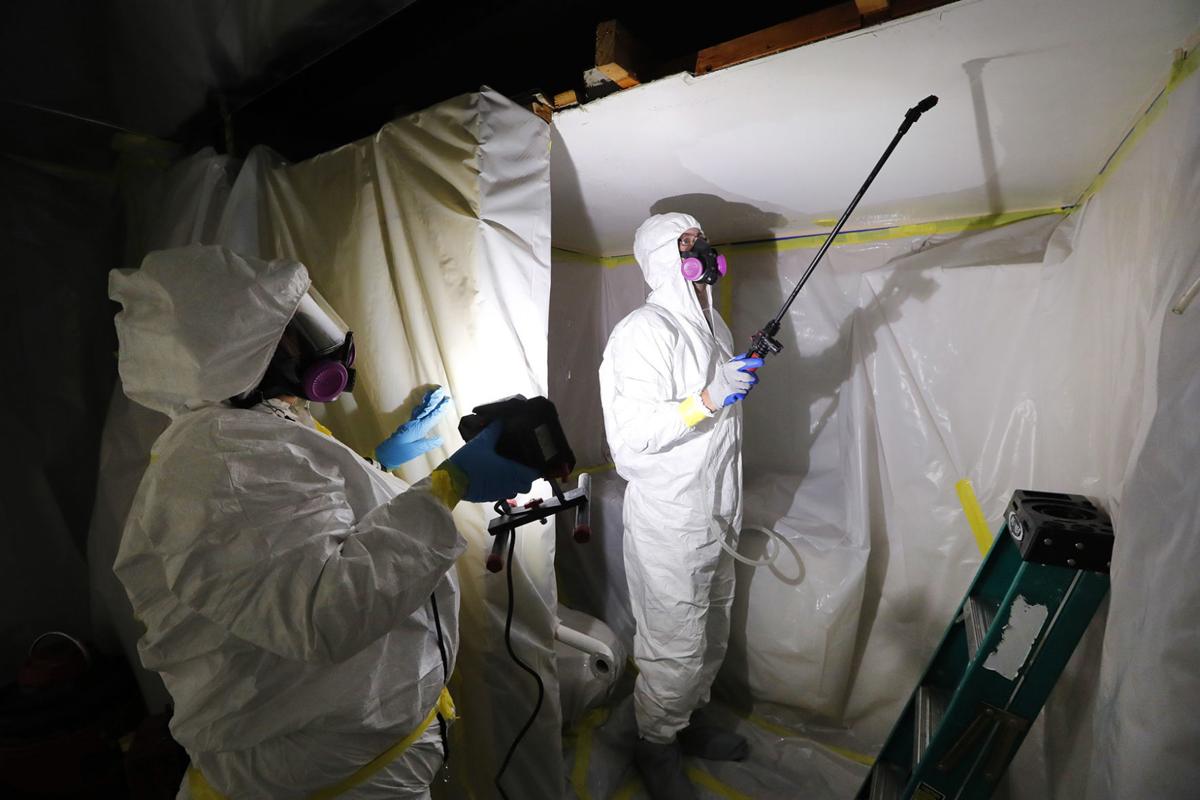 Asbestos-related deaths have devastated thousands of Missouri families, with more than 4,700 residents dying between 1999 and 2017 from diseases triggered by asbestos exposure, according to a recent analysis of federal mortality data by the Environmental Working Group Action Fund.
Among those Missourians who face an outsize burden of falling sick and dying from exposure to the deadly carcinogen are our veterans. That's because of the military's decades-long heavy use of asbestos in Navy ships and in Army, Air Force and Marines barracks.
Veterans make up about 8% of the country's population but account for roughly 30% of Americans diagnosed with mesothelioma — the extremely painful and fatal form of cancer that attacks the lining of the lungs, stomach and other organs and is caused only by asbestos exposure.
There are about 465,000 veterans in Missouri. Many have been able to receive compensation for their illness. But now legislation has been introduced that would erect a series of almost insurmountable roadblocks to prevent those who already or could one day suffer from asbestos-triggered diseases from getting the compensation they are due — or even deny it altogether.
This legislation was recently introduced by two St. Louis area lawmakers, state Sen. Bill Eigel, R-Weldon Spring, and Rep. David Gregory, R-Sunset Hills, at the behest of big insurance corporations and the asbestos industry. If passed, it would delay and deny veterans and other sick Missourians the right to hold asbestos companies accountable in their lifetimes. It would allow asbestos corporations to hijack and delay litigation so that many victims could succumb to their illness before they have an opportunity to receive justice. And it would rig long-established rules to let off the hook the very asbestos corporations responsible for poisoning veterans and other workers and citizens.
Under Missouri's current system, victims can file for compensation from special trusts set up by a number of corporations that used asbestos. But some companies that share responsibility for exposure aren't covered by the trusts, so victims must take them to court. This legislation would make those efforts to seek timely justice in the courtroom all but impossible, especially for those veterans in the late stages of their illnesses. They're simply out of time.
Neither Eigel nor Gregory came up with the idea for their legislation to run out the clock on sick and dying veterans and others in the state suffering from mesothelioma and other asbestos-caused diseases.
The concept originated in 2007 with the American Legislative Exchange Council, an industry bill mill that is heavily funded by major asbestos insurance companies. The council drafts legislation to benefit industry supporters and pushes legislators in state houses across the country to introduce them.
On behalf the 30,000 members of the Veterans of Foreign Wars-Department of Missouri, we strongly oppose this cynical proposal. If allowed to become law, it would deny veterans — and the many other Missourians who have been poisoned by asbestos — their constitutional rights.
In the memory of those who have already died, we call on all fellow Missourians to urge your representatives in Jefferson City to stand with veterans and non-veterans alike who suffer from the devastating, deadly consequences of asbestos exposure
Troy Williams is retired from the Marine Corps and is state commander of Veterans of Foreign Wars-Department of Missouri.
Catch the latest in Opinion
Get opinion pieces, letters and editorials sent directly to your inbox weekly!