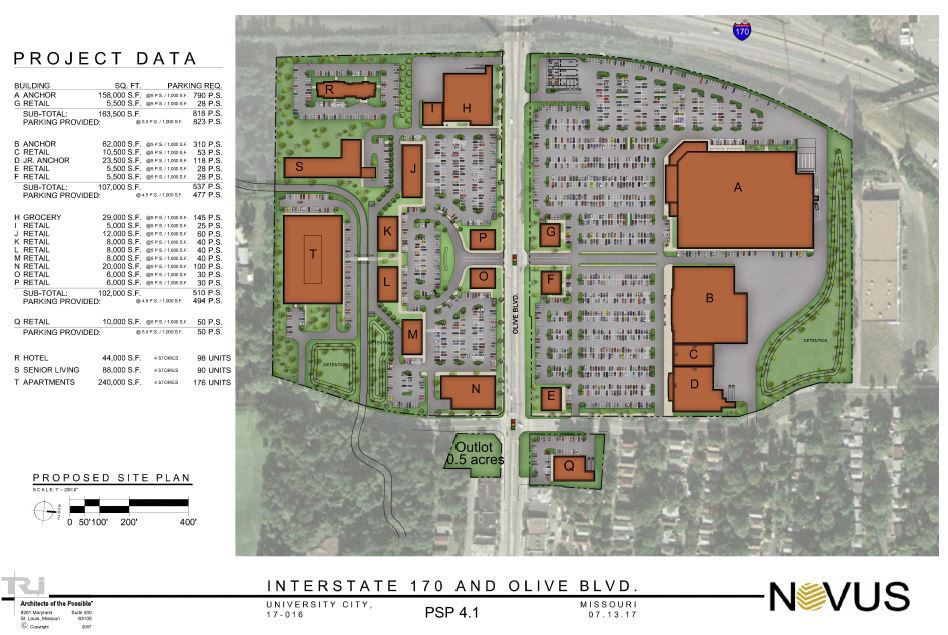 University City is considering a $203.3 million retail redevelopment plan at Interstate 170 and Olive Boulevard that would provide the developer, Novus Companies, with $70.5 million in tax increment financing, while potentially uprooting residents and unknotting a close-knit St. Louis neighborhood.
A lot of readers know this strip of Olive. It is rich with ethnic organizations and mom-and-pop stores and restaurants offering everything from plantains to kimchi. But readers may not know that its side streets are home to African-Americans and many other racial and ethnic groups who reside in relatively affordable housing that includes owner-occupied homes and rentals.
Indeed, the area reflects the rich history of University City, which distinguished itself nationally in the 1960s and 1970s through the Freedom of Residence Committee. That group pressed for fair housing and inclusion of African-Americans in University City so they weren't steered out of the local real estate market and whites weren't steered away from integrating neighborhoods.
This proposed development holds the chance for University City leaders to distinguish themselves as innovators regarding racial equity, inclusion and fair housing. Before granting a TIF, they could require the developer to sign off on a community benefits agreement with the residents and other neighborhood stakeholders. This sound policy decision would require Novus to meet with these groups and negotiate requirements for the development, which could include the creation of appropriate affordable housing and retail spaces so existing businesses and residents can continue to call the area home.
Recently, For the Sake of All released a community report titled "Segregation in St. Louis: Dismantling the Divide" in partnership with ArchCity Defenders, Ascend STL Inc., the Metropolitan St. Louis Equal Housing and Opportunity Council, Empower Missouri, Invest STL and Team TIF.
The report draws on decades of scholarship, litigation and legislation to highlight federal, state and local policies that fueled our region's housing segregation. It is sad to say, but St. Louis remains among the top 10 most segregated areas in the country and has been an innovator of tools of segregation for more than a century.
Though many overt tools are now outlawed, others continue to segregate and separate our region along the lines of race and income. One of them is the use of TIF financing in lower-income communities to convert them into lucrative shopping centers.
We don't have to look far back in our history to see this. The Brentwood Promenade was financed through a TIF to create a Target and other stores that wiped out the historic Evans Place neighborhood — one of the rare integrated neighborhoods in St. Louis where both African-American and white laborers could purchase homes. Another is the reshaping of Meacham Park in Kirkwood. The African-American community, dating to the 1800s, lost much of its landmass amid a TIF-financed development of a Walmart, Target and Lowe's.
Though affordable housing was created in Meacham Park, many residents left. In some cases, they went into a segregated affordable housing market located farther away from jobs, high-performing schools and medical care.
When TIF developments are proposed, proponents typically discuss the grittiness of the area and the need for subsidized revitalization. But they don't include residents in the discussion beyond offering buyouts or a flimsy promise of affordable housing.
"Segregation in St. Louis: Dismantling the Divide" asserts segregation can be dismantled by replacing decades of destructive policy with better, more inclusive policy. There are 11 recommendations in the report. They include TIF reform and the use of community benefits agreements.
This week, residents and community groups called on officials to delay approval of the TIF by the City Council until a coalition of groups can organize and meet with Novus to discuss what an ideal development would look like for them. As part of the TIF, the city could require all parties to negotiate and sign off on an agreement that benefits everyone. This would protect against a government-subsidized project once again displacing African-Americans and other racial and ethnic groups from places of opportunity.
University City representatives could seize this opportunity to move our region toward innovative development policies that are designed for the sake of all.