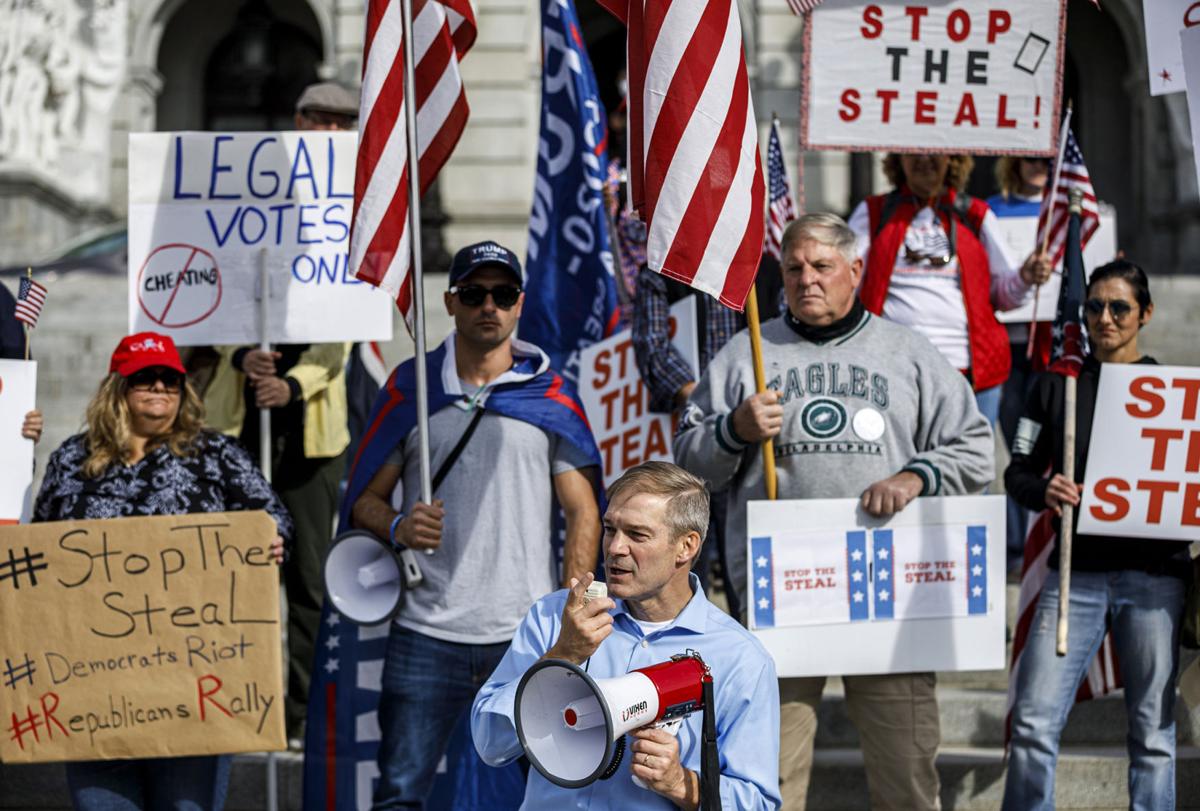 Reasonable people can disagree on important policy matters. That disagreement can lead to preference for one party's platform or one candidate over another. Civil disagreement can also lead to minds being persuaded and positions changing over time. I cherish the reasoned debate on policy differences. I believe in the importance of being open to being persuaded. But the rhetoric we have heard over the past three weeks is not about policy differences; it is fundamentally aimed at American democracy itself, and it is dangerous.
When the president of the United States took the podium Nov. 5 and made his first of many claims about the election being rigged and leveled allegations of widespread voter fraud, he was harming American democracy. His was a marked departure from long-held norms observed by losing candidates who put country before ego.
I do not deny the campaign's right to bring legal claims to investigate perceived irregularities. Given the numbers, it will be to no avail with respect to the outcome of the election, and to suggest otherwise is disingenuous. But the rhetoric is dangerous. It is dangerous because his base is listening, and they now believe in their bones that there is widespread fraud — that the election has been stolen. No losing presidential candidate of a major party has done that sort of harm to the country.
He began his remarks with, "If you count the legal votes, I easily win. If you count the illegal votes, they can try to steal the election from us." He went on to claim that there is "tremendous corruption and fraud going on." My heart ached as I heard him speak. Is this America? Do we respect the rule of law? Do we respect American elections, even when we don't like the results? Or not?
When he gave those remarks, I fear he played into the hands of the governments of China, Iran, North Korea and Russia, where the prevailing narrative is that American-style democracy is a sham and doesn't work. He bolstered authoritarian regimes in Hungary, Poland, Turkey and Venezuela, where democracy has been under attack in favor of self-interested, autocratic rule by the executive in power. He gave them fuel for their anti-democracy narrative, which helps to keep them from having to face voters in their own countries. That's tragic.
History has shown us that democracies are fragile, and he did potentially grave harm to ours and undermined the struggle for democracy elsewhere, as he sacrificed the truth of a disappointing outcome at the altar of a win-at-all-cost approach to his reelection bid. The idea of a party engineering the result when the election is run on a state-by-state basis with oversight by good, ordinary people strains credulity and disregards the service of Republican and Democratic election volunteers.
In Missouri, Republicans won every statewide office by wide margins. No one is suggesting that those results are fraudulent or that the election was rigged. We accept the results of the election, as we should. I am grateful to the poll workers and volunteers. I offer my congratulations to those we elected. To paraphrase the note President George H.W. Bush left for then newly elected President Bill Clinton, their success is now our state's success, and I am rooting hard for them.
I voted for Joe Biden and Kamala Harris. But I am not a Democrat. I'm an independent and have been since I cast my first ballot. I have voted for nearly as many Republican candidates for president (three) as I have Democratic candidates for president (four). I consider policy positions whenever I vote, but honor, character and decency matter to me at least as much and influence my vote every time.
Many of my extended family members, as well as neighbors and former and current students, voted to reelect the current administration. Each of them had their individual reasons for doing so, including tax policy, gun rights, abortion regulation and otherwise. I reject unequivocally the white supremacist undercurrent to the president's rhetoric over the past four years. That recurring rhetorical undercurrent goes beyond reasoned disagreement in my view. But I know firsthand that my extended family members support him for other reasons. I will not vilify them for exercising their right to cast their ballots in accordance with their judgment, even while I reserve my right to disagree strenuously with them.
But now the election is over. The outcome is clear. Some legal claims have been and will be brought by the campaign, and that will play out in courts of law; those claims, even if some are successful, will not change the results of this presidential election.
It is long past time for Republicans, especially elected officials, to unequivocally reject this dangerous, antidemocratic election-fraud rhetoric and instead to defend American democracy.