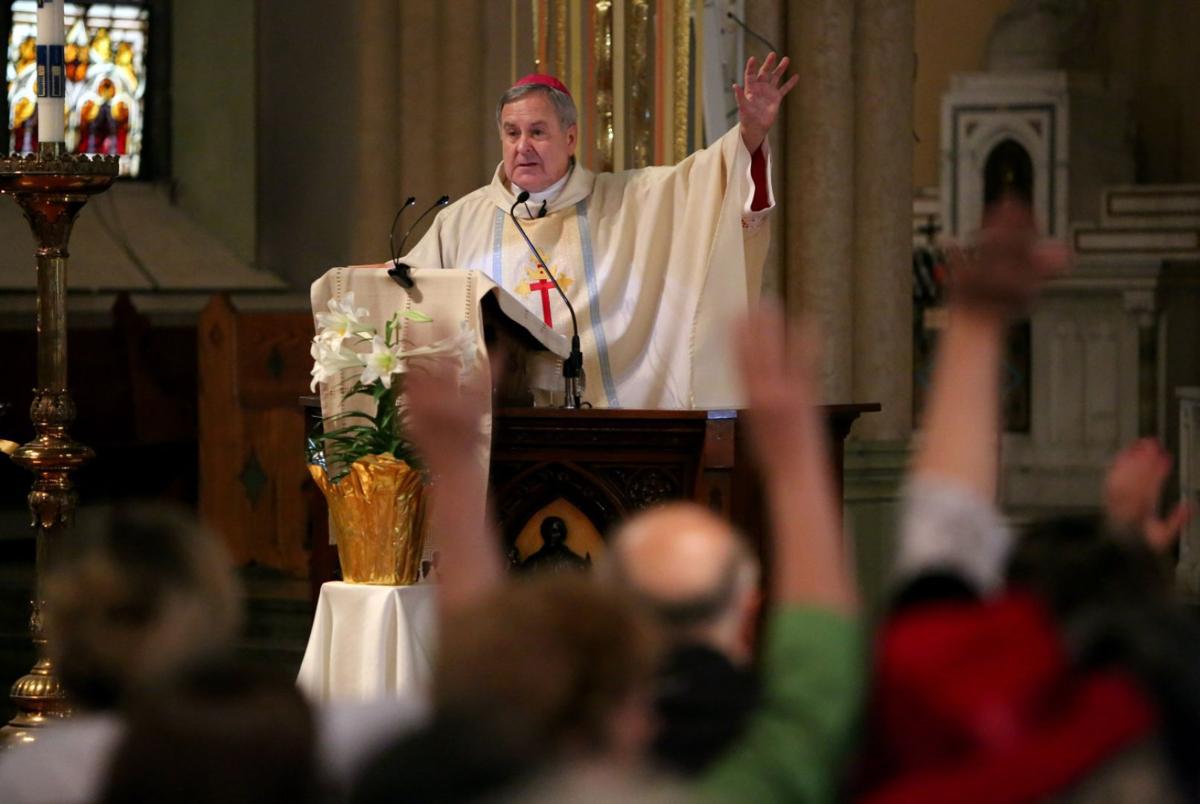 Friday, Jan. 5, marks 200 years since my predecessor, Louis William Valentine DuBourg, arrived in St. Louis.
When Bishop DuBourg arrived, St. Louis had but one church which could only be described as "a kind of miserable barn falling into ruins." Today, the Cathedral Basilica of St. Louis boasts one of the largest collections of mosaics in the Western hemisphere. In 1818, Bishop DuBourg was establishing a headquarters for his new diocese. Now, in 2018, the city of St. Louis is competing for a second headquarters of a major international corporation. We can imagine that those early settlers would be proud to see their once-fledgling frontier town transformed into a thriving, modern metropolis.
We're passionate about baseball, beer, frozen custard and toasted ravioli, and more importantly about helping our neighbors and improving our community. St. Louis consistently ranks as one of the most charitable metropolitan areas in the country. Last year our Annual Catholic Appeal raised over $15 million for the first time. Those funds are used to assist the homeless and hungry, support women and their children, and provide education to thousands of children in more than 130 schools of the Archdiocese of St. Louis.
But our city, which has so much to be proud of, also has reasons to be humble. Issues of income inequality and lack of access to quality education continue to plague us. Racial disparity, gun violence and doubts about fair treatment under the law weigh heavily on our consciences. These past few years have made us consider more deeply just how systemic these injustices are.
We need to have honest, intelligent discussions about how to make things better. But sadly our discourse today — in politics, in the media and in the digital world — often boils down to a toxic combination of partisan distrust and a fierce commitment to ideology. Conversations that could be part of a solution never occur because a viewpoint with which we disagree is too often taken as a personal affront.
Reasonable people can have a difference of opinion — the trick is to first be reasonable. How do we do that?
I propose that each of us try to observe a new 24-hour rule. The current version of it is: "If you don't respond within 24 hours your input will no longer be relevant." But what has the culture of immediate response gotten us? It's made us less reasonable and more shrill. Too often we're only concerned with how to fire back instead of really listening to each other. Too often we're not speaking from the deepest places of our hearts and minds, just the most immediate place of our feelings. Shallow root has borne shrill fruit.
The new version that I propose is this: "I will take at least 24 hours to think about this issue before responding." The power of this pause is that it allows us to listen more deeply to each other, and to fashion a response from a deeper place in our hearts. We have time to hear the pain in people's words and see the pain in their actions, and factor that into our response. We have time to see and affirm elements of the truth in proposed responses, even when those responses are imperfect. We have time to see further problems with greater calm and clarity, and propose better solutions.
I'm confident that 2018 can be a great year for our city, state and nation. But in order for that to happen, we're going to have to have to start listening to each other in a new and deeper way. I believe that the way to make it so can be found in the joy of the Gospel message, especially in patience and charity. A new 24-hour rule would allow us to find a deeper place in our hearts for listening and speaking to each other. From that deeper place we can build deeper bonds with each other. And with deeper, more joy-filled bonds we can rise higher together.
Two hundred years ago, Bishop Louis DuBourg recognized something special about St. Louis. In 2018, let's prove that he was right.
Most Rev. Robert J. Carlson is the archbishop of St. Louis.