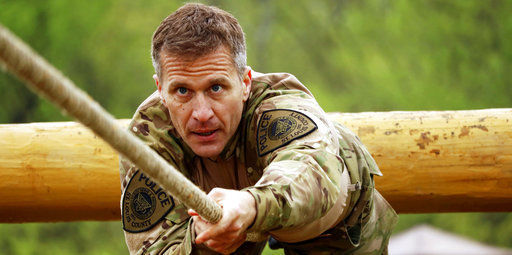 Missouri voters can't claim they weren't warned. During last year's gubernatorial campaign, then-candidate Eric Greitens made it clear that he would lean heavily on brawny theatrics and minimally on substance if he became governor. He has remained true in both word and deed during his first year in office — a year in which little of the state's news escaped that special Greitens touch of melodrama.
Greitens entered office as a proud novice — he bragged about not being a "career politician." Unfortunately, that meant he had to learn on the job. He ignored and subverted bipartisan democratic processes and managed to anger just about every major political figure in Jefferson City, including fellow Republicans who should have been his natural allies. Greitens, who had little support from the GOP establishment in winning the party's nomination in 2016, shrugs off their reaction as typical of "career politicians" discomfited by his self-declared maverick style.
What he discounts are the years that those Republicans have devoted to public service and learning how government works, and the wisdom they've gained about what Missouri voters want from their elected officials. Starting with the upcoming legislative session in 2018, Greitens will either learn the art of political give-and-take, or he will find himself increasingly isolated and unable to advance his own agenda. Nobody likes to be insulted, especially those who have sacrificed on the political battlefield for their party. They don't take kindly to second-guessing by a gubernatorial neophyte.
While the Legislature slogged through a tough and divisive 2017 session, including two special sessions called by Greitens supposedly to take care of unfinished business, the governor himself took advantage of his new position to travel the world. His trips abroad included the United Kingdom, Switzerland, Israel, China and South Korea. Domestically, he crisscrossed the nation with campaign-style trips to Iowa, Washington, D.C., Florida, New York, Massachusetts, Tennessee, Virginia, Nebraska, Texas, Nevada and two trips to Colorado. He also vacationed in Washington state.
His cumulative time outside Missouri: Seven weeks. Even as the governor implied in statements that legislators lacked focus on their jobs and forced lawmakers to come back to Jefferson City to work on abortion restrictions and jobs bills, the governor took off on jaunts to raise campaign money and burnish his national image.
An us-versus-them tone typically made it look as if he were fighting for Missourians while legislators were goofing off or partying with lobbyists. He stated in May: "We are fighting to bring more jobs to the people of Missouri. Some career politicians failed to do their jobs and then went home. That's wrong. We're cancelling their summer vacations and calling a special session to get this done."
Yet his own activities were veiled in secrecy, as if the public had no right to know what their governor was up to. The Post-Dispatch had to file Sunshine Law requests just to get access to his travel logs, and the governor's aides tried various methods to delay the release of information that his predecessors gladly handed out to the news media.
While he traveled, conditions grew worse at the Missouri Veterans Home despite months of repeated warnings Greitens had received that mismanagement and neglect were threatening veterans' lives. He belatedly forced a management shakeup this month — portraying himself as a hero for doing so.
By evading reporters, Greitens has escaped having to answer difficult questions about his ill-defined policies and legally sketchy actions. As he indicated to this editorial board before the November 2016 election, questions that require evaluation, experience and knowledge make his head hurt. By avoiding reporters, we guess, Greitens is simply promoting good head health. Or avoiding embarrassment.
Twitter and Facebook, never known for in-depth discussion of big issues, are his preferred means of communicating with the public, even though only a small percentage of Missourians actually follow him via social media. Greitens wrongly assumes that, for those who don't follow his social media postings, ignorance is bliss.
Greitens not only hides his travel schedule, he appears to evade transparency and accountability by using a phone app that automatically deletes text messages shared with senior aides. Text messages between government officials can be subject to state document-retention laws, and Attorney General Josh Hawley, a Republican, is looking into the app's legality.
Two other statewide elected Republican officials have challenged the governor recently about his cancellation of Missouri matching funds for the federal low-income housing tax-credit program.
More Republicans are standing up to Greitens in the Legislature. Sen. Gary Romine, R-Farmington, has accused the governor of installing his "puppets" on the bipartisan Missouri Board of Education in order to win Margie Vandeven's ouster as education commissioner. Greitens' appointees took the action even though their appointments had not yet been confirmed by the Senate.
Romine now plans to challenge the move in the upcoming legislative session. He predicts more trouble for the governor if he doesn't improve his political skills.
"Communication is the key to any success," Romine told St. Louis Public Radio. "We're going to have some struggles with this governor."
Romine, however, was delighted that Greitens signed a controversial bill he sponsored, Senate Bill 43, that will make it harder for workers to sue their employers for workplace discrimination. Whistleblower protections also will be reduced. The measure is so controversial, the national NAACP cited it when issuing a travel advisory for blacks planning trips to the state.
Greitens also joined Republicans in curtailing St. Louis' power to impose a minimum wage law that had raised worker pay to a minimum of $10 an hour. It remains a curiosity to us that a Republican Party steeped in the philosophy of states' rights over an overbearing federal government can somehow rationalize the exercise of overbearing state authority over local self-governance.
The governor's relations with Republican lawmakers grew particularly prickly when they questioned the legality of certain actions by Greitens, such as the awarding of a no-bid $250,000 contract to Express Scripts, a major Greitens campaign donor, to develop a prescription drug monitoring program. Challenges by state Sen. Rob Schaaf, R-St. Joseph, led to the senator being targeted by a Greitens nonprofit organization, which gave out Schaaf's cellphone number and encouraged callers to harass the senator.
In an op-ed on our pages, Schaaf fired back, effectively calling Greitens a hypocrite for campaigning on pledges of transparency, only to immerse himself in subterfuge and secrecy. Of particular concern was Greitens' ongoing refusal to release his tax returns or divulge the sources of millions of dollars in dark-money campaign contributions. Greitens asserts, bizarrely, that he is protecting his dark-money donors' First Amendment rights.
"Several of us in the Missouri Senate have fought to restore transparency, proposing common-sense legislation that Missourians widely support. However, those who prefer secrecy have blocked this legislation, and the governor has chosen to take their side, claiming that transparency can expose political donors to ill treatment by those who disapprove of their donations," Schaaf wrote.
This intra-party warfare occurs amid a near-perfect alignment of the political stars for the Republicans. The party controls the governor's office, both chambers of the Legislature, as well as four of the five other statewide elective Missouri offices. Greitens has turned natural allies into enemies. Many who celebrated his inauguration now loathe him.
Meanwhile, he persists with meaningless antics such as rappelling into an arena and crawling through the dirt in a military-style obstacle course, as if his past as a Navy SEAL officer somehow translates into progress for Missourians. The state could use a lot less pizzazz and a lot more transparency, accountability and focus from Greitens in 2018.