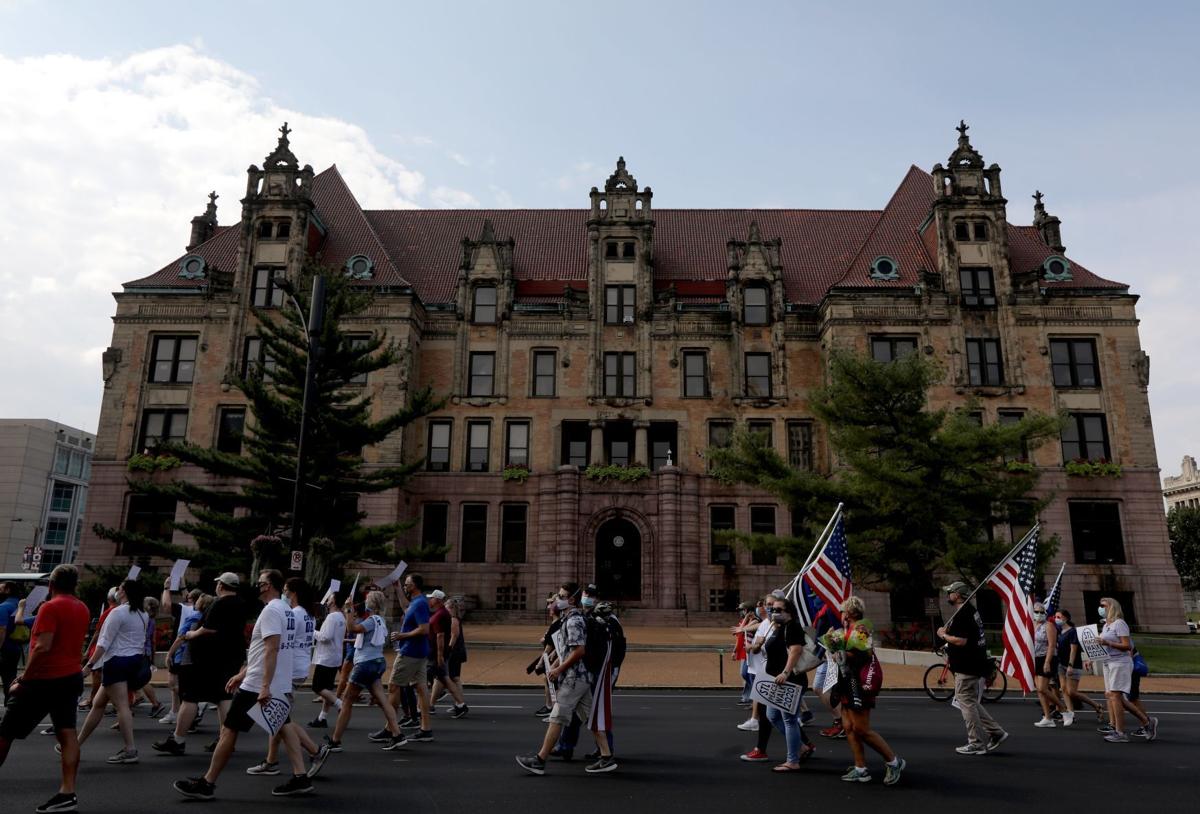 The March 2 St. Louis mayoral primary is going to break a lot of old rules regarding how voters select the candidates to compete in the general election. So we're going to break some rules, too. Since voters now can select multiple primary candidates, we're recommending not one but two who are most worthy of the office. And Thursday's op-ed page breaks another longstanding rule: Normally we reject op-ed submissions from candidates for office. This time, we've asked all four candidates to identify the one problem facing St. Louis that deserves priority attention, and then to explain how each would address that problem.
Three of the four — Aldermanic President Lewis Reed, Alderman Cara Spencer, and business executive Andrew Jones — responded to our invitation. They also participated in an online debate that voters can access on the Post-Dispatch opinion website to compare and contrast their answers to major issues like crime, population decline, education and collaboration between the city and St. Louis County.
The Post-Dispatch believes Reed and Spencer offer the best mix of experience, guts, brains and political tact to handle the intense daily challenges of running and representing Missouri's most vibrant city. Andrew Jones, 60, offers valuable experience from the business world but he lacks the temperament, elective-office experience and diversity of ideas to negotiate the political minefield awaiting the next mayor both inside and outside City Hall.
One candidate, city Treasurer Tishaura Jones, declined to participate — a testament to how ill-suited she is for a job that requires active engagement and unhesitating accountability. If she can't handle a debate and 750-word op-ed, the mayor's office is the wrong place for her.
Reed and Spencer bring diverse skill sets to the table. If they were ever to combine efforts and find a way to work together, the duo could unite the city's many political factions in ways that would yield unprecedented progress.
Spencer's progressive brand of politics won't appeal to lots of moderate or conservative voters. Her plans for criminal justice reform and more equitable distribution of city resources bear strong consideration, but sometimes her high ideals clash with practicality and budgetary reality. Spencer, 42, has a fiery, take-no-prisoners leadership approach that serves warning to special interest groups and lobbyists that she will not compromise on principle. Hers was the lonely voice of opposition and scrutiny when monied interests tried to railroad airport privatization through to a hasty approval. Editorially, we've lauded her courage on that front.
Reed, 58, is a pragmatist who recognizes that real reform rarely happens overnight but rather is the result of political give-and-take and a persistent chipping away at the forces of resistance. His coalition-building patience across north and south St. Louis has paid off in consistent voter support at the polls. Reed's first election to the Board of Aldermen, representing the city's 6th Ward, was in 1999, and he's been a player on the St. Louis political scene ever since. His first election as aldermanic president was 2007. No one survives in office that long in a city like St. Louis without learning how to unite disparate political groups, deliver results and keep detractors in check.
When asked what the city's most pressing problem is, Reed, Spencer and Andrew Jones identified the obvious: crime and public safety. Reed and Spencer approach the problem in markedly different ways. Reed has been the primary proponent of Cure Violence, a $7 million program that involves sending teams of outreach "violence interrupters" who fan out across neighborhoods heavily afflicted by violent crime to de-escalate the kinds of conflicts that can result in violence. The program, which launched just as the pandemic was hitting, offers a promising alternative to swarming police into troubled neighborhoods in ways that effectively escalate tensions rather than reduce them.
Spencer, not surprisingly, is a critic of Cure Violence even though it appears in many ways to complement her own strategy, which hinges on a concept called "focused deterrence" that combines the efforts of police, social services and community activists to intervene with high-rate offenders, including gangs.
Since Tishaura Jones, 48, can't even keep the taint of corrupt practices out of her own treasurer's office and the parking division she oversees, she's the last person voters should anoint to tackle the city's crime problem. Her relationship with the police department is abysmal. Instead of solutions, she offers substance-free slogans. Like Sen. Josh Hawley, Tishaura Jones always seems to have her eye on the next office up the ladder instead of focusing on the job she was elected to. Her mayoral-campaign announcement came only one day after she won election as treasurer.
Since running a major city entails managing a massive workforce and multiple departments, we asked the candidates to detail their management experience. It was a question that Reed and Andrew Jones handled easily while Spencer seemed to falter. What she lacks in management experience, she makes up in data-analysis talents, which are key in handling budget crises.
But in a job where flexibility is a key to survival, Spencer, like Tishaura Jones, stubbornly insists on shuttering the Medium Security Institution, known as the workhouse, despite the immense impracticalities of closing it.
Reed has had his share of stumbles and mini-scandals. But one thing we like about him is his ability to acknowledge mistakes and rebound. He doesn't let himself be backed into political corners. Sometimes that makes him frustratingly hard to pin down when it's time to take a stand. That said, he is an adept political strategist who knows which levers of government to pull to get things done.