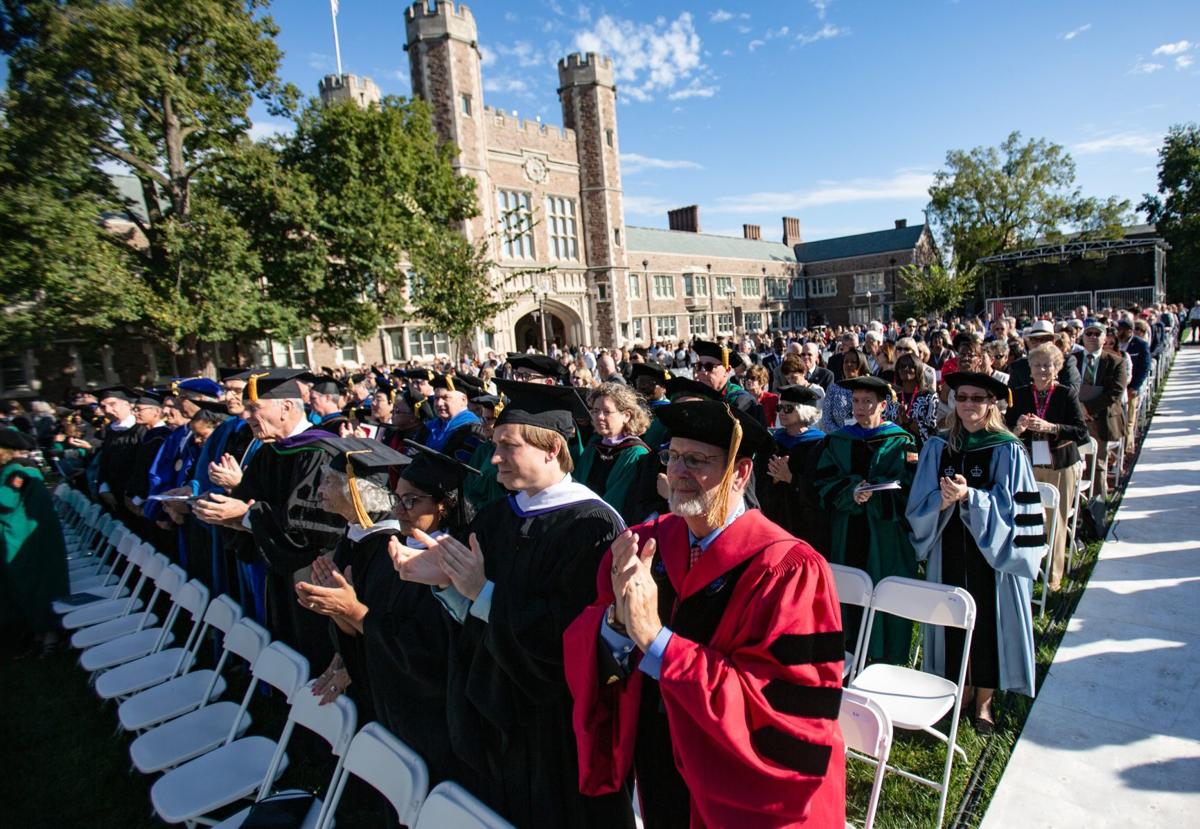 "Everything felt perfect," Alona Jenkins remembers of Washington University's green campus and castle-like buildings. The top-ranked arts program. The ability to study her interests in both photography and theater. The close proximity to home. Everything felt perfect. Everything, that is, but the cost.
In the spring of 2018, the university offered Jenkins a full-tuition scholarship, but she quickly learned that "full tuition" doesn't mean all expenses paid. Scholarship recipients still had to pay $16,900 worth of room and board.
Jenkins thought through all the ways she could make it work. She lived only five minutes away from campus and attended nearby University City High School, where she was top of her class with a 4.3 grade-point average. Her 31 ACT score was exceptional.
Living at home would be no problem, she told university admissions officials. But they informed her that all freshmen must live in the dorms. After freshman year, she could live wherever she pleased. The university was unwilling to budge and didn't offer to lower the price.
"I remember calling them but then getting too nervous to be like, 'Can you drop [$16,900]?' because they were already providing me with full tuition. I felt like I was asking for way too much," Jenkins said.
Jenkins remembers feeling "pretty defeated." Defeated by a system that continues to favor the wealthy. Defeated by a system that continues to hold back academically outstanding students for financial circumstances they have little control over.
Her high school teachers insisted she couldn't pass up such a prestigious school. Her father, a manager at a postal office, said he could personally cover the room and board. But her mother, a librarian, said the price might just be too high for the family. Jenkins understood that if she borrowed the money and couldn't find a steady job in photography, the debt would loom over her for the rest of her life.
Jenkins delayed the decision to the final possible day, but she didn't want her parents, already with a son in college, to carry more debt.
Instead of attending a top-ranked university, Jenkins is now a freshman at Southeast Missouri. She says she has no regrets.
Still, it's hard not to wonder: What if? What if Washington University had done everything it could to accommodate Jenkins, a star local minority student who wanted to attend the school. These are the kinds of students Washington University should bend over backward to accommodate. If that means dropping a policy mandating freshmen live in the dorms, so be it. If it means dipping into the $7.7 billion dollar endowment, so be it.
To its credit, Washington University this semester unveiled an effort to cover the full cost — including tuition, room and board — for any Missouri or Southern Illinois student who is Pell Grant-eligible or comes from a family earning less than $75,000.
Chancellor Andrew Martin knows the stats: More than a fifth of the university's students are from the 1% of top income-earning families (more than $630,000) and only 6.1% are from families earning less than $65,000. Adding students from the bottom 60% isn't a bonus for Washington University. It is a necessity.
But here's the worst news: Jenkins wouldn't even qualify under Martin's "WashU Pledge." Her parents earn just above the $75,000 threshold.
Affordability doesn't start at a $75,000-plus income. Not even close. The room-and-board expense alone constitutes 22% of her parents' $78,000 income. And this number doesn't even factor in the additional expenses such as books, extracurricular fees and social outings that go into a college experience. Jenkins' inability to pay, even with two working parents, speaks volumes about the inaccessibility of college.
The sad reality is that Jenkins' story is not unique. In her book "Paying the Price," Temple University professor Sara Goldrick-Rab tracked 3,000 lower-income students at private and public universities, where only half of students couldn't finish their degrees because of the cost.
"They recognize that the students are different, but they seem to assume that the same sorts of strategies to pay for college that they were used to 10 or 15 years ago work today," Goldrick-Rab told The American Prospect.
Washington University's initiative aims to fix that, but it doesn't mean the conversation around affordability is over. Change means being more flexible with the needs of students from backgrounds like Jenkins'. It means lowering the cost of housing and books, or allowing exceptions to rigid residency rules. It means doing everything possible to ensure that students like Alona Jenkins don't fall through the cracks — and have their dreams crushed.
Benjamin Simon is a junior at Washington University and a Post-Dispatch editorial intern.