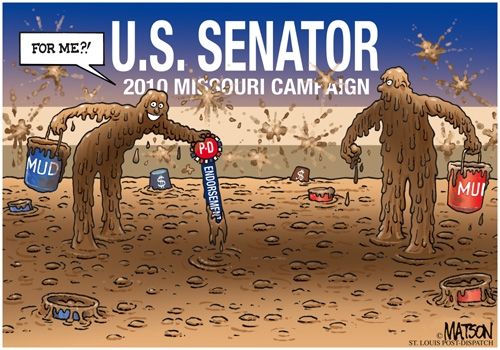 Let's get past the mountains of money that have been spent — and are being spent — on the U.S. Senate race in Missouri.
Let's get past the carpet-bombing media campaigns that money is paying for, the relentless assault of sneering, misleading and negative TV commercials that have been assaulting voters for months.
Let's get past the bogus issues, the Nicaraguan woman who might have cleaned Roy Blunt's house in Jefferson City 20 years ago and the stimulus grant to Robin Carnahan's brother's wind farm.
Let's get Mr. Blunt out of his plaid shirt and rented pickup and Ms. Carnahan off her tractor and cut to the core issue: Which of these two candidates would do the better job of representing the interests of the most Missourians in the United States Senate for the next six years?
The answer is Robin Carnahan.
When we say "most Missourians," we're thinking of those who live in the 50 percent of Missouri households in which income is $46,867 a year or less and those families who string together two or more jobs to make a few thousand more than that.
We're thinking of the 17,000 Missourians who saw their homes go into foreclosure in the first six months of this year. We're thinking of the 101,500 people who lost manufacturing jobs in the state since 2001.
We're thinking of the 13.5 percent of Missourians who live in official poverty, including one in five Missouri children. We're thinking of the 914,000 Missourians who have no health insurance. We're thinking of the 9.3 percent of Missourians who are unemployed.
"This election is about getting folks in office who will get serious about fixing problems," Ms. Carnahan told us. "Things are broken, and we need folks who are serious-minded to fix it, not those who have been complicit in the process that broke it."
We have ample differences with Ms. Carnahan, 49, the Democratic nominee who has been Missouri's Secretary of State since 2005. Much of her campaign has been negative, and some it has been disingenuous.
She came out of the gate swinging, accusing Mr. Blunt, a 14-year member of the U.S. House of Representatives, of being "the very worst of Washington." She made a hard right turn on economic issues, blasting Mr. Blunt for his 2008 role in rounding up GOP support for the Troubled Asset Relief Program, which may have staved off a world-wide depression.
She said she would vote to extend all of the Bush tax cuts, even those that would save the richest 2 percent of Americans $700 billion in the next 10 years. She said she'd been an economics major and is convinced that wealthy people eventually would begin spending their money instead of sitting on it.
But Ms. Carnahan understands both the human and economic imperatives of reforming health care. She understands the need to bring even more reform to the financial sector. She understands that the social contract — work hard and get ahead — is threatened by special interests and record income inequality.
Mr. Blunt does not appear to see the problem, perhaps because he played a key role in creating it. His 21-page "jobs program" boils down to standard Republican mantras of cutting taxes and government spending and unleashing the forces of the marketplace.
Since 1980, those ideas have worked fine for the "haves" and "have mores" in America, but they've left the working poor desperate and the middle class struggling.
On a personal level, Mr. Blunt, 60, is charming and thoroughly professional, but in the House he was all too willing to go along with every excess of the Bush administration and has been all too willing to play ball with lobbyists and special interests. To think that would change if he moves across the Rotunda to the Senate is a pipe dream.