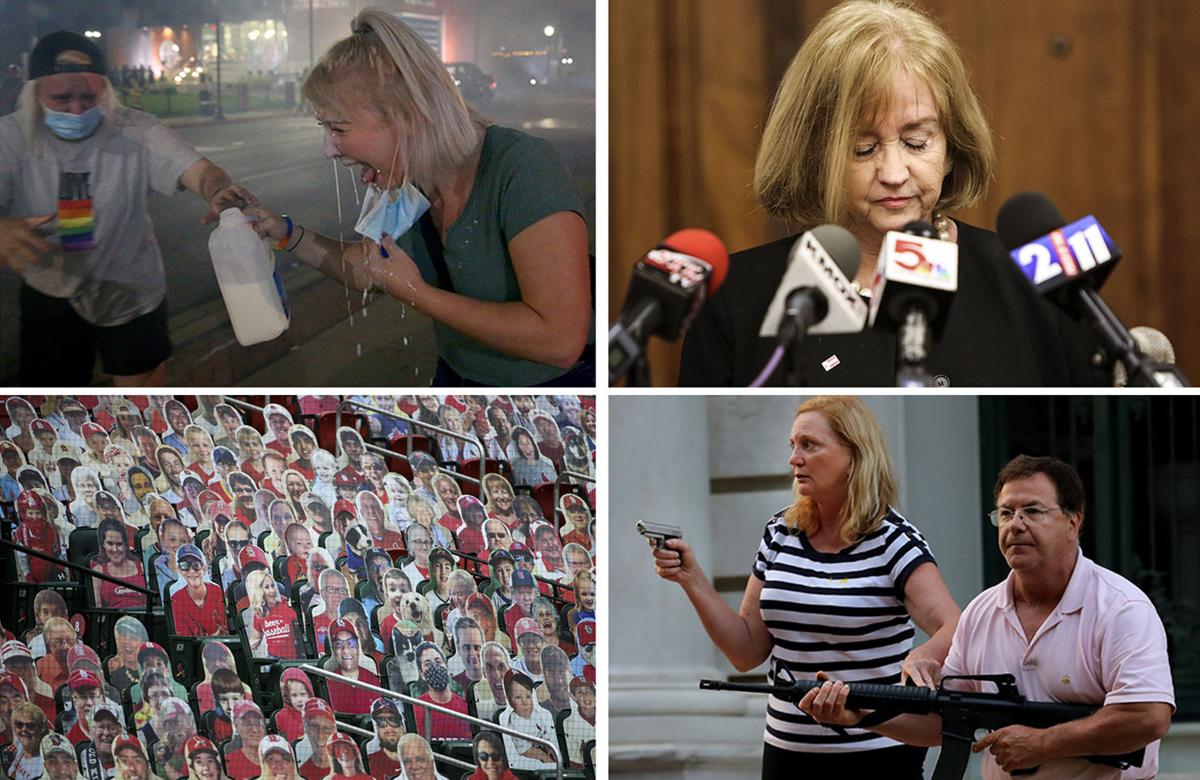 A devastating pandemic, economic upheaval and the aftereffects of summer protests combined forces to empty downtown streets and send local small businesses reeling. Criminals and motorcycle gangs ruled the streets. A crazed conservative, firearm-wielding couple ruled their own front porch. Sporting events replaced fans with cardboard cutouts and fake crowd noises. Let's face it: This was a no good, awful, very bad year for St. Louis.
The one potential bright spot is that 2020 is finally at an end.
Public health and safety took on a whole new look this year. Masked men entering places of business became the norm — indeed, the requirement. But it was not without heavy controversy and shocking displays of willful, science-denying ignorance.
Violence — a problem that predated the pandemic and will persist long after the coronavirus is gone — broke new records in St. Louis this year. The city's homicide rate reached its highest ever. The more than 250 people murdered, combined with nearly 3,000 shootings, made 2020 one of the most violent years in the city's history.
Continued tensions between the police department and the Black community, slow progress on accountability efforts, and the horrific video of the killing of George Floyd by Minneapolis police helped fuel another summer of protest here. Floyd's death under the knee of a white officer brought back too many raw memories of unaddressed local police abuses and, of course, the 2014 death of Michael Brown in Ferguson.
Kim Gardner, the city's top elected law enforcement official, won the approval of voters for another four years despite several embarrassing missteps and a questionable conviction rate. The reformer circuit attorney began the year by filing a bizarrely worded, disjointed lawsuit against the city and the police union for engaging in what she termed a vast racist conspiracy against her. A federal judge quickly and mercifully dismissed the suit.
Another judge later dismissed Gardner herself from another, more high-profile case, the one she brought against Mark and Patricia McCloskey, the Central West End couple who became the darlings of the right wing after they pointed guns at protesters outside their mansion.
The case caught the attention of top Republicans, including the president and members of Congress. Missouri's governor and attorney general even threatened to intervene in the case for their own political purposes. But a St. Louis judge ruled that Gardner's political use of the case in fundraising emails crossed the prosecutorial line and disqualified her and her entire office from Mark McCloskey's case.
It was yet another self-inflicted wound by the circuit attorney at a time when her attention needed to be focused on improving safety in the city and delivering on the reform agenda voters twice elected her to enact.
Coronavirus tensions abound
St. Louis County Executive Sam Page also received approval from voters for a full four-year term. Page, who took office with a mandate to repair the damage inflicted by his corrupt predecessor, Steve Stenger, found himself immersed in his own set of controversies related to lax transparency, a mishandled police discrimination lawsuit and pandemic restrictions that prompted lots of protests from small businesses. Parents revolted over their kids' canceled or heavily restricted sports competitions.
Several restaurants filed lawsuits challenging Page's authority to limit, or even shut down, their struggling businesses. Judge after judge correctly upheld Page's legal authority to act in the interest of public health. But other actions — including his continued paid work as an anesthesiologist in violation of county charter restrictions on extracurricular employment, and his anesthesiology practice's benefiting from millions from Cares Act funds — left even Page's supporters struggling to defend the county executive at times.
For St. Louis Mayor Lyda Krewson, the challenges and travails of elective office evidently outweighed the rewards. She opted not to seek another term in 2021 after facing relentless blowback for rising violent crime rates, failed efforts to coordinate city-county policing efforts and her abysmal management of the privatization effort for St. Louis Lambert International Airport.
Local protests over George Floyd's death and police accountability helped fuel campaigns to close the city's medium security jail, known as the workhouse. Krewson inexplicably began reading the personal information of close-the-workhouse protesters during one of her web broadcasts. That led to a new hashtag and new protests. #ResignLyda became the summer's new rallying cry for protesters who took their message directly to the mayor's home. It was on the way there that protesters ran into the McCloskeys and their guns. And just like that, a local controversy about the city jail grew into a national spectacle, even leading to the couple being invited to address the Republican National Convention.
Krewson didn't resign, but she did announce in November that she would not be seeking a second term.
The workhouse also didn't close, despite a Board of Aldermen vote requiring authorities to submit a plan to close it before the end of the year. The board's aspirations ran up against hard reality: Though the workhouse population has been greatly reduced, there are still too many city prisoners to fit all of them into the city's other jail, especially in the middle of a raging pandemic.
Mask mandates and Hitler
Then there was the mask controversy and anger over limits on public gatherings. Dr. Alex Garza, head of the St. Louis Metropolitan Pandemic Task Force, made several emotional pleas for public cooperation. But his message was countered at the state level by top Republican leaders who equated mask mandates with an attack on personal liberty. In Jefferson County, protesters compared mask requirements to Hitler's Germany.
By November, daily infections in the state were 10 times what they were in July. St. Louis city and county, along with St. Charles County, led the state in coronavirus deaths. But despite an early display of unity, leaders of the three counties could not agree on a unified standard of policies for the region.
As the city's top public health official, Dr. Fredrick Echols, grappled with the pandemic response, questions arose about his professional credentials. The city's charter requires the head of the Department of Health to be a licensed physician. Although he spent five years as a doctor in the U.S. Navy, Echols never obtained a license to practice outside of the military. A quick change in title, to "acting" director, patched over any questions of legality about Echols' public health orders.
The airport privatization effort was the other monster that wouldn't die. After Krewson canceled the city's privatization effort, two additional ones arose to revive it. The local NAACP chapter joined forces with the carpenters union to try to put privatization on the ballot. Simultaneously, Aldermanic President Lewis Reed introduced legislation that mirrored the NAACP proposal in many ways. Ultimately, neither succeeded.
Reed later announced his third run for mayor. Alderwoman Cara Spencer, who made herself the face of the opposition to airport privatization, also filed to run for mayor.
The November local elections yielded a little-noticed but significant change in the way elections are held for citywide offices. With Proposition D's approval, mayoral and other elections will be stripped of party affiliation. There will be no more primaries. The two top vote-getters in the March election will face each other in a runoff in April.
One of the big supporters of Prop D was Treasurer Tishaura Jones, who narrowly lost the 2017 Democratic primary to Krewson and who would have had a second chance to defeat Krewson had Prop D runoff provisions been in place then. Hours after winning reelection as treasurer, Jones announced she was again running for mayor. A long list of ongoing ethics controversies no doubt will follow her all the way to the ballot box.
One of her key political allies, Cori Bush, is heading to Washington after defeating longtime incumbent Rep. William Lacy Clay Jr. in the 1st congressional district race. Bush created instant national controversy by buttressing her "defund the police" call with an additional one to "defund the Pentagon." On Dec. 21, she bizarrely tweeted out a denunciation of the bipartisan spending and pandemic-relief bill that could save millions of people from eviction and destitution.
Yet Bush's tweet hardly raised any eyebrows. Not surprising, considering the bigger picture of over-the-top bizarreness that was 2020.