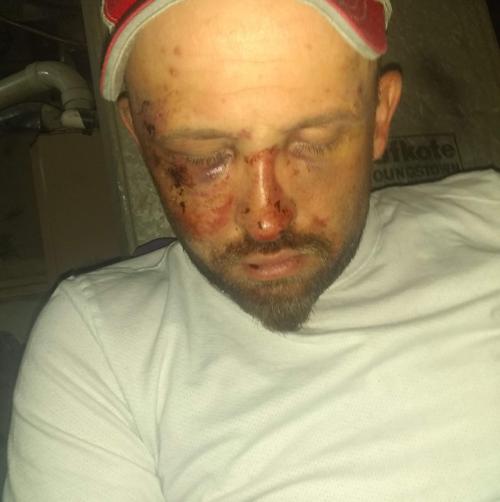 Almost everything worked as it should have in a St. Louis jury's conviction of a former St. Ann police detective who hospitalized a detainee by kicking him repeatedly while the detainee was prone on the pavement. Four other police officers testified for the prosecution, as they should always do after witnessing such abuse, and the jury came to the right conclusion after viewing video that captured the egregious conduct. But the internal investigation by St. Ann police initially cleared Detective Ellis C. Brown III. And Brown's past history of violence as a St. Louis city cop should probably have kept him off of the police force to begin with.
Even before Brown's violent beating of Steven Kolb in a north St. Louis bank parking lot in April 2019, Brown already had a history of violence. In 2014, while on the St. Louis police force, he was one of two officers recorded on cellphone video killing 25-year-old Kajieme Powell. Powell, who family members said suffered from mental health issues, had allegedly taken drinks and snacks from a neighborhood market without paying. He was holding a knife and pacing in front of the store when Brown and his partner arrived. They shot and killed Powell 14 seconds after exiting their vehicle.
Then-St. Louis Circuit Attorney Jennifer Joyce declined to prosecute, saying the officers "could have reasonably believed the use of deadly force was necessary to protect them from Powell." Activists and many who watched the video disagreed.
Later, Brown's police license was placed on probation after he failed to report a 2016 crash that resulted in a woman's car being engulfed in flames. He was also accused of lying on reports to cover up the crash. The same year, several suspects had their cases thrown out and were released because prosecutors found that Brown had used nearly identical language in search warrant affidavits in at least 19 different cases. "He would just change what kind of dope and the address," one defense attorney said.
Brown was a bad cop and eventually left the St. Louis police force. But like so many other disgraced city cops, he found employment in one of St. Louis County's more than 50 small police departments. In St. Ann, he was actually promoted through the ranks before leaving in August.
Brown is an example of the "lemon dance" that happens too often with bad cops bouncing from one department to another and being allowed to stay in positions of power long after clearly demonstrating they are unworthy.