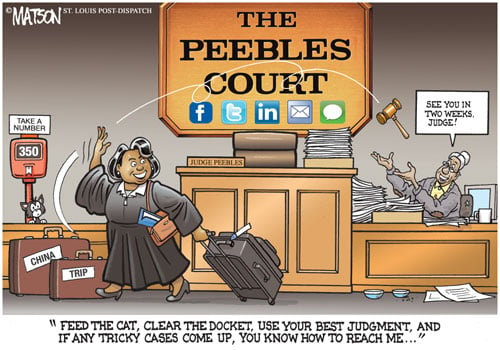 Twenty-five circuit court judges sit on the St. Louis Circuit Court, along with seven associate circuit judges and various commissioners who preside in certain drug, family and juvenile court proceedings. Of all of these judges, the associate circuit judge who sits in Division 25 may have more to do with the safety of the people of St. Louis than any other person in the criminal justice system.
"That would be my opinion," said James R. Dowd, retired chief judge of the Missouri Court of Appeals in St. Louis. Earlier in his judicial career, Mr. Dowd did four one-year rotations in Division 25, where judges set or deny bonds, release some defendants on their own recognizance, sign arrest warrants, issue continuances and sometimes dismiss cases altogether.
"Day in and day out, the judge who sits in 25 has more to do with determining our safety than anyone else," Mr. Dowd said.
Which makes it almost inconceivable that Associate Judge Barbara T. Peebles, who currently sits in Division 25, would leave town for a vacation in China for two weeks in October without getting a judge to fill in for her. Instead, as the Post-Dispatch's Robert Patrick reported Sunday, Judge Peebles handed things over to her court clerks.
Be grateful she's not a surgeon.
The clerks handled at least 350 cases, Mr. Patrick's investigation revealed. They issued 18 arrest warrants, dismissed five cases and refused to dismiss at least one. In most instances, the clerks simply continued cases, meaning more jail time for defendants before they got a chance to make bail. So much for due process of law.
But here's another problem: Like most workplaces, courthouses are rumor mills. There had to be dozens of defense attorneys, prosecutors, clerks and perhaps even other judges who knew what was going on in Division 25.
Judges, like archbishops, regard themselves as the supreme law in their own fiefdoms. Nominally, their clerks work for Circuit Clerk Jane Schweitzer, but she won election to the clerk's office in 2010 with the tacit support of judges who wanted less interference with their prerogatives.
Particularly disturbing was the reaction from the office of Circuit Attorney Jennifer Joyce, whose spokesman rolled out the old Sgt. Schultz "I see nussing" defense. Ms. Joyce's prosecutors, the spokesman said, saw "nothing out of the ordinary." Ms. Joyce's office seemed more concerned with Mr. Patrick's reporting methods than the outrageous conduct he was investigating.
This should go without saying, but apparently it can't: The entire court should put the proper administration of justice above judicial egos. If you haven't seen the judge around for a few days and the judge's clerk is wielding a signature stamp, there may be a problem.