When a payday lending "reform" bill sails through the Missouri Senate and the payday lending industry doesn't scream bloody murder, you can be sure of two things:
One, it's not really a reform. And two, the working poor are going to take it in the shorts. Again.
Seriously, how much more do these guys want? Already the average payday loan in Missouri is for $306 and carries an annual percentage rate of 455 percent. State law allows the industry to charge interest and fees of as much as 75 percent of the loan's principal. Borrow $200 and pay back $350, and you're looking at an APR of 1,950 percent.
Well, no. The industry and its lobbyists spread more than $1.6 million on state lawmakers' campaigns between 2003 and 2012, and the spigot is still on. Last year just two payday companies — QC Holdings and Advance America — contributed $83,600 to various Missouri legislators and party committees. Remember, 2013 wasn't an election year.
The sponsor of the "reform bill" (Senate Bill 694) that passed the Senate last month, Republican Mike Cunningham of Rogersville, got $2,500 from QC Holdings; he doesn't run for re-election until 2016.
The big "reform" in the reform bill would prohibit payday lenders from renewing (or "rolling over") loans, which currently can be done up to six times. Borrowers would instead be eligible for an extended payment plan of up to 120 days. But here's the beautiful part: The lenders wouldn't actually have to tell the borrower about the extended payment plan as long as there was a sign on the wall and some brochures lying around.
Also, there's nothing to prevent a lender from closing out one loan and opening another. Instead of rolling over a loan, the lender can roll it into a new loan. Easy-peasy.
Here's the even more beautiful part: In return for accepting these onerous "reforms," payday lenders would no longer be limited to charging a mere 75 percent of the principal in loans and fees. They could charge as much as they want. Borrow $200, pay back $500, $600. Whatever.
People get desperate to keep the lights on or get a water pump repaired so they can get to work, they'll sign just about anything.
In 2006, then-U.S. Sen. Jim Talent and U.S. Rep. Sam Graves, both Missouri Republicans, co-sponsored an amendment to the 2007 Defense Authorization Bill that was signed into law by President George W. Bush.
The amendment was designed to protect members of the U.S. military from predatory lenders by capping interest rates at an annual rate of 36 percent.
What happened was that payday companies closed up most of their shops outside of military bases, as they did in the 17 states that have imposed 36 percent-or-lower payday loan rates. Instead they opened more stores in states like Missouri.
But soldiers, sailors and residents of those 17 states sometimes need short-term loans. Some lenders have found it possible to make a solid profit lending at a mere 36 percent, enforcing better financial habits on their customers.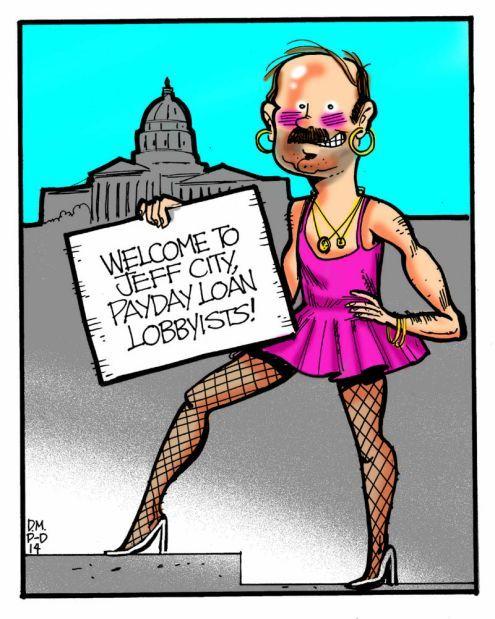 Indeed, the Inspector General of the United States Postal Service has proposed putting the post office into the "alternative banking" business. People who deposit their paychecks with the Postal Service would be allowed to take out short-term loans at 28 percent. The post office could wipe out its own debt — and so could its borrowers.
In short, there are real reforms possible in short-term lending. A measure imposing a 36 percent cap could be on the November ballot in Missouri, unless the payday industry subverts it, as happened in 2012.
That so many Missouri lawmakers continue to sell themselves like cheap hookers — OK, expensive hookers — to the payday lending industry is a pox on the entire state. Having read the campaign finance reports, we have little hope that the Missouri House will have the integrity to say no to the Senate's phony reform bill.
We hope we're wrong, but in the event it passes, Gov. Jay Nixon must veto it. Someone in Jefferson City should have a little pride.