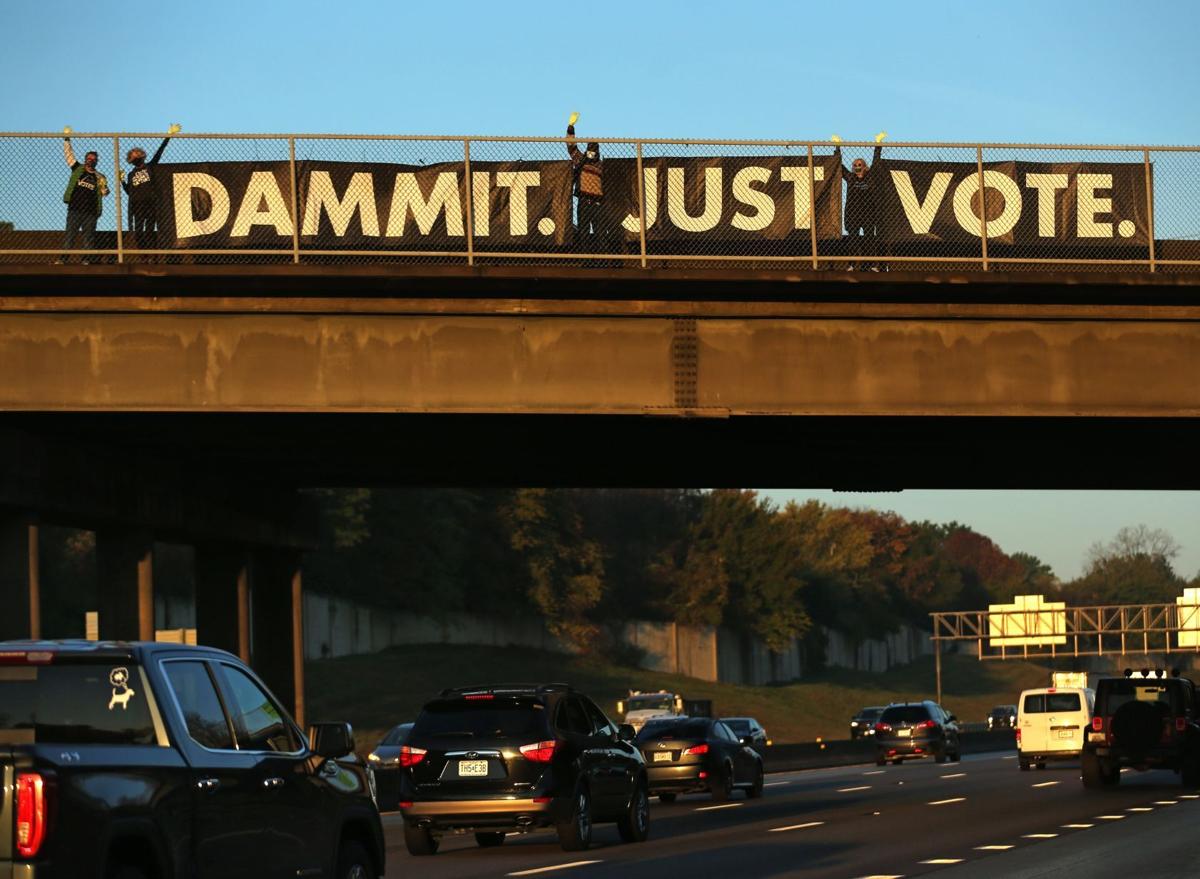 For readers who may have missed our Oct. 20 recommendation roundup for Tuesday's election, we republish it below.
All elections are important, but rarely do they carry the enormous import of the one culminating in Tuesday's vote. The exploding pandemic, a struggling economy and serious challenges to the future of American democracy require voters to think beyond partisan loyalty. With that in mind, we recommend:
Joe Biden for president. Former Vice President Biden has experienced his share of flubs, as would any politician boasting a 50-year career in politics. But the Democrat's policy victories and bipartisan leadership record stand in sharp contrast to the mountain of lies, racism, sexism and gross mismanagement happening daily on President Donald Trump's watch. This election is a referendum on Trump, who has mismanaged the pandemic response and poses a threat to American democracy and national security. An overwhelming vote of repudiation is necessary to stop him from trying to steal this vote and perpetuate his White House stay. Whatever reservations moderate, thinking Republicans and independents might have about Biden, the clear dangers of keeping Trump in the presidency must outweigh all other factors.
Nicole Galloway for governor. During her tenure as state auditor, Galloway has outpaced nationally recognized fellow Democrats in election popularity — and that's for very clear reasons. She is a consummate professional who has spared no one, Democrat or Republican, from auditing scrutiny while ensuring financial and Sunshine Law compliance within state, county and local offices. Incumbent Republican Gov. Mike Parson has failed when it comes to the hard-nosed decision-making required to run this state. He has proven to be a reluctant and ineffectual leader, especially where the pandemic is concerned. As auditor, Galloway has rigidly enforced ethics and accountability standards without political favor. Parson, by contrast, has served as a shameless lapdog for Trump while doing the bidding of gambling and corporate agricultural interests.
Jill Schupp for U.S. House, Missouri 2nd District. Missouri's 2nd congressional district is on the front lines of the national battle for control of Congress. Four-term incumbent Rep. Ann Wagner, R-Ballwin, has epitomized the establishment GOP's silent enabling of President Trump's abuses. She has stayed notably out of touch with her own district. Constituents complain regularly about their lack of access and her repeated avoidance of debates where she would have to account for her record. Wagner's Democratic challenger, state Sen. Jill Schupp, reflects the centrist nature of this district and vows to be more accessible.
Yinka Faleti for Missouri secretary of state. Faleti immigrated to the U.S. from Nigeria at age 7, and he understands the danger of allowing America to become "a democracy in name only." A West Point graduate, retired Army captain and attorney, Democrat Faleti seeks to unseat Republican Missouri Secretary of State Jay Ashcroft with a campaign focused on making it easier to vote. Ashcroft has done the opposite of that by championing an unnecessary voter ID law, predicated on the GOP myth of widespread individual voter fraud.
Rich Finneran for Missouri attorney general. Missouri Attorney General Eric Schmitt, a Republican elevated to that office by the exit of now-Sen. Josh Hawley, has continued Hawley's support of a federal lawsuit attempting to kill the Affordable Care Act, which could mean the loss of insurance for tens of millions of Americans with preexisting medical conditions. Democrat Finneran is a respected attorney and former federal prosecutor who vows to get Missouri out of that suit while setting new transparency standards by publicly posting all responses to Sunshine Law information requests.
Deb Lavender for Missouri state Senate, 15th District. Southwestern St. Louis County voters have an opportunity to change the tenor of state politics by getting rid of the conservative extremism represented by incumbent Republican Sen. Andrew Koenig, of Manchester. He led the legislative bid to outlaw abortions after eight weeks of pregnancy — even in cases of rape or incest — after helping design the bill to block a referendum challenge from voters. Koenig appears afraid that democracy could interfere with his extremist agenda. Democrat Lavender's moderate record as a state legislator more closely resembles the centrist preferences of 15th District voters.
Sam Page for St. Louis County executive. The only realistic option county voters have on Election Day is Page, the incumbent county executive who has worked for the past 17 months to fix the damage wrought by his corrupt predecessor, Steve Stenger. Democrat Page is as no-nonsense as they come. Even Page would acknowledge he hasn't always made the right calls during his short tenure, but no one can challenge his earnestness. His grandstanding Republican challenger, Paul Berry III, has never held elective office, has a long record of personal financial mismanagement and doesn't deserve serious voter consideration.
Ernie Trakas for St. Louis County Council, 6th District. Republican Trakas paid a heavy political price for daring to challenge Stenger's corruption. There was no question that Stenger wanted Trakas eliminated as an impediment to his grander design to amass power and continue raking in illegally obtained campaign wealth. Today, Stenger is in prison, and Trakas is where he belongs, in office, still fighting the good fight. His challenger, state Rep. Bob Burns, was shunned by his own Democratic Party for repeatedly calling in to praise the philanthropy of radio talk show host Bob Romanik, an open racist who used Burns' calls to boost his audience. Burns' judgment error in lending credence to Romanik is too egregious for county voters to ignore.
Vote yes on Missouri Amendment 1 and no on Amendment 3. Amendment 1 asks whether the same term limits that apply to the governor and state treasurer also should apply to the lieutenant governor, secretary of state, state auditor and state attorney general. They should. Amendment 3 asks in a deliberately convoluted and confusing way whether voters would like to reverse their overwhelming approval in 2018 of the "Clean Missouri" amendment. The voters were right in 2018 to approve an end to horrendous gerrymandering in favor of districting maps drawn up by an independent state demographer. Keep Clean Missouri by rejecting the attempt in Amendment 3 to restore dirty politics.
Vote yes on St. Louis city Props D, 1 and R. Vote no on Prop T. Prop D would remove party affiliation from city elective offices and let voters select multiple choices on their ballots, with the top two finishers going to a runoff. Prop 1 would permanently allow local government employment of non-residents, helping fill critical gaps in the ranks of police and first responders. Prop R would provide important funding for early childhood education. Prop T is a badly written jumble of words that, if approved, would incentivize investment in fiber-optic expansion. The goal is good, but the proposition needs to be rewritten in language voters can understand.
Note to readers on Missouri retention ballot items: We are not making recommendations on judges up for retention. We recommend voters visit the Missouri Bar Association's judicial review website, yourmissourijudges.org, for a detailed assessment of judges' performance.
In Illinois' 13th House District, keep incumbent U.S. Rep. Rodney Davis. Davis, of Taylorville, has the experience and reputation for integrity that Illinois voters should demand of all their elected officials. He's one of the few Republicans to openly challenge Trump. We wish he had done it louder and sooner. Democratic challenger Betsy Dirksen Londrigan has no elective-office experience and seems not to have advanced her messaging beyond the one that yielded a narrow loss to Davis in 2018.
Vote yes for Illinois' Fair Tax amendment. Illinois is currently one of just a handful of states that levy a single flat tax instead of using a graduated tax rate that rises with higher incomes. The state's Fair Tax amendment would change that, replacing the current 4.95% rate with a sliding scale that tops out at 7.99% for the rich and corporations. It would bring in more than $300 million annually to help address the state's chronic budget crisis while giving Illinoisans a more equitable tax structure.
Views from the editorial board, opinions from guest and national columnists plus the latest letters from our readers.