An airport can make or break the identity of a city. St. Louisans have spent years debating whether an upgrade to St. Louis Lambert International Airport is worth the headache and expense. Some argue that airports are for rich people, and the money would be better spent going to projects to improve the lives of the poor. Whatever validity those arguments might have, the overwhelming balance falls on the side of a radical renovation to bring Lambert into the 21st century. Sadly, however it looks like the century will be nearly half over before a prospective $2.8 billion renovation is complete. But better late than never.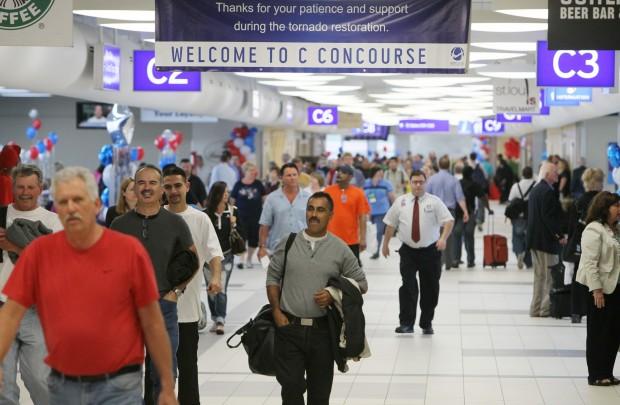 Currently, the Lambert experience is one that encourages passengers to flee. Amenities are distinctly second-class. Travelers aren't happy. Concessionaires aren't happy. Airlines aren't happy. It's got to change, and the sooner the better. A region that already starts off at a popularity deficit because of high crime and declining population cannot turn things around if the introductory experience at the airport provides more deterrents than attractions.
A major problem with the current airport configuration is that transferring between the two terminals requires leaving the secure interior, catching a shuttle bus, then going back through security. The renovation plan would establish a single terminal and single security checkpoint, with all 62 airline gates — up from the current 54 — accessible under a single roof.
Corridors will be wider so travelers can get where they need to go without bottlenecks created by slow walkers, people lining up to board their flights and others lining up for food or beverage services. More spacious corridors will make way for 60% more shops and restaurants, hopefully ones with consistently higher quality than the current selection. On-site parking spaces are slated to grow from the current 2,000 to 8,000.
From a business perspective, employers need to know that travel to other major cities won't involve time-consuming delays and connections. If the hassles of doing business out of St. Louis outweigh the advantages, employers will look elsewhere. So the region's long-term job outlook absolutely depends on what the airport can offer.
For airlines, it's always a question of profitability. If St. Louis can't provide the kinds of heavy demand airlines need, they'll focus their service on other airports like Nashville and Indianapolis that can.
Finally, the renovation expense will be funded by bonds, ticket fees, concessions and federal grants, not taxpayers. So it's a misplaced notion that improving the airport somehow translates into less funding for, say, an effort to address blight in north St. Louis. This plan deserves public support because the region's future depends on it.