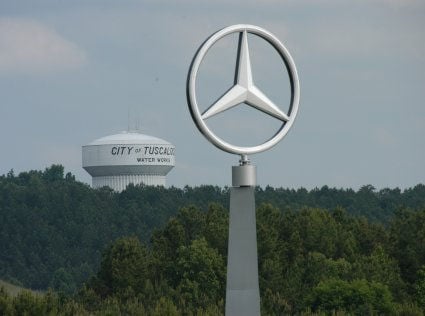 We owe you an apology. In November, we asked the folks at Mercedes-Benz if they'd like to move their Tuscaloosa County SUV plant to Missouri. The editorial was a response to the arrest of a Mercedes executive from Germany who briefly was locked up because he didn't have the proper immigration papers to show a law enforcement officer in your state.
We noted your state's harsh and unconstitutional infringement on the rights of those who come to our country seeking employment and the American dream. We suggested Missouri would be a better place to do business.
"We're the Show-Me State, not the Show-Me your papers state," we wrote.
Unfortunately, the Missouri Legislature went into session in January. Now, it seems some of our lawmakers not only want to see your papers, they don't even want you behind the wheel of a car.
Our Legislature, like yours, is dominated by Republicans who seem to take their cues from the same places: the American Legislative Exchange Council, anti-tax activist Grover Norquist, Rush Limbaugh and xenophobes who worry about people who speak different languages coming to America, like most of their ancestors did.
One of our Republican senators, Will Kraus of Lee's Summit, is sponsoring Senate Bill 590. It takes the worst elements of your anti-immigrant bill, and those from Arizona, and wraps them up into one nasty package. He wants immigration papers checked on traffic stops. He wants schools to become immigration police.
The bill has passed a committee. It's not law yet, but you won't find too many Republicans willing to say a public word against it.
The Missouri House already has passed an equally narrow-minded bill to stop our Highway Patrol from offering drivers license exams in any language but English. As your friends at Mercedes know, many companies hire legal immigrants to perform important jobs in this country. Some of them speak and understand their native languages much better than English. That's why Missouri, like many other states, offers drivers tests in different languages. Also, the Highway Patrol says it makes the roads safer.
This kind of thing does not exactly lay out the welcome mat for business. And our state's gross domestic product is growing slower than yours.
The more we look at our two state legislatures, though, the more similar our two states seem to be. And last week your Republican voters decided that their favorite Republican presidential candidate was conservative anti-contraception, anti-gay Rick Santorum. Missouri Republicans did the same thing last month, but, because our Republicans had been too busy with other bad bills to actually make the primary vote count, they had to hold caucuses on Saturday.
Anyway, we just wanted to say, we're sorry. We're not better than you. Frankly, we might be worse. When your football team comes to Missouri next fall to play our Tigers, we hope you'll stay awhile. Stop by our Missouri Capitol to see the bust of Mr. Limbaugh, the Missouri Misogynist.