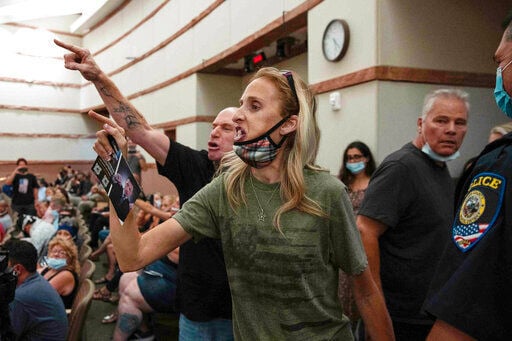 The Justice Department last week issued a memo decrying the rise in threats and violence against local school boards by parents livid over mask mandates or other issues. The department announced it will work with local officials on strategies to address the problem. Right on cue, Republican politicians around the country jumped to the defense of the angry mobs.
They include Missouri Attorney General Eric Schmitt — the state's top law-enforcement official, siding with people who are literally breaking the law — and Sen. Josh Hawley, who offers the Orwellian notion that confronting harassment and intimidation by parents against school board members is, in itself, harassment and intimidation. Is Missouri's Republican junior senator trying to incite more of the kind of violence he incited on Jan. 6?
What is happening in society today when people interpret their constitutional right to free speech as a right to disrupt public meetings, hurl insults and threats at officials in public forums and even physically assault those officials? The Constitution protects the right of the people "peaceably to assemble." The fury that so defines today's political landscape has been aimed at public servants by citizens who seem to have forgotten the word peaceably.
They include left-leaning activists like the immigration-rights protesters who recently followed moderate Sen. Kyrsten Sinema, D-Ariz., into a bathroom in Phoenix, and those who demonstrated outside Hawley's Virginia home in January.
But the most common culprits are parents who have disrupted school board meetings around the country, shouting down, threatening and in some cases assaulting board members over mask mandates. It has become so common that the National School Boards Association last month asked President Joe Biden for federal help, writing that "America's public schools and its education leaders are under an immediate threat."
In response, this week's one-page memo from Attorney General Merrick Garland announced the Justice Department will work with local law enforcement to come up with strategies "to address the rise in criminal conduct directed toward school personnel."
What part of that statement leads Schmitt to tweet that the Biden administration is "weaponizing its resources against parents who dare to advocate for their children," or Hawley to allege, falsely, that it is "sending FBI agents to try to silence voting, taxpaying parents."
It would be one thing if Hawley, Schmitt and the rest were merely opposing federal involvement in local criminal matters — a legitimately debatable aspect of Garland's memo. But the pushback from them and other Republicans goes way beyond that, holding up these misbehaving parents as heroes of advocacy and victims of intimidation instead of the purveyors of it.