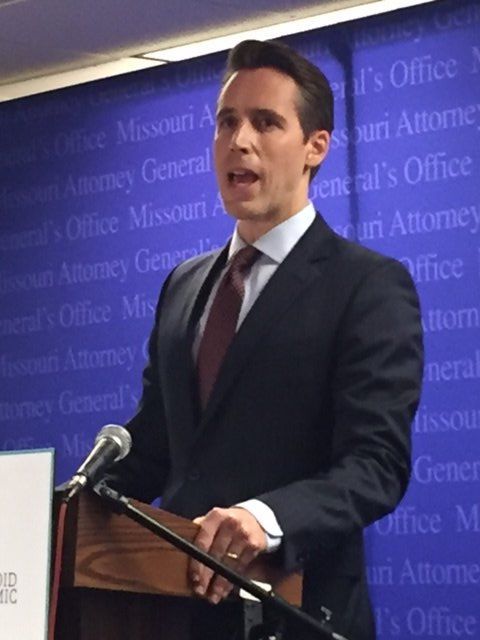 Conservative Missouri Attorney General Josh Hawley and the #MeToo movement couldn't be stranger bedfellows, but they have come together to fight against unfair, forced arbitration in sexual harassment cases. Hawley's position is an unlikely one for a Republican whose party has worked hard to make legal challenges easier for employers to win.
Hawley is joining other brave Republicans in a bipartisan coalition of legal authorities coming to the defense of working citizens by urging Congress to end the practice of secret, forced arbitration in cases of workplace sexual harassment. The group represents 56 states and territories that are members of the National Association of Attorneys General.
It's hard to pinpoint why they would take a position that seems to contradict years of GOP efforts to stack the judicial system in favor of employers, not workers. Some, like Hawley, are likely influenced by their campaigns for higher office. Hawley is seeking the Republican nomination for the U.S. Senate and expects to run against Democratic incumbent Sen. Claire McCaskill, an outspoken women's-rights activist.
Possibly the #MeToo movement has helped drive home the point that all workplace discrimination is wrong, and laws that help shield sexual harassers from judicial scrutiny are even worse.
A letter Hawley and the rest of the coalition signed and sent to the congressional leadership says: "Access to the judicial system, whether federal or state, is a fundamental right of all Americans. That right should extend fully to persons who have been subjected to sexual harassment in the workplace."
Federal law currently allows employers to require employees, as a condition of employment, to sign agreements mandating that sexual harassment claims be resolved through arbitration instead of judicial proceedings.
Unfair? Unquestionably. Corporations enjoy overwhelming resources to influence arbitration decisions in their favor. Disputes between employers and employees should be transparent. An employee who has experienced harassment deserves the right to challenge it in court. Judges are elected and face consequences from voters for their rulings. Arbitrators do not.
Mark Jess, a Kansas City lawyer who specializes in employee rights, told the Post-Dispatch that "almost all" arbitrators are former defense lawyers who are paid by employers. "It is literally putting the fox in charge of the henhouse," he added. "It's an obvious conflict of interest."
His assertions could not be confirmed, but judges, not arbitrators, should determine whether claims have merit. The coalition's letter to Congress notes that employers often bury arbitration agreements in lengthy employment contracts and present them in "take-it-or-leave-it" fashion. Workers often don't know they are bound by such agreements until they try to bring forth a lawsuit.