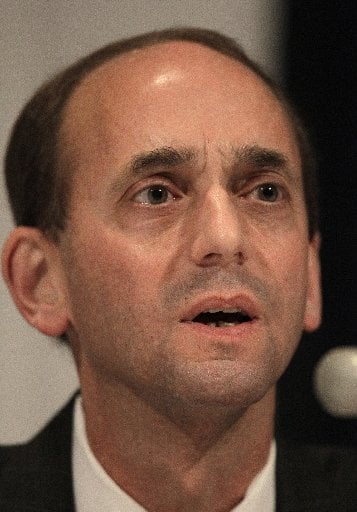 On Friday, Mr. Schweich, a Republican, sued Gov. Jay Nixon, a Democrat, over how Mr. Nixon has chosen to balance the state's budget.
On its surface, the action might seem like just another example of a politician who equates governance with campaigning, a typical attempt at blatant partisanship wrapped up in legal arguments weaker than a first-year law student's paper written after an all-night bender.
And while all of that is true about Mr. Schweich's lawsuit, it's more serious than that. In the document itself, he makes the case that Mr. Nixon is violating the state constitution. That's a serious charge. So what is Mr. Schweich's argument?
In a nutshell: The governor is wrong to cut the auditor's budget to pay for rebuilding the devastation caused by the Joplin tornado.
That's right. Mr. Schweich wants the court and the public to believe that his budget is more important than helping a city rebuild from one of the worst natural disasters in our state's history.
Mr. Schweich, were he granting interviews, probably would take issue with that characterization, but that's what his lawsuit does.
To claim legal standing in such a lawsuit, Mr. Schweich had to suggest to the court that his office was aggrieved. And aggrieved it was. Some quick background is helpful.
In the legislative session, House Budget Committee Chairman Ryan Silvey, R-Kansas City, posted a sign outside his office. It said: "1. Am I here to ask the Chairman for more money than last year? (If yes, proceed to question 2) 2. Have you lost your mind?"
Mr. Schweich's mind, by Mr. Silvey's logic, must have been misplaced during the session, because he was the only statewide elected official to receive a budget increase, in the amount of $300,000.
After the Joplin tornado and the spring and summer floods on the Missouri and Mississippi rivers, Mr. Nixon began withholding money from some areas of the budget to pay for disaster recovery.
The state constitution demands that the governor balance the budget. And the Legislature gave him the specific authority to pay for an uncapped amount of disaster relief in the budget. Mr. Schweich argues that Mr. Nixon can't yet withhold his money because the federal government hasn't sent all the bills for disaster recovery.
Please. Mr. Nixon knows the bills are coming due. It's prudent to plan ahead.
Were Mr. Schweich to win his legal argument, he would get access to his $300,000. The folks in Joplin would have to wait for the Legislature to decide whether they were as worthy.
As we are seeing in the aftermath of Hurricane Irene's destructive path along the Eastern seaboard, that's not a bet worth taking. The Federal Emergency Management Agency is withholding some money for Joplin recovery because its resources are running out. Now the good people of Joplin might have to wait for Congress to act.
Missourians should be grateful that our constitution and our Legislature gave the governor the flexibility to respond to disasters. That same constitution gave Mr. Schweich a legitimate avenue to protest Mr. Nixon's decisions: He could run for governor.
Good luck getting votes in Joplin.