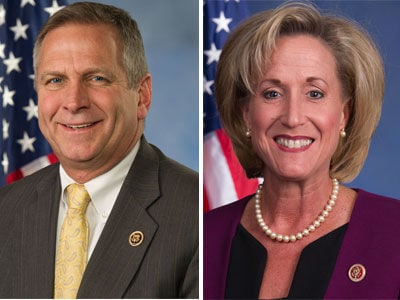 Illinois Rep. Mike Bost touts himself as a moderate Republican whose membership in the bipartisan Problem Solvers Caucus attests to his commitment to bridge the growing political divide in Congress. It appears he got his affiliation mixed up with what should be called the Problem Creators Caucus — a group of 125 Republicans, including Bost and Rep. Ann Wagner of Ballwin, that sought but failed spectacularly Friday to overturn the Nov. 3 presidential election and present an insulting middle-finger salute to American democracy.
The group signed onto an amicus brief attached to Texas Attorney General Ken Paxton's lawsuit asking the Supreme Court to effectively reverse the election result. American voters decided by an overwhelming majority — more than 7 million popular votes and 306 Electoral College votes to be cast Monday — to put Democrat Joe Biden in the White House.
The electorate has spoken. President Donald Trump lost. Attempts like those of the Problem Creators serve only to undermine public confidence in American democracy and lend credence to the increasingly bizarre conspiracy theories behind Trump supporters' assertions that massive election fraud occurred. Federal judges have consistently thrown out their fraud cases for lack of proof. Trump's own Justice Department agrees the evidence isn't there.
Yet they keep trying, now aided by members of Congress whose judgment, if not sanity, is in serious doubt. St. Clair County, by far the most populous part of Bost's 12th District, also favored Biden. Even though Wagner's 2nd District supported her by a 6.5% margin, the most populous areas of her district also voted against Trump. Did corrupt vote counters somehow manage to count Bost's and Wagner's votes correctly but somehow manipulate the result to carry out this vast, secret national conspiracy against Trump?
To his credit, Illinois Rep. Rodney Davis, R-Taylorville, did not sign onto the amicus brief — a testament to his good judgment.
Hours after Paxton filed his lawsuit Thursday, he reportedly was targeted with an FBI subpoena amid ongoing investigations of bribery and abuse of office. He's hardly the most credible figure any Republican should want to align with. Paxton's lawsuit asserted that Texas should have the right to challenge other states' election administration. Missouri Attorney General Eric Schmitt, taking time out from a lawsuit to bring China to its knees, has doubled down on silly by supporting Paxton's lawsuit, too.
Technically, this vast secret conspiracy only occurred in four swing states — Michigan, Wisconsin, Pennsylvania and Georgia — that all voted for Biden. How the conspirators were able to infiltrate the voting systems only in those states is not quite clear.
Perhaps, after Wagner and Bost have drunk enough QAnon Kool-Aid, they will be able to illuminate their constituents on exactly how this dastardly fraud occurred without any election officials detecting it and without anyone being able to produce a shred of court-admissible proof.