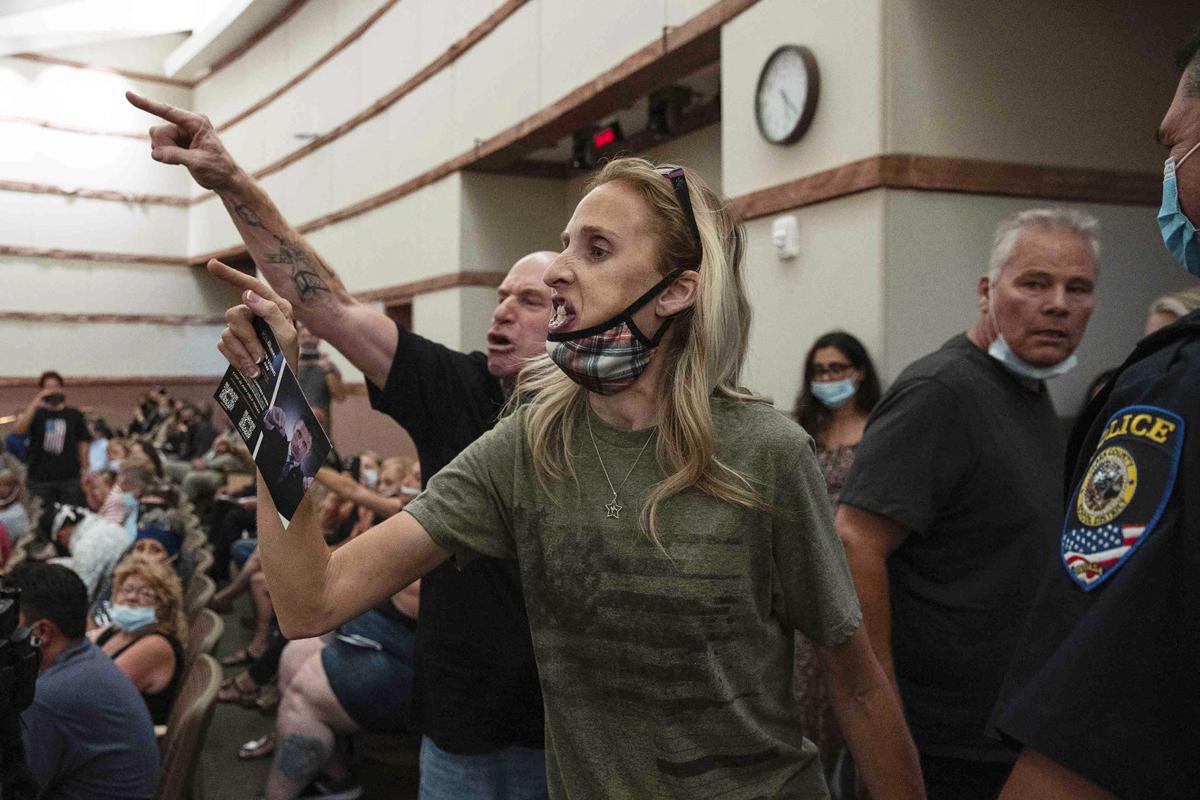 Schools are reporting a sharp uptick in student violence and outbursts. Overdose deaths have surpassed 100,000 for the 12 months ending in April. Passengers have grown so unruly on airplanes that flight attendants are enrolling in self-defense courses. Local traffic rules are for chumps and losers. School board meetings are devolving into shouting matches full of such serious threats that the FBI is getting involved.
What has happened to America?
The pandemic, combined with a four-year presidential term characterized by the White House occupant's open defiance of social norms and courtesies, have resulted in a chaotic mix of problems that defy easy solutions. It's almost as if society has accepted this ridiculous behavior and disintegration of respectful behavior as the new normal. It is anything but normal and must never be regarded as acceptable.
It's as if chaos zombies have seized control. Lacking actual poll results, we'll go out on a limb here and speculate that the vast majority of Americans want their country back.
What's interesting about some of the people stirring up this chaos is that they also claim to be fighting for a restoration of the way America used to be. But in no modern era, even going back to the mythical times of "Father Knows Best" and "Leave It to Beaver," was it ever acceptable for cartoons to depict one sitting member of Congress wielding a sword and killing another member while threatening to kill the president of the United States.
Yes, old cartoons showed a coyote using Acme TNT to blow up the roadrunner, or a cat trying to kill a mouse, or Yosemite Sam going after a silly wabbit with a six-shooter. But somehow, kids and adults always managed to mentally separate those depictions of mock violence (where usually the perpetrator of violence always was foiled) from reality. When a comedy sketch on "Rowan and Martin's Laugh-in" proposed socking it to then-candidate Richard Nixon in 1968, no one anywhere took it seriously. Not even Nixon, who appeared on the same segment to respond, feigning astonishment, "Sock it to me?"
Now, no leading politician would dare play along with such language without first hiring a team of bodyguards because someone out there would take it not as a joke but as a challenge. That's why sane people understand why the cartoon posted by Rep. Paul Gosar, R-Arizona, depicting him killing New York Democratic Rep. Alexandria Ocasio-Cortez with a sword was dead serious. It went far beyond anything the pre-Donald Trump Congress would ever have accepted from a member.
There's a reason why members of Congress are overly effusive with their language on the floor, referring to my esteemed colleague and good friend from the great state of ... instead of saying what's really on their mind: My not-so-esteemed colleague is a jerk. The difference between speaking one's mind without restraint, versus openly exemplifying civility and self-restraint, is what holds this nation together. It's what keeps the chaos zombies at bay.
The fact that only two Republicans could bring themselves to join Democrats in censuring Gosar underscores how substantially the norms and courtesies have degraded. By contrast, when Missouri state Sen. Maria Chappelle-Nadal tweeted her wish for then-President Trump's assassination in 2017, Democrats didn't hesitate to join Republicans in condemning her and joining in a censure vote. Even after Chappelle-Nadal apologized, this newspaper called on her to resign. Gosar refused even to apologize, and his Republican colleagues stood firmly behind him.
In the pre-Trump era, it would've been unthinkable for any group, regardless of political affiliation, to storm the Capitol and violently try to force reversal of a presidential election result. But House and Senate Republicans seem confused about where, exactly, they should take a stand anymore, lest they risk offending Trump.
Here's where we've always drawn the line: Taking a political stand and exercising First Amendment rights in a civil manner is laudable. But resorting to threats, violence and property destruction crosses the line. It doesn't matter whether it's driven by anger over a presidential election result or the murder of an unarmed Black person by police, this newspaper draws the line consistently and resolutely at the resort to violence and destruction. And we've got the editorials to prove it.
Why is that so hard for others these days? Even Fox News magnate Rupert Murdoch is calling on Trump and Republicans to bury the past and move on.
It's hard to tell where this turn toward overt acts of extremism began, and which side started it. Some might say liberals condoned violence and destruction after the Rev. Martin Luther King's assassination, or the police beating of Rodney King, or the death of Michael Brown in Ferguson. Others might point to then-candidate Trump telling supporters to beat up protesters at his rallies, promising that he'd pay the legal bills. Or, as president, suggesting that police not be so gentle protecting detainee's heads when shoving them into squad cars.
The message, either way, has been embraced by the masses. Threats and violence are the new American way. Don't want to wear a mask on a plane? Punch the flight attendant in the face. Don't like red lights and stop signs? Plow right through, and pedestrians beware. Don't like the way schools are run? Send a death threat to selected school board members. Don't like the look of a Black jogger in a white residential neighborhood? Corral him with pickup trucks, threaten to blow his head off, then shoot him. And if a state commander doesn't like the president's order for all U.S. military personnel to be vaccinated, countermand it and suggest that Oklahoma National Guard members disobey their commander in chief.
These and countless other acts go beyond lunacy. Instead of somehow restoring America to what it used to be, they move the nation closer to chaos, civil war and a very bloody end. The Jan. 6 insurrection was just a taste of how bad things could get if people don't come to their senses.
The solution starts with leadership at the national, state and local levels. Leaders must recognize the increasingly high stakes at play and that their words and deeds are feeding the divisions. They must agree that certain forms of public discourse are unacceptable under all circumstances: No death threats or implied threats, even through cartoons and supposedly jocular online postings. There must be blanket and unequivocal condemnation of insurrection and violent protest. Zero tolerance of any language from elected officials advocating violence, insurrection or circumventing democracy to yield an outcome different from what voters have decided.
Why? Because folks beyond the Beltway, beyond the state capitol, and beyond city hall take their cues from their leaders. When leaders equivocate on proper norms of behavior, extremists take that as a green light for action. When leaders stop fomenting division and begin openly practicing civility, their followers will do likewise.
It also starts with parents. Children take their cues from the adults in their lives. When adults are attacking flight attendants or threatening school board members, no wonder kids are growing more defiant and combative in school. The problem is accentuated by lengthy pandemic shutdowns that cut kids off from in-school learning. It's as if they must re-learn basic socialization skills. The rambunctious example of parents and other adults does nothing to put kids back on a track toward civility.