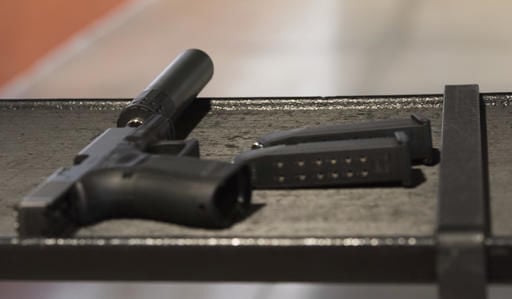 For what earthly reason would the Trump administration suddenly lift an almost two-decade-old ban on gun-silencer sales to foreign private buyers? The ban was meant to protect U.S. troops overseas. Perhaps it has something to do with a White House lawyer who used to lobby for silencer manufacturers.
It's the latest instance in which the Trump White House has let inherently compromised foxes into governmental chicken coops. House Democrats are investigating, and rightly so.
A silencer attaches to the muzzle of a gun and muffles the gunshot noise. Also called suppressors, they are heavily regulated in the U.S. for obvious reasons. As with armor-piercing bullets, there's no urgent reason a law-abiding citizen would need to muffle a gunshot. Too loud? Wear ear protection.
Sales of U.S.-made silencers overseas were banned in 2002 for fear they could help enemy fighters kill U.S. troops. Shots fired by unmuffled firearms are sure to bring soldiers running, but a gunshot muffled by a silencer is less likely to draw attention.
U.S. manufacturers argue that, since foreign-made silencers are readily available anyway, American-made versions might as well compete on the global market. That rationale could be used to argue against any restrictions at all on foreign weapons sales: Heck, American soldiers are going to die anyway, so at least let American companies profit from it.
That's perverse. The foreign sales ban made sense.
Unless, of course, you're a lawyer with deep connections to the U.S. silencer manufacturing sector. That's the situation with Michael B. Williams, a White House lawyer who previously was general counsel for the American Suppressor Association. With the administration's inexplicable decision in July to lift the foreign sales ban, the companies Williams used to represent could see as much as $250 million a year in new sales.
As The New York Times has reported, this isn't just a convenient coincidence. Williams, after two years of unsuccessfully lobbying on behalf of the silencer industry to get the government's foreign sales ban overturned, joined the administration and worked the issue from the inside, pressing people at the State Department and elsewhere.
That it worked shouldn't come as a surprise, given an administration that appointed a former fossil fuels lobbyist as interior secretary, put a former coal lobbyist in charge of the EPA, made an auto industry lobbyist head of the Energy Department, and appointed a former defense contractor lobbyist as Defense secretary.
House Democrats, now probing Williams' role in getting the silencer sales ban overturned, are correctly concerned, issuing a statement that the "security of our men and women in uniform" is being "influenced by personal financial or political interests." As they pursue the investigation, they should keep in mind that, for this administration, such swampy behavior isn't the exception; it's the rule.
Views from the editorial board, opinions from guest and national columnists plus the latest letters from our readers.