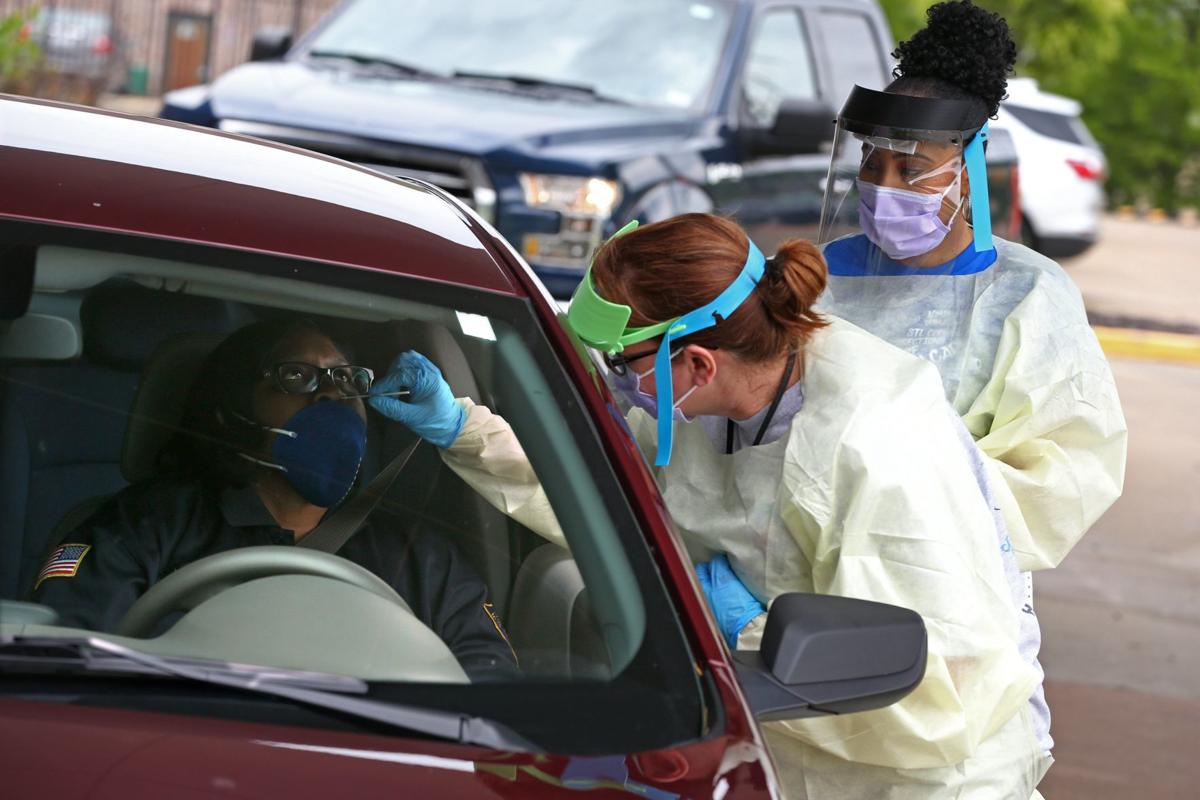 The St. Louis area's two top politicians have pledged full transparency with their coronavirus-response expenditures. But their version of transparency more closely resembles a closed bank vault than a window. Mayor Lyda Krewson and St. Louis County Executive Sam Page are corralling and hoarding millions of dollars while the two dither about next steps. Their public statements continue to reflect a sense of urgency even though their actions suggest the pandemic response was yesterday's news.
Now more than ever, the two leaders should be involved in a massive ramp-up of testing and contact-tracing as they ease their stay-at-home orders and take steps to restart the regional economy. A reopening necessarily means increasing interactions among members of the public and a greater chance of exposure to the virus. Health officials across the country are warning of an expected new spike in cases.
If any such preparations are being made, you won't find it by looking at the two governments' "transparency portals," which leaders claim are updated and providing a real-time accounting of expenditures to fight the pandemic.
"Even during a global emergency such as COVID-19, governments must remain accountable to the people. That includes showing them how we're investing in critical, life-saving resources. I appreciate the multiple City departments that worked together to activate this portal in a timely, accessible manner," Krewson said in an April 23 statement announcing creation of the city's transparency portal.
As of Thursday, the city's portal indicated that not a dime has been spent on anything related to the pandemic since April 17. The county has spent $2 million and committed another $26.5 million, its portal says. The committed amount includes $17.5 million that is, literally, in a gray area of the portal where no data is listed to say where it is going other than "miscellaneous offices."
According to the city's transparency portal, less than $2.3 million has been spent out of the $35 million allotted by the state from $2.38 billion in federal grants to Missouri.
Earlier this month, Krewson's office was complaining about the lopsided funding St. Louis County had received compared to the city. "We are working to address what we believe to be a funding disparity but remain glad for the much needed funding nonetheless," spokesman Jacob Long said in a statement.
Yet it certainly appears that Krewson is in no hurry to spend more than a fraction of the city's existing allotment. In a meeting with aldermen, Krewson's chief of staff, Steve Conway, insisted the portal was up to date as of Tuesday. At that point, the portal hadn't shown any activity since April 7. Since then, a single $16,000 purchase of swabs has been added.
If there were a sense of urgency, what might they spend it on? Testing and contact tracing should be at the top of the list. Gov. Mike Parson's office is gearing up for the testing of every person in the state, which is sensible considering that Parson in mid-April had cited 40,000 to 50,000 daily tests as a necessary quota. The state currently averages only 5,000 per day.
National guidelines call for a ratio of 30 contact tracers per 100,000 population, which means St. Louis should be actively hiring to boost its team of contact tracers to around 90. The health departments in St. Louis County and Kansas City each are hiring as many as 100 contact tracers. But St. Louis city has only 10. And officials indicated to aldermen last week that they're fine with that.
"We are OK right now," says Franda Thomas, head of the city health department's communicable disease effort. The city remains "very watchful," she assured aldermen. Interns and part-timers might be brought on if more contact tracing is needed.
Dr. Fred Echols, the city health director, told the aldermanic Ways and Means Committee that the city had "sufficient capacity" for contact tracing. Even before the pandemic, contact tracing was already abysmally inadequate. It is used to halt the spread of sexually transmitted diseases, and because St. Louis doesn't place more emphasis on contact tracing, it has the embarrassing No. 1 national ranking for the transmission of gonorrhea and chlamydia.
No, the city is nowhere near at "sufficient capacity," and the failure of Echols and Krewson to recognize this deficiency justifies the current questions being asked by Alderman Sharon Tyus about Echols' qualifications, including the fact that he's not a licensed physician.
The city recently released its fiscal year 2021 budget — with officials fully aware of the pandemic sweeping across the country. Yet, the budget for communicable disease control is actually reduced by more than $1 million from the $10.96 million budgeted in fiscal year 2020. Does Krewson somehow think the pandemic will miraculously disappear, and that it'll need less budget attention?
The spending she has accounted for contains some shocking numbers. Her administration on April 3 purchased 220,000 KN-95 masks from Global Strategies Global Solutions, at a cost of $1.24 million. The company's website has lots of military-looking guys diving out of airplanes, rappelling and parachuting. It is, by far, the single biggest expenditure on the city's list. Granted, the purchase was made during a time of high panic, but $5.65 per mask?
From April 7 through May 4, the county purchased 406,600 masks for nearly the exact same price, paying between 73 cents and $2.72 per mask.
The easiest thing for any politician to do is promise transparency and accountability. The hard part is demonstrating it. The best way for voters to ensure Krewson and Page live up to their word is by regularly monitoring their transparency portals and making sure their words match their deeds.
Editor's Note: This item has been updated to correct the amount of money provided to the state of Missouri in coronavirus-response grants.
Views from the editorial board, opinions from guest and national columnists plus the latest letters from our readers.