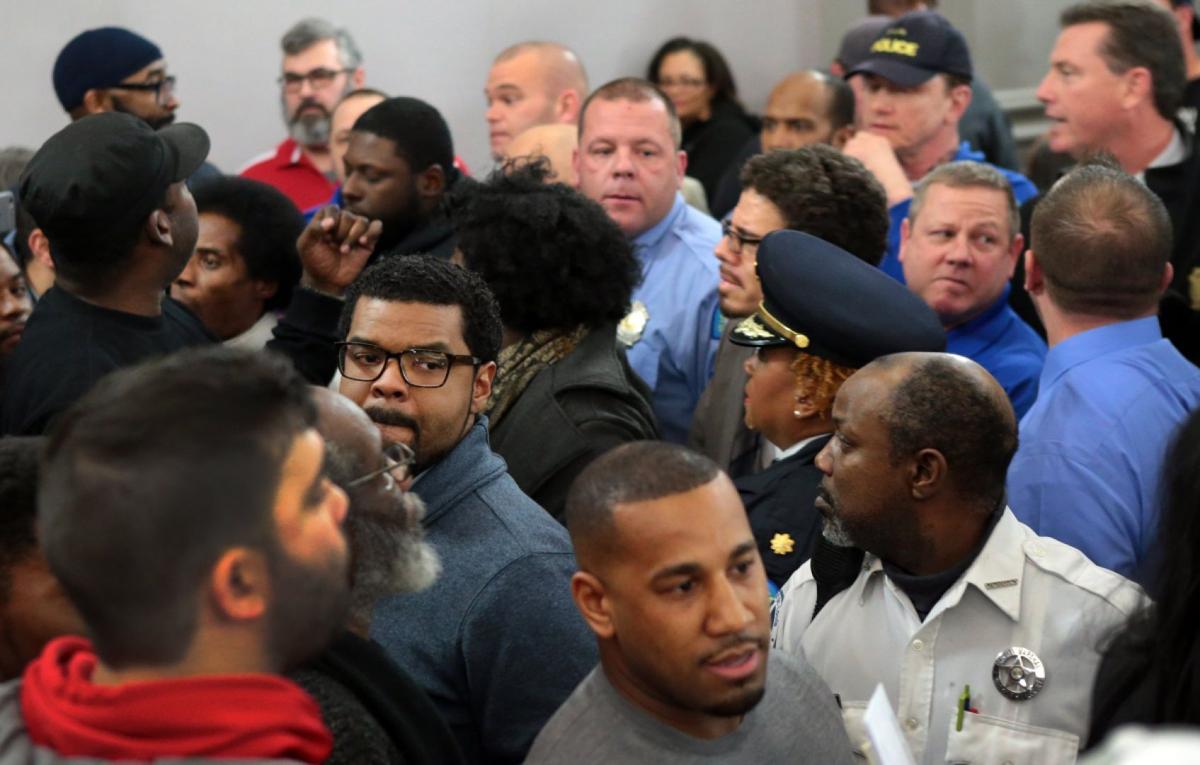 Underlying the controversy over the proposed Civilian Oversight Board for the St. Louis Police Department are some fundamental issues of trust. As in most political disputes, the differences are most pronounced on the ends of the spectrum where the true believers hang out.
On one end of the police-community relations spectrum are old-school police officers and their supporters who don't believe anyone can judge a cop who's not a cop. They argue that police work is not only dangerous, but nuanced in ways outsiders can't easily understand.
At the other end of the spectrum is a newly emboldened cadre of police critics, many — but not all — of whom are African-American. They believe that too many white cops are reflexively hostile to people of color.
This phenomenon is not unique to St. Louis. But because of the continuing repercussions of events in Ferguson last summer, and because the police department is now back under city control for the first time since the Civil War, police politics are more volatile than they have been in 150 years.
On Monday, a committee of the St. Louis Board of Aldermen advanced Board Bill 208, creating a police review board. The full board is expected to pass the bill, and Mayor Francis Slay is expected to sign it. It won't create trust overnight, but it's vitally important for ongoing relationships between the people of St. Louis and police officers who protect them.
Board Bill 208 is the product of months, if not years, of hard work and compromise. It passed the aldermanic Public Safety Committee after contentious debate, a public melee and attempts by true believers on both ends of the debate to sidetrack it. It is not everything that community activists want, nor is it everything that cops would like. It's a place to start, and a place from which to evolve.
In the old days (i.e., before 2013) of a state-controlled police board, we wouldn't be having this discussion. If cops didn't like something, they could go to Jefferson City and get a sympathetic hearing.
The POA fought local control for just that reason. The key issues were (a) who would be the final arbiter in police disciplinary matters, and (b) what matters would be made public. In the end, nearly all disciplinary processes and decisions remained internal. The police chief decides what is made public.
This does not conform to best practices suggested by the U.S. Department of Justice. The department should be far more transparent, particularly in cases where police have used deadly force. The POA, concerned about potential retaliation against officers, has successfully bargained to keep the lid on.
The Civilian Oversight Board wouldn't change that. It would, however, add an independent layer of review of police internal investigations from seven citizens chosen by the aldermen and approved by the mayor.
The POA wanted more guarantees, including access to review board members' social media accounts. It wanted board members to be drug tested and have at least an associate's degree. It wanted all citizens' complaints to be filed under oath. This was all a little bit silly.
But mostly the POA didn't want the COB to have the power of subpoena, not trusting a board created by the aldermen to have the power to compel officers to testify. Alderman Antonio French, D-21st Ward, and his allies tried last week to insert subpoena power into the legislation, arguing that it would help get unvarnished testimony.
It might have done that, at the price of upsetting a delicate compromise worked out by Mr. Slay and Alderman Terry Kennedy, D-18th Ward. There's some dispute about whether the aldermen can legally delegate their power of subpoena, and Mr. Slay had said he would veto the bill if it included that power.
The committee chose the wiser course, deciding to get the COB started without subpoena power. Nothing says the aldermen can't revisit that issue, perhaps by submitting a charter amendment to voters that would give the COB more powers.
Let's see how it works first. If the review board here works like those in other cities, it will uphold police officers nearly every time out. Trust must begin somewhere.
​Kevin Horrigan • 314-340-8135
@oldsport on Twitter