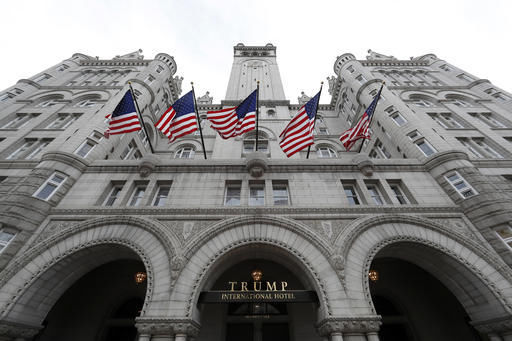 Another week, another confirmation that President Donald Trump is continually, blatantly violating the Constitution's prohibition against monetizing the presidency. The Secret Service spent more than a quarter-million dollars at Trump's properties in his first six months in office, according to newly released documents. At this point, it's as familiar a story as a Trumpian tweet-storm.
As Congress debates whether Trump's leveraging of aid to Ukraine for his own political benefit constitutes a "high crime," his continued flouting of the Emoluments Clause — happening in plain sight, literally from the time he took office — remains his most obvious constitutional violation. Yet few in Congress are talking about it. They should be.
Records obtained by the watchdog group Property of the People show that over approximately six months in early 2017, Trump-owned properties billed the U.S. government for more than $250,000 for expenses related to the Secret Service. That included $28,800 in expenses racked up in a single day at a Trump-owned golf club.
Any time a president travels, the Secret Service bill is significant, but that doesn't normally enrich the president himself. In Trump's case, it does, because of his habit of frequently staying at his own hotels and resorts for either official presidential functions or recreation (including far more golf outings than former President Barack Obama ever took — an issue for which Trump used to criticize him).
Where Trump stays, his whole entourage must stay as well. And, oh, how the money rolls in.
Two separate sections of the Constitution specifically prohibit presidents from receiving anything of value (other than their salaries) from the U.S. government or any other government, foreign or domestic. Yet Trump's businesses are making a mint from the U.S., state and foreign governments in many ways. This situation has prompted lawsuits and congressional probes, but it isn't the front-burner issue it should be.
Trump International Hotel in Washington, D.C., has become a favorite destination of lobbyists and foreign dignitaries, strongly suggesting those guests are trying to curry favor with the White House by putting money in Trump's pocket or, at least, showing loyalty to his brand. U.S. Air Force crews have become regular customers of Trump's Turnberry Resort in Scotland. Trump-supporting governors stay at Trump properties courtesy of their states' taxpayers.
Trump's refusal, against all modern precedent, to wall off his business interests while in office would, in itself, be problematic. But he has gone even further, treating the presidency like the marketing department for his business empire. How else to interpret his aborted attempt to host next year's G-7 global economic summit at his Doral Resort in Florida?
Trump, with typical disdain for constitutional restraints, has called the Emoluments Clause "phony." It is, in fact, among the clearest, least-debatable mandates in the Constitution. His constant violation of it cries out for congressional pushback.
Catch the latest in Opinion
Get opinion pieces, letters and editorials sent directly to your inbox weekly!