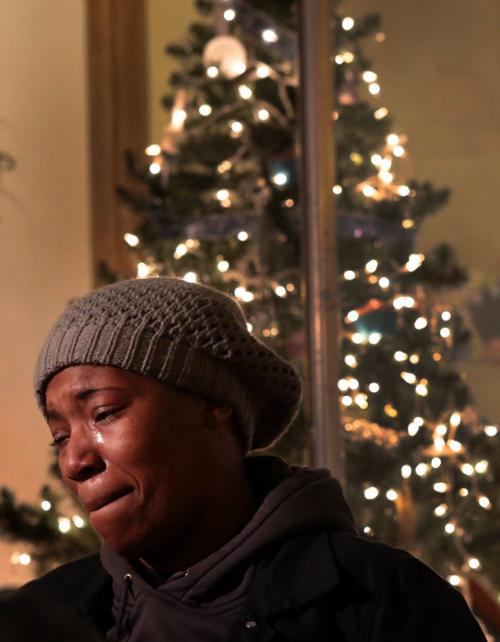 The story of Ferguson has been told in pictures.
First was the body of 18-year-old Michael Brown, face down on Canfield Drive in a pool of blood, killed by Ferguson police Officer Darren Wilson. That picture went viral, shared wildly on Twitter, Facebook and Instagram by a legion of people growing angrier by the minute as his body lay in the street for four and a half hours.
That anger bubbled up into the streets, mostly along West Florissant Avenue, where chanting and protests and the tears of a mourning mother were the pictures of the moment.
Then came the militarized police response, SWAT teams in riot gear, sniper rifles and tear gas, cops with dogs keeping young black protesters at bay. A patriotically dressed young black man tossing a tear gas canister back at police in an iconic display of anger and freedom.
St. Louisans reacted in horror to the violent images sent around in those mid-August days and nights. Eventually, an uneasy peace came and the narrative changed. There were regular, organized protests. New coalitions between clergy and young people, between university students and civil rights activists. There was a push for positive change in a community that needs it.
Everything changed, we hope temporarily, on Monday night.
After Prosecuting Attorney Bob McCulloch announced that the grand jury in St. Louis County would not indict Officer Wilson in Mr. Brown's death, weeks of tension and rage built upon decades of institutional oppression boiled over.
The world saw Ferguson burn, and the reality was as bad as it looked on late-night cable television. A dead man was found in a car near Canfield Drive. More than two dozen businesses were burned. Bullets and rocks were flying. Some hit their targets.
It was the Failure in Ferguson, and by the next morning, everybody was looking for somebody to blame. There were plenty of candidates.
Mr. McCulloch failed by not doing enough to alert law enforcement to the jury's decision, so they could properly prepare for the reaction.
Gov. Jay Nixon, who spent the past two weeks rattling his saber and declaring a state of emergency before there was one, made sure the National Guard was protecting the hell out of the courthouse in Clayton, but left Ferguson to burn. Yes, he was damned if he did, damned if he didn't, based on previous criticisms over the over-militarization of the police. But once again, a poor black neighborhood absorbed most of the rage. The St. Louis region's already battered image took another hit as images of chaos were blasted around the world.
Contrast what happened in Ferguson to what didn't happen in the city of St. Louis. There, police had an open dialogue with protesters. The Guard was stationed around the city strategically, but not overtly. Police allowed peaceful but disruptive protests, such as brief blockage of Interstate 44 at Grand Boulevard. There were broken windows, some scuffles, but in the population center of the region, there was nothing like what happened in Ferguson.
Of course, most of the blame for the fires and broken glass goes to those who committed acts of violence, be they arsonists, thieves or other criminal elements. They took advantage of the cover provided by legitimate protesters grieving over a perceived lack of justice. They took advantage of a city that has been on edge for weeks, with tensions high and violence seeming almost inevitable.
They are a scourge. They dishonor the wishes of Michael Brown's family and his memory. They should be arrested and prosecuted.
St. Louis must not let a violent few represent the future of this city.
One of the most moving images of Monday night's unrest was of a weeping Natalie DuBose, owner of Natalie's Cakes and More in Ferguson just down the street from the Ferguson police station. Ms. DuBose is a single mother of two, a small-business woman trying to make ends meet. At one point, she told the Post-Dispatch last month, she went almost two weeks without any business, but she supported the protesters' cause.
Jobs, economic development and hope are often in short supply in pockets of north St. Louis County. On Monday, Ms. DuBose stood before the shattered glass outside her store and wept.
This is the painful and uneasy sadness that has fallen upon the St. Louis region.
For one night at least, Ferguson was the modern-day version of Watts, or Detroit, or Cincinnati, or Los Angeles after the Rodney King verdict. The hope as we write this, as Mr. Nixon vows to ramp up the National Guard presence, is that it doesn't become worse.
Lost in the images of loss are the gains being made in a community whose leaders recognize the fundamental truths underlying the protesters' anguish. Here's how St. Louis Mayor Francis Slay put it on his blog Tuesday morning:
"Almost every change the St. Louis region needs is going to require the support and goodwill of all of our residents," the mayor wrote. "I think those who want the biggest and most immediate changes know that what happened in Ferguson last night was a setback in building that support and goodwill. But, we can, and we must, overcome it."
It starts with getting beyond Darren Wilson and focusing on the long-term justice that can change St. Louis forever. Some of those needed changes — to small police departments and municipal courts that work together in north St. Louis County to oppress poor people — can be forced by an ongoing Department of Justice investigation into civil rights violations and racial profiling in Ferguson and St. Louis County.
The burning reality is that St. Louis isn't going to fix itself.
When Attorney General Eric Holder announced the inquiry on Sept. 4, he indicated it could be widened to encompass all of north St. Louis County.
It's time to expand that investigation and tell the people of the St. Louis region in no uncertain terms that change, in the form of positive policing and serious municipal court reform, is on its way.
It's time to do what Ms. DuBose did Tuesday morning in her broken store: She got back to work. Similarly, peaceful protesters held multiple acts of nonviolent civil disobedience throughout downtown St. Louis on Tuesday. They went to work, changing the narrative, joining like-minded protesters in cities all across the country.
It's time for Mr. Holder to come back to Ferguson, to stand in the smoldering rubble of burned-out businesses, and tell the people of St. Louis, and the world, that justice is on its way.
What a picture that would be.
Views from the editorial board, opinions from guest and national columnists plus the latest letters from our readers.