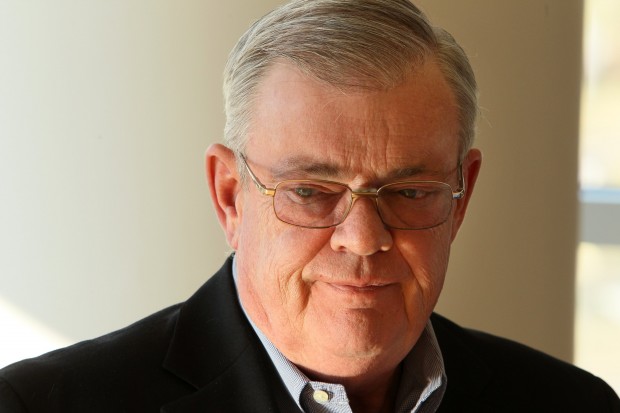 After three months of intense scrutiny and persistent criticism, Robert Archibald, president of the Missouri History Museum, did the right thing and resigned Thursday.
Mr. Archibald's 24 years of service to the community and his work for the museum should be remembered, however difficult the final chapter was. Still, the revelations in the last chapter will tarnish much of the good that came before.
At this point, Mr. Archibald's reasons for resigning are still secret. This is his legacy in a nutshell: Even on his way out the door of the publicly supported museum, Mr. Archibald wouldn't be accountable to the public.
Mr. Archibald stayed mum for months. Some of the best fixers in town — former Sen. John Danforth and Fleishman-Hillard public relations among them — tried to make the problems go away. They wouldn't.
The deal that led to Mr. Archibald's resignation was done so quietly that it caught even Romondous Stover, chair of the commission that oversees the museum's tax money, by surprise.
Whatever prompted it, people who care about history and about St. Louis must hope that the resignation was not too late. They must hope that the damage done by Mr. Archibald and his enablers was not so severe that public confidence cannot be restored.
The museum's case was not helped on Thursday when museum trustees did not make Mr. Archibald's letter of resignation public. They denied a request from the Post-Dispatch to speak to Mr. Archibald or the new chairman of the board of trustees, John Roberts.
So, exactly who is minding the public's interest here?
Mr. Archibald himself was not the problem, but a symptom of a larger problem. Governance of the Missouri History Museum, or the other four cultural institutions supported by the Zoo-Museum Tax District (the Zoo, the Art Museum, the Botanical Garden and the Science Center), is not about who is at the helm.
It is about operating these public institutions transparently. The History Museum, like the Botanical Garden and the Science Center, long has had a board of trustees that is supposed to supervise the executive who manages the day-to-day operation of the institution.
This operating structure, which stems from the origin of each institution as a private enterprise, is no longer viable. Each of the cultural organizations gets a portion of the $70 million or so a year that is collected from taxpayers in St. Louis city and St. Louis County to help support the ZMD institutions.
You take public dollars, you become a public institution. Trustees like to think of them as semi-public, or public-private hybrids. No matter. If the place gets public funds, it needs to have several inviolable principles.
Topping the list must be transparency. No more private land deals. No million-dollar pledges to trolley lines. No plans to build $12 million "story-telling centers" without public review. These are the kind of things that led to the conclusion of Mr. Archibald's history with St. Louis.
When the books finally were opened and audited, questions arose about Mr. Archibald's pay and benefit package, which he had negotiated with a hand-picked board of trustees. The generous package was for about $515,000 this year, including a salary of $375,000, a minivan, multiple retirement plans and a $33,000 annual housing allowance. His contract also included six weeks of time off for "research and writing," on top of four weeks of vacation.
On Friday, the board of trustees agreed to give Mr. Archibald a six-month contract for $270,000 to help the museum transition to a new leader. They also said they already had paid him $567,000 for accrued vacation days. That's a total of $837,000 — about what it cost the museum to buy an overpriced vacant lot on Delmar Boulevard in 2006.
So what kind of deal will be negotiated for the next museum president? And who will negotiate it? The process must be open to help shore up public confidence, and not just in the History Museum. It must be open before the contagion of public doubt spreads to the other cultural institutions in the ZMD.
It must be open to build public confidence in a variety of other efforts under way to enhance the region. First and foremost will be the proposed 20-year, $760 million sales-tax increase for another "public-private partnership" with the CityArchRiver 2015 organization. Taxpayers in St. Louis city and St. Louis and St. Charles counties will be asked to vote on this issue in April. The proposal calls for raising sales taxes by 3/16ths of one cent.
The money would be shared broadly, with 30 percent going to enhance the Gateway Arch grounds; 30 percent for the Great Rivers Greenway trail system; and 40 percent for parks in each county. Proponents must stem creeping Archibaldism, reassuring taxpayers that operations will be open and transparent.
Step one is to repair the damage done at the History Museum. Whatever prompted Mr. Archibald's resignation needs to be made public, and so do details on who packed his golden parachute.
Perhaps not coincidentally, after months of intransigence, Mr. Archibald hit the silk shortly after the city's Board of Aldermen gave subpoena power to its Parks Committee, chaired by Alderman Joe Roddy, D-17th ward.
Mr. Roddy should proceed with his inquiry. The St. Louis County Council should get one going, too. There have been enough secrets and private deals.