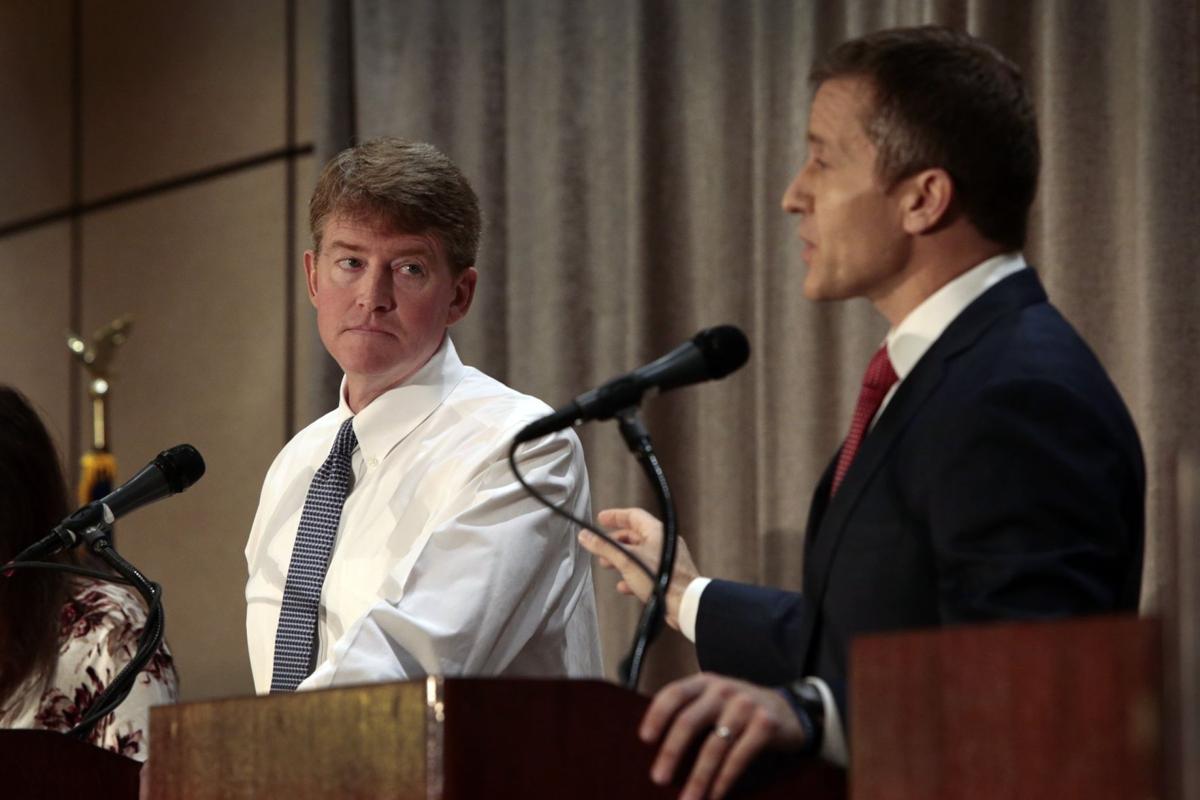 The two major party candidates for Missouri governor could not be more different except for one quality: Both Republican Eric Greitens, 42, and Democrat Chris Koster, 52, are defined by a relentless, opportunistic streak of ambition.
At times, ambition has served them well. At other times, it has blinded them.
Of the two, Koster has proven most adept at converting ambition into a force for effective public service, which is why he receives this newspaper's endorsement for governor.
Koster is by far the better-prepared candidate. He served 10 years as a county prosecutor, four years in the Missouri Senate and has been state attorney general since 2009. He's been a moderate Republican and a conservative Democrat. Experience, no matter what you may have heard from "outsider" candidates like Greitens, is not necessarily a bad thing in a politician.
We disagree with some of Koster's positions and tactics. But he has a better grasp of Missouri's political reality than Greitens, whether it's Koster's opposition to right-to-work legislation, his support for campaign finance reform, reproductive rights and stem-cell research, his willingness to release his tax returns, or his support for Medicaid expansion.
Greitens has no history in elective office, even though his political ambitions began early. His kindergarten teacher, Anne Richardson, told St. Louis Magazine's Jeannette Cooperman: "When we did the 'What I Want to Be When I Grow Up' unit, Eric's answer was 'President.'" Seven years ago, he reserved the website "EricGreitensForPresident.com."
Given this trajectory, the governor's office seems more like a box on a Greitens checklist than a call to serve and improve the lives of Missourians.
Greitens has failed to let his substantial intellect shine through in the campaign. He has been a Rhodes Scholar; a self-identified "humanitarian"; an Oxford Ph.D.; a boxer; a marathoner; a Navy SEAL; founder of a not-for-profit organization that harnesses the idealism of veterans for community service; an author of self-help books; and a motivational speaker.
His most recent book, "Resilience: Hard-won Wisdom for Leading a Better Life," marries SEAL stories and Greek philosophy. He seems to have prepared himself to be one of Plato's "philosopher-kings." Governor, not so much.
Through more than two decades of service in elective office, Koster has acquired intimate knowledge of the politics and details of state government.
Greitens says somewhat naively that he favors evidence-based ideas that actually solve problems. But turning around Missouri's moribund economy will be the next governor's biggest problem, and Greitens' ideas are straight from the Missouri Chamber of Commerce's tired playbook: a right-to-work law, tort reform, judicial reform and reform of the state's Merchandising Practices Act. Future prosperity, he suggests, will cover today's deficits. That's not how real-world budgeting works.
Greitens said he hopes to hire a Fortune 500 executive as a "chief operating officer" for the state. Presumably that person will sweat the details. Isn't that the governor's job?
Meeting with the editorial board, Greitens at one point grew impatient and said our questions pressing him for policy specifics were "making my head hurt." We were asking him about stop-and-frisk policies for police officers; he said it was the wrong question, as was our interest in campaign finance reform and state budget problems.
"I've held 150 town-hall meetings around this state and had zero questions about campaign finance reform," he said.
If he thinks he can clean up Jefferson City without cleaning up the money problem, he is wrong.
Koster seems sometimes to be trying to outflank Greitens on the right. The former Republican says of his party switch, "The GOP I belonged to no longer exists." He describes levels of caucus-room duplicity among his Republican colleagues that he found abhorrent in the Legislature, where they expressed one view in private and the opposite view on the floor.
At the same time, the experience of serving in the legislative leadership of both parties has provided him with a balanced political viewpoint that better reflects the ambivalent nature of Missourians' voting patterns in statewide races.
Koster has been endorsed by the National Rifle Association and doesn't think the Legislature's new "constitutional carry" bill, SB 656, was worth opposing. That's a major point of disagreement with this editorial board.
"We live in the most gun-friendly state in the country," he said. "I want to concentrate on the criminal justice system in St. Louis and Kansas City, and I'm not going to burn up valuable time."
Koster, who has heavy financial support from labor unions, has vowed to veto any right-to-work bill that would make fee payments optional for nonunion members in workplaces where union contracts are in force. He also plans to push expansion of the Medicaid program under the Affordable Care Act. "All I want to do is accept back the $2 billion we're sending to Washington, D.C.," he said, claiming Medicaid expansion would be the best economic development move the state could make.
He figures if tobacco taxes fail at the polls in November, he'll come back with a new one in 2018. He figures that revenue and growth created by Medicaid expansion will be enough to offset the revenue lost by the 2014 income tax cuts that he supported.
Those tax cuts will create huge problems for Missouri's next governor. The state will need all the experience it can get. Chris Koster has it.
Also running are Libertarian Cisse Spragins, Don Fitz of the Green Party, and independent Lester Turilli Jr.