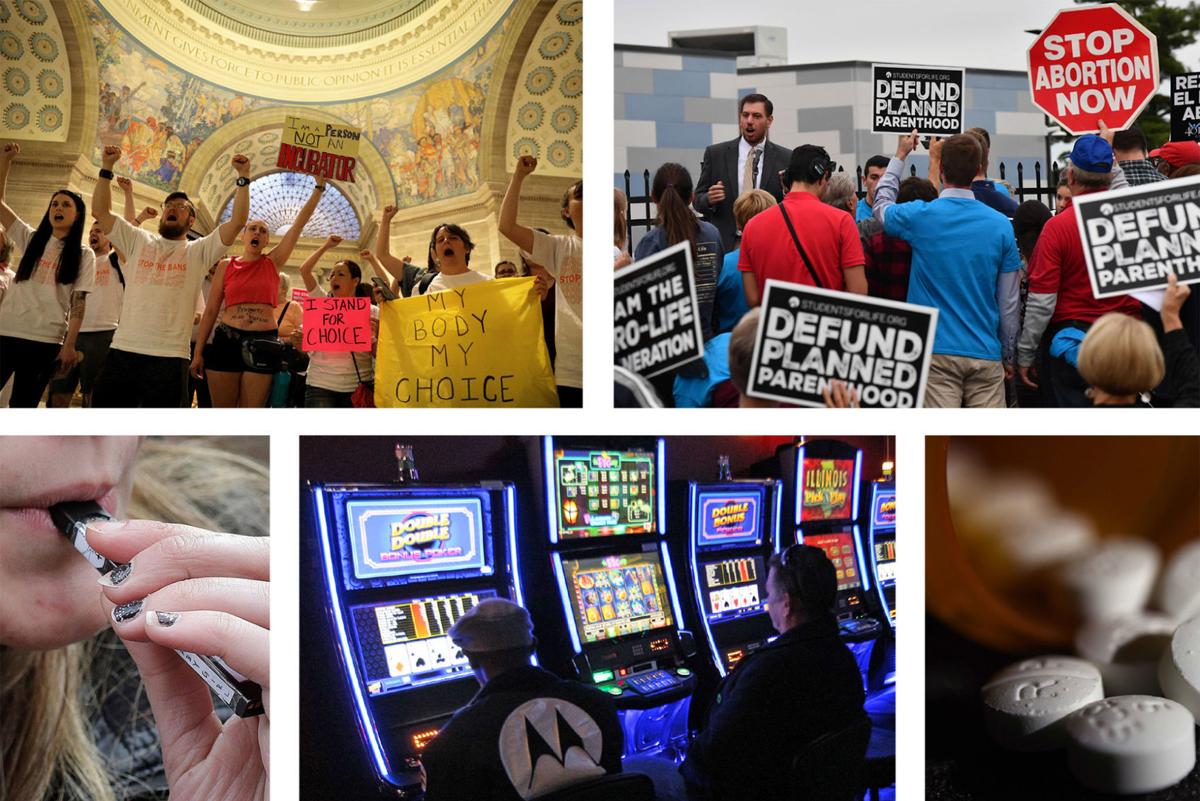 Missouri in 2019 was confronted by a series of big issues that put it in the center of national debates — often standing almost or completely alone from its neighbors. Abortion, gun control, political reform, opioids and more have rocked the Show-Me State with particular force even as those topics have reverberated around the country.
This year, Missouri was on the front lines of the furious national debate over abortion, joining a handful of other red states that passed hyper-restrictive abortion-rights legislation clearly designed to draw legal challenges. Missouri's House Bill 126 sought to ban most abortions as of eight weeks — a point at which women sometimes don't even know they're pregnant — including pregnancies resulting from rape or incest. A U.S. district court in August stopped the measure from taking effect, the first step in what will likely be a long road toward a potential Supreme Court review.
But Missouri's Republican leaders, not content to merely threaten women's control over their own bodies via legislation, also embarked on a brazen regulatory attack against the state's sole abortion provider, located in St. Louis. Missouri public health officials this year attempted to shut down Planned Parenthood's Forest Park Avenue clinic using cherry-picked cases of medical complications. The state's Orwellian campaign became a national controversy when it was revealed officials had tracked patients' menstrual cycles on a spreadsheet without their knowledge in an effort to find those cases.
Even as Missouri's supposedly "pro-life" leaders took massive steps to restrict abortion rights, they took virtually no steps to address the gun-violence crises rocking St. Louis and other urban areas this year. This year's dead in St. Louis alone have included more than a dozen children. A likely contributor to the body count is Missouri's gun laws, which are among the most lax in the country. They allow gun purchases with no background check and concealed carry with no permit.
The lunacy of that system was starkly demonstrated in August when a man in body armor strolled through a Springfield, Missouri, Walmart wielding a military-style rifle to test his Second-Amendment rights. He caused a mass panic in the store, largely because, just days earlier, a gunman had killed 22 in an El Paso, Texas, Walmart. Dmitriy Andreychenko, 20, was charged in connection with the panic he caused, but — Missouri's gun laws being what they are — faced no weapons charges.
Republican Gov. Mike Parson took the laudable step of meeting with urban mayors in November to hammer out a tentative agreement on issues like keeping guns away from minors and domestic abusers. But by mid-December, even that modest plan was sputtering from lack of support in Jefferson City. Parson balked at applying public pressure for lawmakers to understand why cities need relief from gun violence.
Meanwhile, St. Louis Mayor Lyda Krewson's pleas to the Legislature to allow her city to require permits to carry guns was rebuffed by state Republicans whose ideological bunker on the issue has no room for acknowledging the specific issues faced by cities. Parson watched quietly from the sidelines. That kind of refusal of Republican lawmakers to let local officials and voters make their own decisions flies in the face of the GOP's oft-stated principle of respect for local control.
That hypocrisy was evident this year on another issue as well: hog mega-farms. The Republican-controlled Legislature passed, and Parson signed, a law denying local officials the power to set environmental standards stricter than those of the state for the smelly and potentially polluting facilities. The law made clear where state leaders come down when they weigh their principle of local control against their fealty to the powerful agribusiness industry.
But it's unfair to say the state's leaders are just unwilling to let local voters decide their own fates; as those leaders have shown again this year, they're also unwilling to let all the state's voters decide.
In 2018, Missouri voters overwhelmingly approved Amendment 1, the "Clean Missouri" referendum, which imposed tough new ethics standards on state politicians. Among other things, the new law took the power to draw legislative boundaries away from those politicians and gave it to a nonpartisan expert and citizen commission. It set strong new limits on "revolving-door" lobbying and gifts from lobbyists. And it made the Legislature subject to Missouri's Sunshine Law.
This year, legislative Republicans — the very people whose power was meant to be curtailed by the new law — embarked on a campaign to get a do-over of the vote, on the insulting rationale that voters didn't know what they were doing. Thankfully, the effort failed, but it could be revived in 2020.
As the opioid-addiction controversy exploded nationwide this year, prompting historic litigation against manufacturers of the often-deadly painkillers, Missouri remained stubbornly in its lane as the only state without a statewide system to battle abuse by creating a database to monitor drug prescriptions. Parson pushed to institute this life-saving system, but to no avail.
The main culprits are hard-right ideologues in the Legislature who see it as a personal-privacy issue and who tangle it — illogically but perhaps inevitably — with the gun issue. "How long is it going to be 'til this [proposed database] is used to pare down the number of people with concealed weapons or weapons at all?" said state Sen. Rob Schaaf, R-St. Joseph — who is a physician, no less.
Missouri closed out 2019 struggling with two issues that few people had even heard of just a few years ago: Vaping and video gambling.
Unregulated video machines have proliferated throughout Missouri, generally in bars and gas stations, where patrons plunk down money to play and can win payouts from the counter. That is a virtual definition of gambling, except to the burgeoning industry that operates the machines. Many other states, including Illinois, have dubbed it gambling and taxed and regulated it accordingly. But the industry this year headed that off in Missouri, spending big lobbying bucks in Jefferson City to convince lawmakers their machines shouldn't be regulated or taxed like other gambling.
As for the vaping health crisis: It, too, has been complicated in Missouri by the same Republican ideology that has hampered efforts to address guns and opioids — in this case, the party's aversion to taxes.
The mysterious lung ailment that has cost the lives of dozens of young e-cigarette enthusiasts nationally, including at least two in Missouri, has been addressed in other states in part by heavily taxing vaping supplies. It's the same "sin tax" approach that has been effective at thwarting kids from cigarettes. Almost 20 other states are now taking that approach with vaping.
As has so often been the case this year, though, Missouri declined to join that movement, with Parson seeming to rule it out: "I don't know if pricing it out of someone's reach is always the right answer," he said — inadvertently defining exactly why such a tax would help address the problem. It's Parson's I-don't-know response to just about every controversial topic that undermines any attempt on his part to demonstrate true leadership.
Missourians will decide next year if the state's rightward, often lonely path is the one they want to continue down. Parson, a former lieutenant governor, ascended to the governor's office in 2018 with the resignation of former Gov. Eric Greitens and will seek his first full term in 2020. State Auditor Nicole Galloway has emerged as his likely Democratic opponent. Let the best leader win.