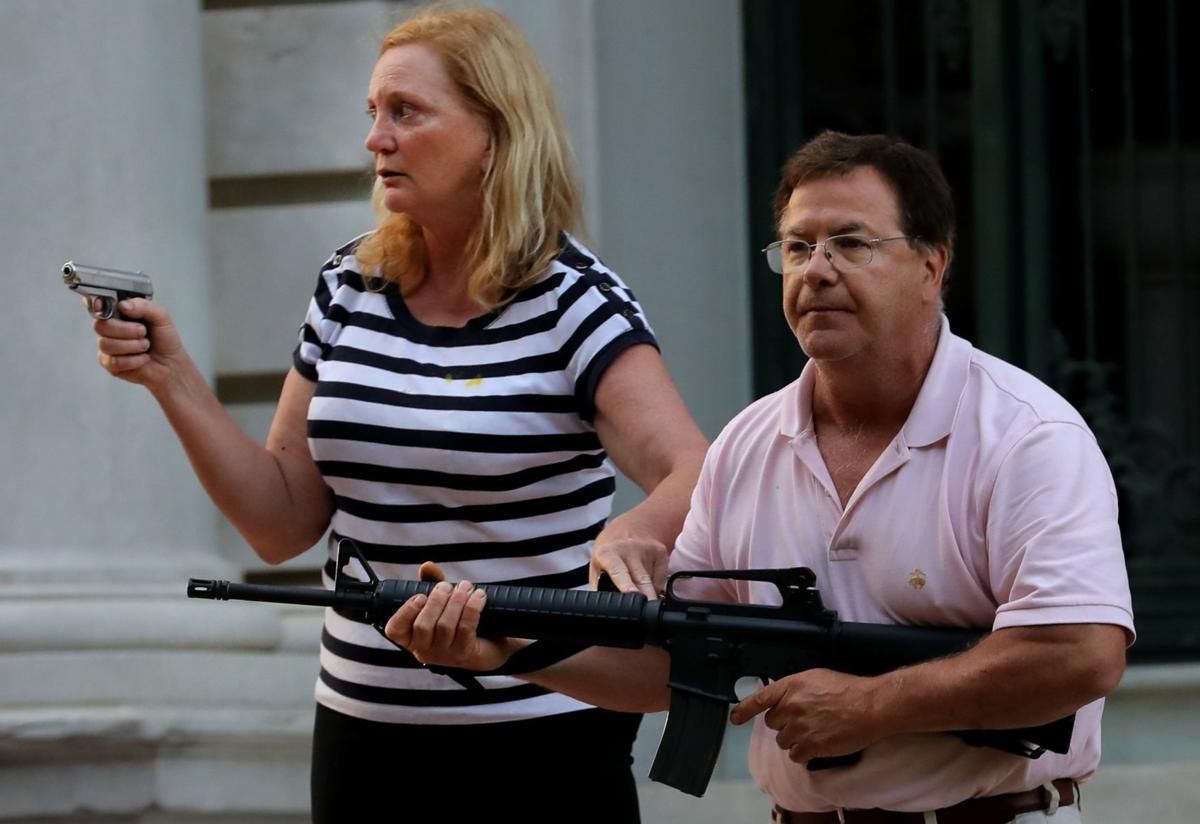 No, it's not the setup of a Saturday Night Live skit. Mark and Patricia McCloskey, the St. Louis couple who recklessly waved guns at protesters marching past their home in June, are actually slated to speak at the Republican National Convention next week. What does it say about today's GOP that leaders would elevate this couple as representative of Republican values?
Once, Republicans cared about things like law and order, and free expression. By putting the McCloskeys on the national stage, convention organizers are embracing a reactionary, armed-vigilante message that even staunch gun-rights activists have called into question.
The McCloskeys are the personal-injury lawyer couple who stood barefoot outside their gated-street Central West End home brandishing firearms as protesters walked by en route to Mayor Lyda Krewson's house. He cradled a semi-automatic rifle; she held a small handgun. Their muzzle awareness was so sloppy, they pointed their guns at times directly at the crowd or at each other.
The protesters entered through a gate on a private street that a police report says was marked "No Trespassing." But they didn't threaten the couple and never set foot on their property. (The McCloskeys claim the protesters broke a gate to enter the street, but footage shows the gate was intact when they started walking through.) The encounter ended without violence.
This newspaper opposed the decision by St. Louis Circuit Attorney Kimberly Gardner to charge the couple with felony unlawful use of weapons. In a city where people die almost daily in gun violence, expending public resources to pursue an unlikely conviction in a case with no injuries or shots fired looks like crass political showboating.
Our anti-showboating stance applies equally to the McCloskeys, who no one should mistake as role models. As the Post-Dispatch has reported, these confrontation junkies have sued neighbors, employers, tenants, their own relatives. They've sued their neighborhood trustees because, neighbors allege, they wanted to bar gay couples. Mark McCloskey once destroyed a beehive placed near his home by Jewish school children as part of their curriculum, leaving a note threatening to sue. "The children were crying in school," a rabbi told the Post-Dispatch.
It's a good bet the McCloskeys' convention speech will make a case for Second Amendment rights. If so, what a sad statement. It demonstrates how far the GOP's leaders have strayed from original Republican principles, which include responsible use of firearms. There's nothing responsible in the way the couple handled that encounter.
The McCloskeys were already a national embarrassment for St. Louis. The party of Lincoln now embarrasses itself by holding them out as inspirational figures. If this is the party's big moment to champion Second Amendment rights, organizers better hope Republican voters don't take time to research this couple. They'd be horrified that their party has descended to these depths.
Views from the editorial board, opinions from guest and national columnists plus the latest letters from our readers.