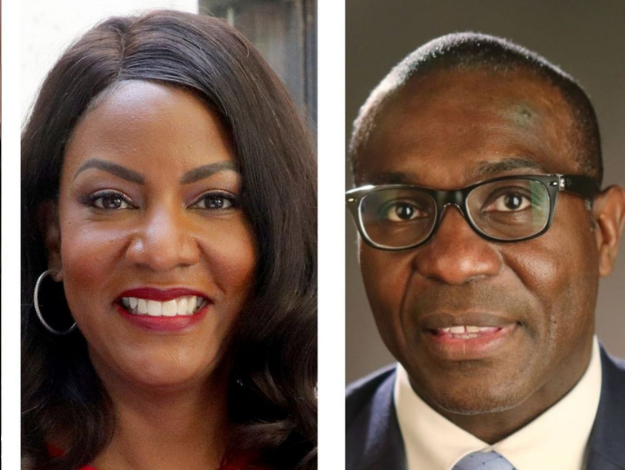 It's clear that the impasse between Mayor Tishaura Jones and aldermanic President Lewis Reed can't be solved through negotiations. The two have taken their fight to the court of public opinion, but neither is advancing the urgent cause of getting millions of dollars in federal pandemic aid to the St. Louisans who need it. Jones is even toying with the idea of declaring a public health emergency so she can invoke executive authority to spend funds without aldermanic approval.
That's a potentially expensive and time-wasting solution to a problem that could be quickly and easily fixed if Jones could, just for a moment, bury her ego and approve the $168 million spending package that aldermen approved by a 27-1 vote. Her route to victory lies in what happens next.
The package contains her cherished provision, $5 million for her to dole out in $500 payments to 10,000 low-income St. Louisans. But Jones objects to a $33 million outlay advanced by aldermanic President Lewis Reed to boost commerce in north St. Louis. Reed and Jones are arch rivals, and she seems determined not to grant him any semblance of a political victory.
Her official reason for rejecting Reed's proposal is that federal rules don't allow pandemic aid to be used for general-purpose development, which she contends is what Reed's program does. Jones secured a concurring opinion from the city counselor to bolster her unyielding position.
These are silly games. If Jones truly wants to get the funds moving, all she needs to do is call Reed's bluff: Approve the $168 million package and spend the money as outlined. If the federal government were to conclude that Reed's $33 million is an unacceptable expenditure, it would advise the city accordingly and withhold those funds. Or Jones can simply not spend the $33 million, as is her prerogative.
The only person losing face under such a scenario would be Reed. Jones would have every opportunity to gloat and say she told him so. Either way, Jones still would get to claim victory for having the $5 million she seeks for low-income St. Louisans.
Chances are slim that the federal government would reject any reasonable aid plan for north St. Louis as long as it is couched in terms of helping people negatively affected by the pandemic. And who hasn't been negatively affected? Chances are even slimmer that any sort of punishment would be imposed if Washington decides Reed's proposed expenditure wasn't allowed. Either way, that would be Reed's burden to bear.
Jones seems intent on imposing her will and halting the entire package, regardless of the consequences or who winds up getting hurt — even though a solution is right before her eyes. Approve the $168 million, help low-income residents and boost north St. Louis commerce. And let Reed take the heat if something doesn't pass muster.