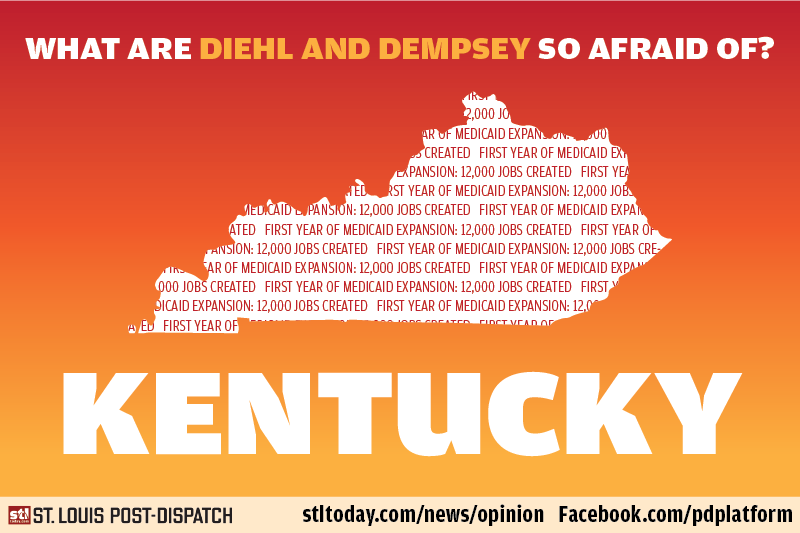 When it comes to Medicaid expansion, it's time for the Missouri Republicans who control the Legislature to play a high-stakes game of truth or dare.
If legislative leaders like Speaker of the House John Diehl, R-Town and Country, and Senate President Pro Tem Tom Dempsey, R-St. Charles, really don't believe that Medicaid expansion would be good for both the Missouri economy and the general revenue budget, then they should hold a hearing and prove Medicaid expansion advocates wrong.
One real hearing. One wide-open debate. One moment where the truth matters.
You would think that a party that is so convinced that Obamacare is the job-killing scourge of a nation that it must be stopped at all costs wouldn't be afraid to make its case, right?
Various Democratic proposals to expand Medicaid have been summarily ignored for the past three years. Rep. Jay Barnes, R-Jefferson City, gave it a good two-year try but his colleagues wouldn't listen when he laid out the financial reality: bringing in billions of federal dollars to Missouri's health care industry actually improves the state's budget picture.
And in the Senate? State Sen. Ryan Silvey, R-Kansas City, can't even get a hearing on his proposal to expand Medicaid, even if it is just to Missouri veterans and their families, who, for the record, have come strongly out in support of Mr. Silvey's plans.
So what are Mssrs. Diehl and Dempsey so afraid of?
This month, the office of Kentucky Gov. Steve Beshear, a Democrat, issued a report on his state's first year under an expansion of Medicaid to the working poor, as called for in President Barack Obama's Affordable Care Act. The report, prepared by Deloitte Consulting LLC found that everything promised by Medicaid expansion proponents came true. The same thing has happened in most every one of the 28 states that, unlike Missouri, have expanded Medicaid to cover people making up to 138 percent of the federal poverty level.
The Kentucky report should be particularly persuasive to Missouri lawmakers, as the two border states have so much in common economically, politically and culturally. Kentucky is a state with two Obamacare-hating Republican U.S. senators who realize that the Medicaid expansion part of the ACA has been good for their state.
How good? An increase in 12,000 jobs and a $1.6 billion economic impact in one year. Kentucky had the second-largest decrease in its uninsured population in the nation. It doubled projections of the number of people who would sign up for new insurance through its state-run marketplace, adding 310,000 insured through Medicaid expansion. Based on the first year numbers, the report projects that by 2021, Kentucky's budget will experience a net-positive impact of more than $900 million. The projected overall economic impact during that time? $30 billion.
"For all the naysayers who claimed that expanding Medicaid was a budget-busting boondoggle, take a look at the facts. It's working, and it's literally paying off. The state is saving money, hospitals are earning more, and our people are getting healthier. The facts are overwhelming. We would have lost money in the state budget and lost opportunities for job growth, not to mention allowed our people to suffer continued poor health, if we had allowed this opportunity to pass."
None of this should be surprising to anyone living in a fact-based world.
The University of Missouri predicted similar results for Medicaid expansion in the Show-Me State. Lawmakers brushed off the numbers. Health care officials told lawmakers the state would lose jobs if it didn't expand Medicaid. Indeed, there have been layoffs in the industry in Missouri. One southwest Missouri hospital CEO took his jobs across the border to Arkansas, which also expanded Medicaid.
Even as they work on next year's budget, key Republican lawmakers in Missouri are strenuously ignoring data provided them by Linda Luebbering, Gov. Jay Nixon's budget director. The number show that $117 million more would be available to next year's very tight budget if Medicaid is expanded.
The same is true each of the next several years, because even as Missouri's portion of Medicaid expansion rises to a high of 10 percent, the amount of additional federal money pouring in and improved health outcomes on the population create a financial windfall in terms of increased tax revenue and economic activity.
The math isn't lying, and the experience in Kentucky drives that point home.
Missouri's Republican leaders are purposefully choosing fewer jobs, less revenue, a worse economy and poorer health outcomes for the state's citizens simply to appease anti-Obamacare know-nothings. These "leaders" don't have the courage to go where facts say they should go.
They won't help veterans who want health care for their families.
They won't admit that they are hurting the Missouri economy and costing real people their lives because they can't access the health care system.
They are afraid to allow an actual Medicaid expansion debate. They can't handle the truth.
​Tony Messenger • 314-340-8382
@tonymess on Twitter
Views from the editorial board, opinions from guest and national columnists plus the latest letters from our readers.