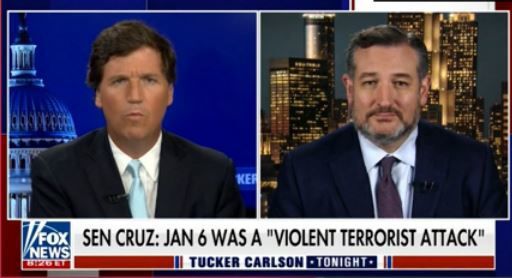 Texas Republican Sen. Ted Cruz rarely earns credit from this newspaper for anything he says or does, but he was 100% correct in the aftermath of the Jan. 6, 2021, Capitol insurrection when he labeled it a "despicable" act of domestic terrorism. On last week's anniversary of the insurrection, Cruz reiterated his reference to terrorism — a word that conjures images of 9/11 hijackers and bombers. Does the comparison accurately apply to the insurrection?
Under U.S. law, it absolutely does. But Tucker Carlson of Fox News took offense at the word choice and denounced Cruz. Instead of standing up for his beliefs and defending the law, Cruz buckled. He asked to appear on Carlson's show so he could publicly apologize for what he termed his "sloppy" and "frankly dumb" language.
The sheepish and cowardly retreat by Cruz is emblematic of the GOP leadership's wholesale abandonment of integrity. Cruz is a Harvard-educated lawyer. He knows how to read laws as well as write them. So how could he have possibly overlooked 18 U.S. Code Section 2331, which defines "domestic terrorism" as activities by non-foreign actors that "involve acts dangerous to human life" that violate state of federal criminal laws and "appear to be intended to intimidate or coerce a civilian population; to influence the policy of a government by intimidation or coercion; or to affect the conduct of a government by mass destruction."
The Jan. 6 attack met all the criteria under that definition. But as has been so painfully obvious since the insurrection, the law doesn't matter when it comes to Republican leaders standing up to former President Donald Trump and his supporters. Even when a service was held on the steps of the Capitol last week to honor those killed in the attack, Republicans refused to attend except for Rep. Liz Cheney of Wyoming and her father, former Vice President Dick Cheney — a conservative's conservative who stated that he was "deeply disappointed we don't have better leadership in the Republican Party to restore the Constitution."
Carlson incorrectly told his viewers that this was not terrorism, speaking with the pseudo-intellectual confidence that somehow has convinced viewers that he actually knows what he's talking about. When Cruz made his first attempt to walk back his statement, Carlson interrupted, "You told that lie on purpose, and I'm wondering why you did." It's worth noting that, in a 2020 slander lawsuit against Carlson, a federal judge ruled that on his show, Carlson "is not 'stating actual facts' about the topics he discusses and is instead engaging in 'exaggeration' and 'non-literal commentary.'" In other words, he is a liar.